What is a Merchant Cash Advance?
A merchant cash advance also known as a business cash advance is a short term unsecured cash injection that is loaned against your business' future credit and debit card sales.
It's not like a tradtional unsecured business loan product as there is no fixed monthly payments to worry about. It's more flexible and works inline with your business performance.
This is funding option suited to businesses that process card payments through a PDQ card machine or Merchant gateway facility.
You may want to borrow money to buy more stock, invest in the growth of your business or simply require a quick cash injection to help with cashflow. If you own a merchant terminal and take card payments then this product may well be perfect for you.
Get your free no obligation quote today and find out how much your business could borrow.
The Benefits
Merchant cash advance has many benefits for an SME business including:
Only pay back on future credit and debit card sales
Works in line with your cashflow
Unsecured cash injection (no assets required)
No fixed monthly terms
No business plan required
High approval rates
Less paperwork and hassle
Works with your existing PDQ provider
Borrow £3k to £300,000
Same day decision and funding
Your cash sales are safe
How It Works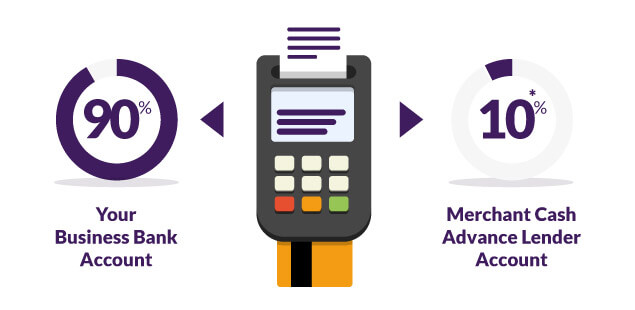 A small percentage (usually 10-25%) of your future credit and debit card sales are deducted from each transaction until the advance if fully repaid. There's no fixed monthly term as you simply pay back based on your businesses performance. For example, you pay it back less when you have a slow month but you back it back sooner when your have a busier month – It works in line with your cash-flow and business performance.
Do I Qualify?
To qualify for a merchant cash advance, your business must:
Be based in the UK or Ireland
Be a limited company, partnership or sole trader
Be trading for at least 4 months
Accept credit and debit card payments
Process more than £2500+ in monthly card sales
If you don't meet this criteria, don't worry! We have a wide range of other business finance options available for you.
We have helped many businesses in the U.K. find the money they need via a merchant cash advance. The loan product is widely used especially within the hospitality sector where pubs, restaurants and hotels look to expand their business.
Restaurants can use this type of alternative finance to buy new catering equipment, refurbish a dining area, or expand the premises without the need for specialist development finance or commercial property finance both of which can take time to fund and require a business or personal asset as a form of security.
This is where a merchant cash advance differs.
It is unique in that it doesn't require a security asset such as your personal or business property to fund and it also differs in that it funds quickly, sometimes as quick as same day or next day.
In other forms of commercial finance such as an unsecured business loans, asset finance, bridging loans and commercial property finance there are usually always charges, fees and heavy penalties if you default or don't finish paying off your loan.
A merchant cash advance uses your card sales as an indicator to what you can afford to borrow and what you can afford to repay. It calculates this on monthly card turnover and doesn't put your business under pressure to repay the same amounts amount not each month.
We know that business have good months and not so good months, changes in seasonality, government news, inflation and so on, the list can be endless. That's why your business only repays based on the credit and debit sales it makes via your card terminal.
If your business performed worse in February than it did in January then you'd of paid less back in February than you did in January. We love this product for this very reason. It doesn't put your business under pressure, ever.
Not only that but the loan doesn't take your cash transactions into account, they are not factored into your turnover and are safe.
More and more businesses are using it. Retailers such as high street shops are using the facility to buy stock, expand their floor space and use for marketing or cashflow.
We've helped business with tax funding via the merchant cash advance as it's quick to fund which helps enormously when faced with late penalties from the HMRC.
It has helped businesses to buy a vehicle rather than look towards vehicle finance.