Small Business Loans
If you need funding to grow your UK business, a small business loan can provide a fast and affordable solution to help support your goals.
Compare a wide range of lenders and rates
Check your eligibility in minutes
Find out how much you could borrow
Get Started
It's fast, free and won't affect your credit score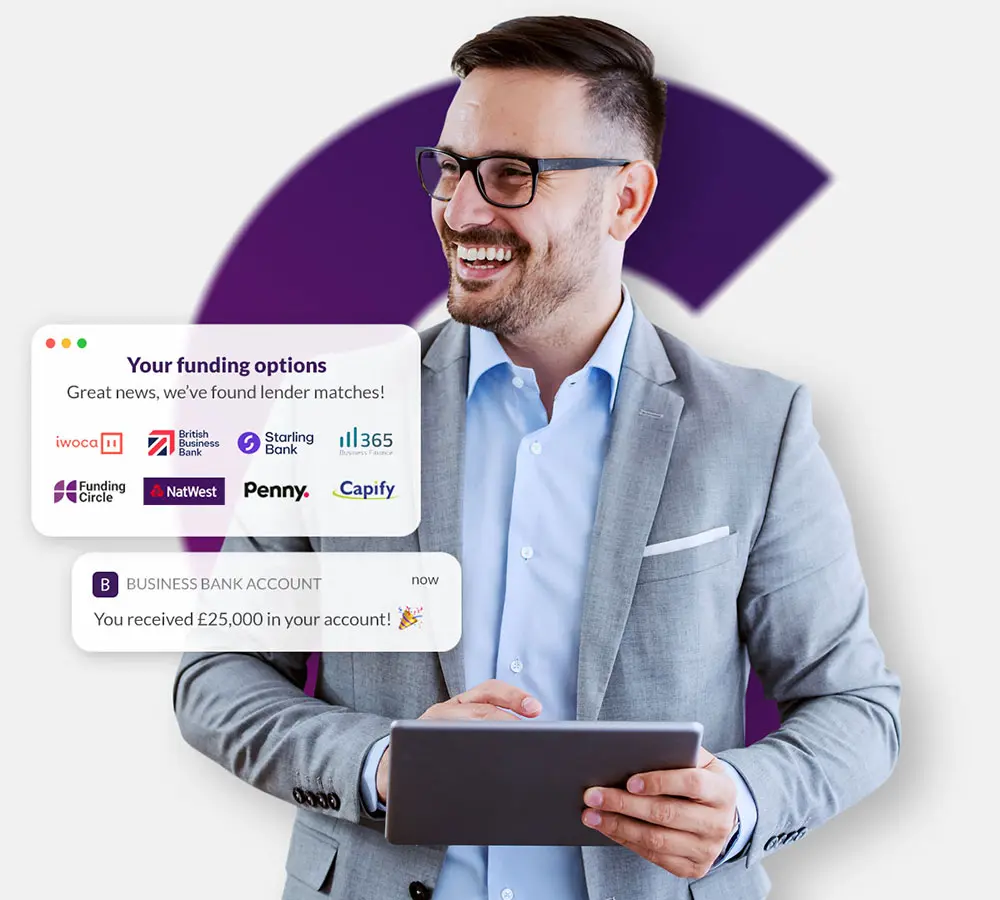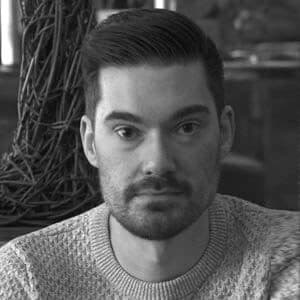 To grow your small business, you need access to working capital. With working capital, you can expand your business, refurbish your premises, invest in more stock or explore new markets.
We can help you access small business loans, whether you're a startup or an established business. Our lenders offer fast and flexible financing solutions to suit all business needs.
With so many loan types available, searching for funding can be overwhelming. That's why we created our free loan comparison tool. Find and compare UK lenders quickly.
---
What is a small business loan?
A small business loan is a type of business finance that helps to ensure that companies have enough money to cover daily operating costs and invest in growing their business. A small business loan offers you a convenient, low-cost way to finance your business activities.
This type of loan can be used for almost any business purpose, from boosting cash flow and purchasing equipment to recruiting staff and covering unexpected bills.
A small business loan from one of our alternative finance providers or a Government-backed scheme can be tailored to suit your individual needs.
---
Are small business loans secured or unsecured?
Both secured and unsecured small business loans are available for business owners in the UK. Unsecured loans are typically smaller amounts at a higher cost with shorter repayment terms. However, if you require a larger loan, offering an asset as security against the loan may enable you to secure more funds at better rates.
Check out our comparison guide and infographic on the key differences between secured and unsecured business finance for more information.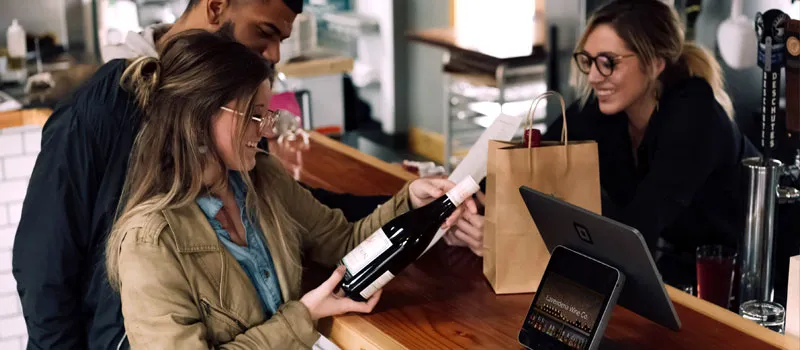 ---
What are the different types of small business loans?
There are two main types of small business loans: secured and unsecured. Within these categories, there are different types of financing for local businesses:
---
How does a small business loan work?
A small business loan works much like other loans. The credit provider gives you money upfront, and you repay it with interest and fees, usually in monthly instalments, over a pre-agreed period.
Not every type of finance is the same. Each type of loan can vary in structure and repayment mechanism. For example, some allow you to draw down funds as and when you need it — these are called lines of credit or revolving credit facilities.
Remember, Capalona is free to use. As a responsible broker, we do not charge any fees for using our online small business loan matching service.
Some loans require assets to secure the loan. These loans can be risky, and default on your repayments can result in the lender seizing your assets. Always think carefully before offering collateral.
---
What are the rates and fees for small business loans?
Rates and fees are specific to the lender, that's why it's important to compare loans before settling on one option. Loan rates and fees can also be affected by your business activity, such as performance, industry sector and credit history.
Although interest rates are usually fixed, they can be variable, meaning they can go up or down at any time during the loan term.
All fees, charges and repayment terms will be made clear and agreed upon at the outset of the loan, so you will know how much it will cost. Always read the loan terms and conditions carefully.
| | Provider | Rates from | Loan amounts |
| --- | --- | --- | --- |
| | Fleximize | 0.9% Per Month | £5,000 - £250,000 |
| | Adelpha Capital | 3.00% Per Month | £3,000 - £75,000 |
| | Iwoca | 3.33% Per Month | £1,000 - £500,000 |
| | Funding Circle | 7.9% Per Year | £10,000 - £500,000 |
Get matched with the right lenders for your business in minutes.
Get Started
It's fast, free and won't affect your credit score
Remember, if you default on a small business loan, your credit rating may be negatively impacted, and you may struggle to secure credit in the future.
---
Does my business qualify for a small business loan?
To qualify for a small business loan, you must be registered to operate as a UK-based business and:
Have been trading for at least 3 months.
Are a limited company, limited liability partnership (LLP) or a sole trader registered in the UK.
---
How can I apply for a small business loan?
Applying for a little business loan takes two minutes via our simple online application form. You could be approved by one of our trusted lenders in a few minutes. Once approved, you can see funds within hours.
---
Is a small business loan right for me?
A short-term business loan could offer you some flexibility, especially if you're facing an unexpected situation or seasonal fluctuations. They're also a great option for investing in your business to stay competitive.
Unlike high street banks, alternative lenders can review applications on a case-by-case basis, which means they're able to offer tailored SME loans to local small businesses.
---
Can I get a small business loan with bad credit?
Yes, you can get a small business loan even if you have a bad credit rating.
Many lenders customise their products to suit your specific business needs. While interest rates are higher if you have a poor credit score, you can repay it over a short time frame to keep the costs to a minimum.
Regardless of your credit history, we can find the right product for you, even if you have a less-than-perfect credit score.
---
Do small business loans require a personal guarantee?
When applying for a small business loan, you will need to be prepared to sign a personal guarantee. This guarantee is legally binding and states that as the business owner or company director, you will take personal responsibility for making payments if your business is unable to.
Personal guarantees tend to be more common when you are looking for an unsecured loan product or if you have bad credit and the lender wants extra assurance before agreeing to let you borrow.
---
What credit score is needed for a small business loan?
There is no set credit score that will guarantee a successful small business loan application. Each lender has their own requirements, and often your business credit score is just one part of what they'll be looking at when making their decision to lend.
Small business loans are easier to apply for with adverse credit. This is because funding smaller amounts poses less risk to the lender. However, you should bear in mind that lower credit scores usually require higher interest rates and the signing of a personal guarantee.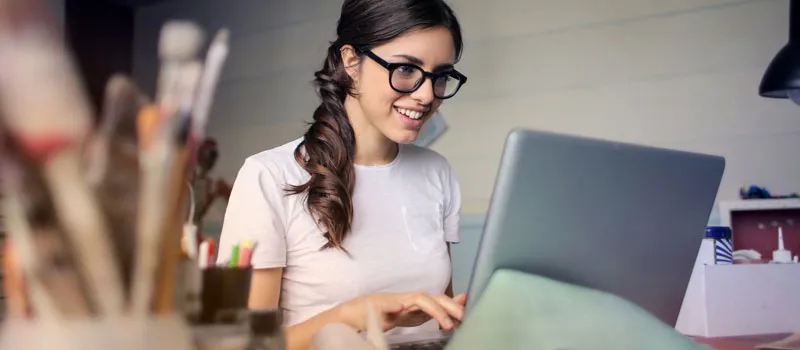 ---
What are the advantages of small business loans?
Here are some general advantages of small business loans.
Accelerate your growth - Taking your business to the next level requires working capital, and a small, short term business loan offers a fast and affordable way to meet your business goals.
Asset security not required - The majority of loans are unsecured. However, most lenders may offer you the flexibility to use your business assets to secure the loan, should you wish to do so.
Keep cash flowing - Cash flow can be a tricky part of business management. A short term local business loan could give you the breathing space you need to overcome potential issues.
Compete in the local market - as a local business, it's important to stand out from the immediate competition. Use your loan to ensure you're the best at what you do in your local area.
---
What are the disadvantages of small business loans?
Here are some key disadvantages to consider when taking out a small business loan.
The cost of borrowing - While small business loans have low-interest rates, the cost of which still needs repaying as well as the original loan amount.
Higher rates for low credit scores - If you have a low credit score, the cost of borrowing will be higher, as you pose a greater risk to the lender.
---
How much could I borrow for a small business loan?
With a small business loan, you could qualify for a quick, short-term loan from as little as £1,000 to £500,000 from one of our trusted direct lenders.
A lender may require you to offer assets as security against the loan, depending on the amount you need. Small or local business loans are usually repaid over a short timeframe, from six months to three years.
Did you know? Securing business or personal assets against a loan allows you to borrow more and helps keep interest rates lower.
Small business loan calculator
---
Your results
---
Monthly Payments
£
0
Total Interest
£
0
Avg. Monthly Interest
£
0
Total Cost of Finance
£
0
This calculator is intended for illustration purposes only and exact payment terms should be agreed with a lender before taking out a loan.
---
Can I get a small business loan for my startup business?
Yes. If you are in the early stages of planning your business or you are already into your first few months of trading, we can help you with a business loans for startups.
Through a UK government-backed startup loans partnership, we can offer a funding solution to get your business idea off the ground.
Learn more about government-backed startup loans here or use our business startup loans calculator.
---
Frequently Asked Questions
Here you will find answers to some of the most commonly asked questions about small business loans.
What our experts say
"A small business loan could give you the short-term funds you need to meet your business obligations and goals. It offers a fast funding solution without lengthy paperwork, business plans and administration.
Many lenders have created versatile loan solutions that offer business owners simple, quick and efficient funding options to keep their business moving. Capalona can help you find the best small business loan that is right for you and your business."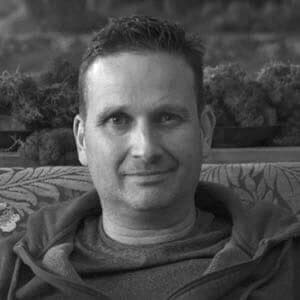 What our customers say...
Adrian T
5/5
Amazingly fast, efficient service, minimal paperwork. So much faster than my business bank of twelve years.
4.70 out of 5 based on 86 reviews
Reviews last updated on 12 Oct 2023