Revolving Credit Facility
If you're looking for quick cash without having to go through the loan application process, revolving credit could be the financial solution you've been looking for.
Compare a wide range of lenders and rates
Check your eligibility in minutes
Find out how much you could borrow
Get Started
It's fast, free and won't affect your credit score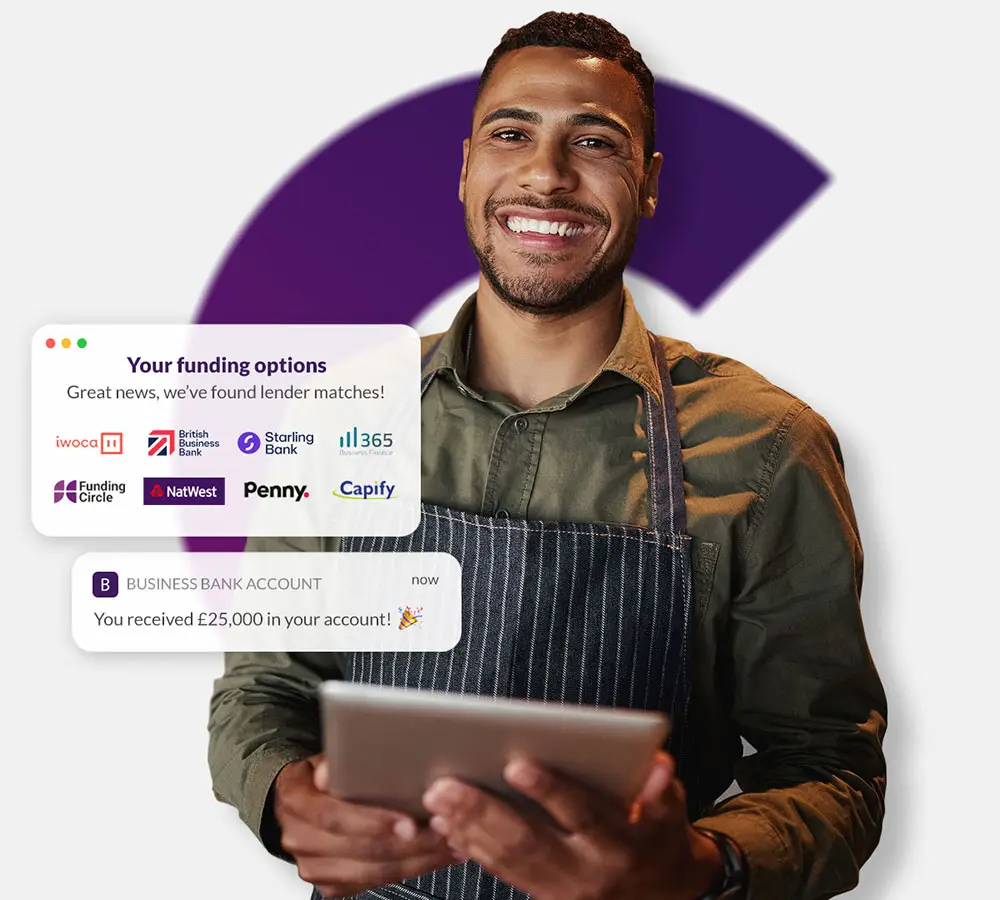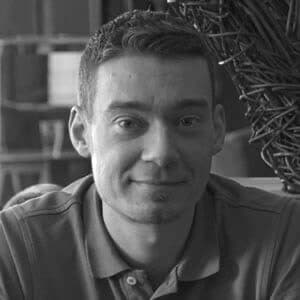 A revolving credit facility (RFC) is a rolling agreement that allows funds to be accessed when needed. If you're a UK business owner looking to seek out alternative loan options, revolving credit could be the financial solution for you.
Revolving credit means you can withdraw money as and when you require it. Read on to learn more about a revolving credit facility (RCF), how it works, the pros and cons, and whether your business qualifies.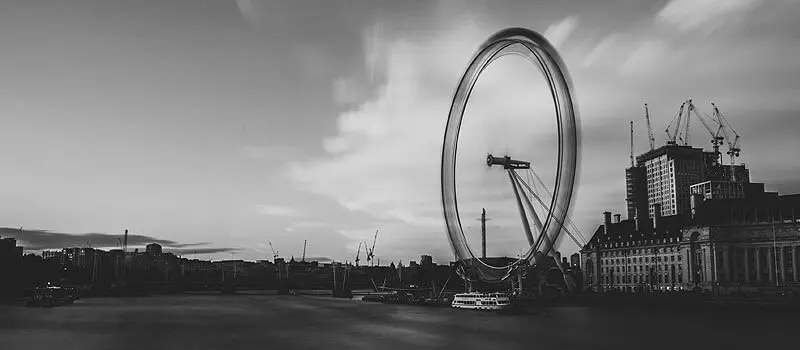 What is a revolving loan facility?
A revolving loan facility is a type of credit that a financial institution extends to borrowers, enabling them to withdraw and repay funds as needed. This type of loan is known for its flexibility, as it allows for multiple borrowings and repayments during a specified period. Unlike term loans, which require a fixed payment schedule.
---
How does a revolving credit facility work?
Much like an overdraft, revolving credit facilities are not static business loans. Your business will have pre-agreed a funding limit with the lender, and you can go about withdrawing the funds and repaying it and withdrawing again - just like an overdraft.
Funds replenish as you make repayments, which is where the 'revolving' term comes from.
How much you can access is determined by a few factors, including your business credit history and the strength of your business. But the amount you're able to access is usually the equivalent of one month's revenue.
The finance can be used to pay one large fee, or you can use it to pay a series of smaller payments - it's yours to do with what you please. You might want to use it to fill a monetary gap and never use it again - you can use it how you see fit with your business.
If you're wondering whether to look into a revolving credit facility or apply for a business loan - one difference between the two is that the interest is fixed on revolving credit - you only pay as you use it. Interest is usually charged daily when using revolving credit - and the interest fee depends on how much spending on that given day.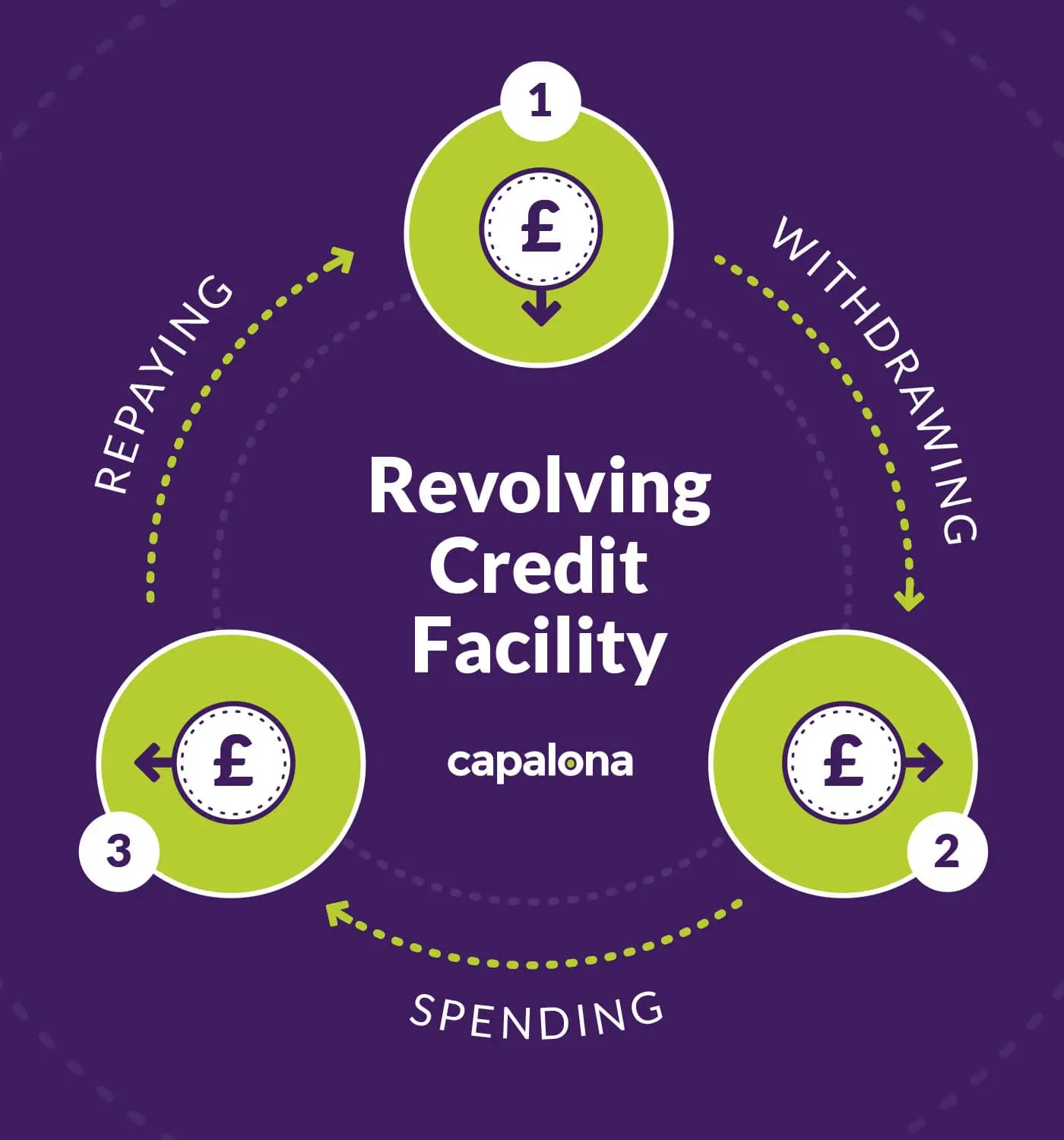 ---
Revolving Credit Facility (RCF) example
ABC Company Ltd has a revolving credit facility with an agreed credit limit of £10,000. They only withdraw £4,000 of this to purchase stock. They start to repay the amount that they've used, including any interest, over a few months. After the amount is paid off in full, ABC Company Ltd can access up to the full credit limit of £10,000 again. Remember, you don't have to use the full revolving credit account amount, and you only pay interest on the amount that you use!
Capalona can help businesses just like yours find the right finance needed to sustain growth.
---
What are the advantages of using a revolving credit facility?
There are many advantages and benefits of UK revolving credit facilities, that's why it's a popular option for many businesses. You can read about some of the pros of revolving credit below.
Flexibility - RCF finance is a flexible type of business funding. You aren't tied into a long-term commitment - Withdraw money when you need it and repay funds over time - continue the cycle until you no longer require the finance.
Grows with you - If you are a model customer, withdrawing and repaying the revolving credit promptly, there's a strong chance your lender will increase your spending limit. This means that a revolving credit facility can grow with your business.
Fast access to funding - If you require fast funding, some lenders enable you to withdraw money on the day of your application. This is a much quicker financing alternative to a business loan - which can take longer to complete. What's more, in the event you need additional funds, RCF finance provides you with a cash cushion that can be accessed as and when you need money most.
Pay interest only when you use it - With credit facility loans, the interest rate is fixed - and you only pay the interest when you're using the facility. If you're not using it, then there's no interest to pay. It's a financing option that is easily controlled by you.
No early repayment fees - Another great aspect of UK revolving credit facilities is that there are no charges for early repayment - so you can pay back as quickly as you like.
You don't need to sign new agreements - Every time you need to dip back into your credit facility, you don't need to sign a new agreement as you would when applying for a new loan.
You reduce cash flow issues - Due to the fact revolving credit can be accessed whenever it's needed, businesses are able to benefit from a cash flow boost. Paying invoices on time, being able to quickly replenish stock levels, being able to pay wages on time and being able to sleep without money worries are all significant benefits to a revolving credit agreement.
---
What are the disadvantages of using a revolving credit facility?
At Capalona, we like to ensure you have a balanced picture of all the funding options available to your business. That's why we're sharing some disadvantages of revolving credit, as well as the pros! This means you can weigh up whether a revolving credit facility is a financing option your UK business should consider. The cons of a revolving line of credit include:
Personal guarantee (PG) may be required - You might be asked to provide a personal guarantee to secure RCF finance. A personal guarantee is a legally binding agreement that states that in the event your business fails to repay the money owed to its revolving credit facility, you as the business owner take liability.
High-interest rates compared to traditional loans - When it comes to revolving credit lines, Interest rates are typically higher on a revolving credit facility than interest rates on an average business loan.
Short-term financing - If you're looking for funding long term, this might not be the funding solution for you. Revolving credit accounts are usually offered from 1 to 2 years.
Lower credit limits - If your business needs a significant amount of finance upfront, a revolving credit facility might not be the right option for you. RCF finance amounts are typically lower and better suited to covering smaller, every day cash flow requirements.
---
What can you use a revolving credit facility for?
A revolving credit facility can be used to help cover a business's everyday operating costs. Whether you require quick cash to pay for an unforeseen expense or you want to make a series of smaller purchases - a revolving line of credit could be the best funding option for you.
Many businesses will use their revolving credit to pay salaries - particularly if there is a seasonality to your company, and you need to plug that gap until business picks up. Many companies use revolving credit to top up stock levels - bulk buying stock can mean better discounts for your business. You might have a large order on the horizon and making good on the delivery might mean you require more stock or additional employees to get the job done.
Revolving credit can help you solve many cash flow issues short-term and is the perfect option for your business if you don't want to go through a sometimes arduous loan process. RCF finance can be used to:
Bridging short-term cash flow issues
Investing in stock and equipment
Operating expenses such as payroll
And much more!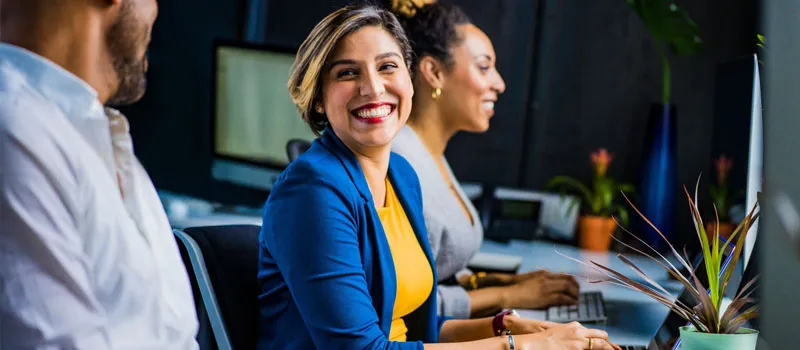 ---
Does my business qualify for a revolving credit facility?
It's important to note that RCF finance lenders' criteria do vary. When checking your suitability for a revolving credit facility, lenders will look into your financial performance - including your credit history and the value of your assets.
You can mitigate the risk for lenders by signing a personal guarantee. We do suggest seeking professional advice before considering signing a personal guarantee. A personal guarantee is a signal to the lender that you wholeheartedly believe in your business, so much so you're willing to become the secondary payer if the company fails to make repayments.
Pros of a personal guarantee
Chance to expand your business
A good option for new businesses
Decreases risk and increases security for the lender
Cons of a personal guarantee
Personal repercussions - you could lose your house, your car and other personal assets
If you fail to cover the repayments - you could be made bankrupt
If you can't pay the funds back, you will have to seek court permission to become a company director in the future
---
Will a revolving credit facility negatively affect my credit score?
Just as with any credit line for business, if you don't keep up your RCF finance repayments, this can negatively impact your business's credit score. There are many ways you can ensure a revolving credit facility does not lead to bad credit with these tips below:
Don't make multiple applications for revolving credit - Too many applications for credit does not put you in a good light for lenders. Before you apply, it's essential first to understand anything in your application that could be a red flag to lenders.
Pay off balances each month - Just like a credit card for business - you should pay your balances off each month to keep on top of your borrowing. Paying off balances each month shows lenders you are responsible - this can help you unlock high credit limits in the future which can support your business's growth.
If possible, try and keep your balances low - If you need the money, then, by all means, spend it - but if you're able to keep them low, this will show lenders that you won't max out your limit in one go. Again, placing you in a favourable light with the lender.
Is a revolving credit facility the best financing option for you? You can check your eligibility now. Alternatively, you can read about all other funding solutions.
---
Can I get a revolving credit facility with bad credit?
If you're looking for a revolving credit facility for a UK business that has bad credit, the good news is you may still be eligible. For businesses that have adverse credit, a lender may ask for more information and insist on a personal guarantee to be required.
At Capalona, we're dedicated to helping all businesses access money that they need. If you own a business with bad credit, please apply with us and we will do our best to find the right funding for your needs.
---
Why choose Capalona to organise my revolving credit agreement?
When it comes to securing a revolving credit facility, there are lots of providers to choose from. Each RCF lender will have their own terms and interest rates and not all providers will be the right option for your business.
When you use a business finance broker like Capalona, you are ensuring that your business is matched with the best credit facility for its individual needs.
By narrowing down the options suitable for your company, we help to save you time and money. The best part about our service is that it's free, and all quotes provided by lenders are no-obligation.
We work with a platform of reputable RCF finance providers
We can help with credit facilities for businesses of all sizes and credit scores
Quick decisions with same-day revolving credit accounts set up
What our customers say...
Adrian T
5/5
Amazingly fast, efficient service, minimal paperwork. So much faster than my business bank of twelve years.
4.70 out of 5 based on 86 reviews
Reviews last updated on 12 Oct 2023