Running a business can be draining, both emotionally and financially. And when you've got nothing else to give financially, you might start looking into business funding and financing options to help support your company's growth.
To ensure your business has options for when it comes to locating the best small business loans or funding, you need to have a solid business credit score.
To put it simply, the better your company's credit score, the more money you'll be able to borrow with access to better interest rates. Not only that, but you may receive more favourable payment terms from your suppliers.
Just picture this, you're a supplier, and a new customer approaches you. You run a credit check, and their score comes back as 'high risk' - they could have bad credit for several reasons - alarm bells might start ringing in your head. Would you be willing to take a risk by supplying this business? Will they pay you on time? Will you ever receive payment?
Bad credit can easily affect supplier and shareholder relationships. So the more you try to improve your business credit score, the more positive the outcome will be for you and your business later down the line.
Advertisement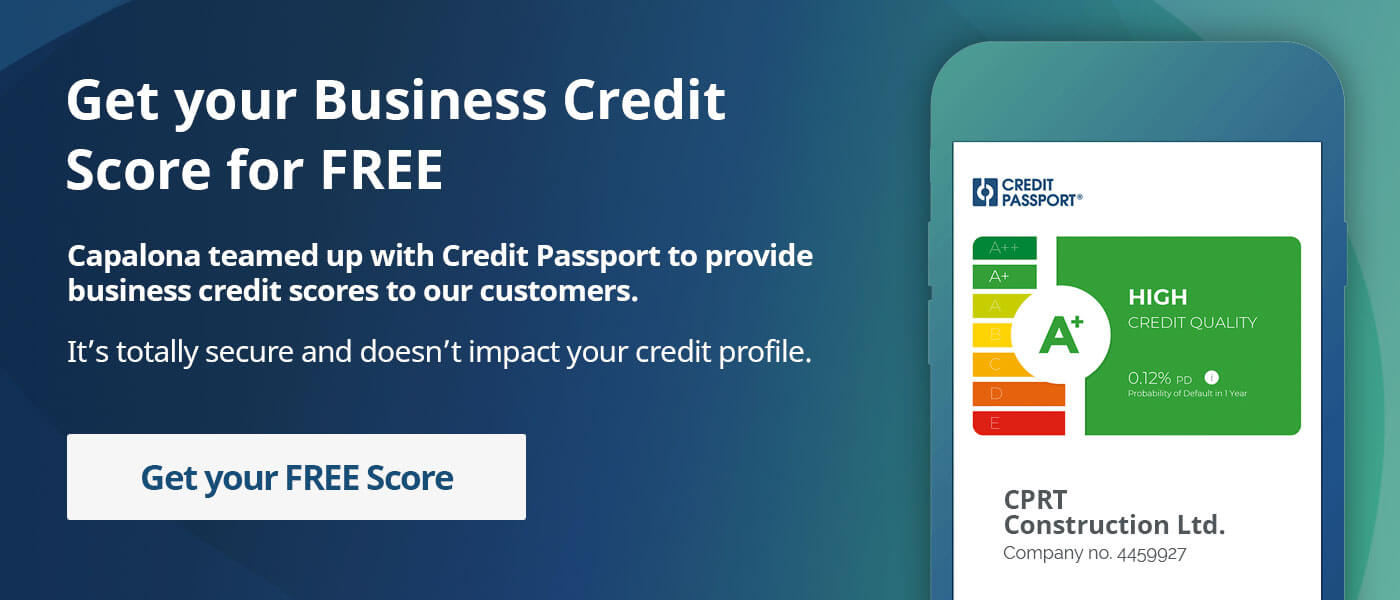 What is a business credit score?
A business credit score is the measure of a business's creditworthiness, which is made up of several factors, including payment history and debt, to understand the financial position of a company and its level of financial risk. The score generally ranges from 0 to 100, with 0 representing a high risk and 100 representing a low risk.
Business credit scores and risk bands
Business credit reference agencies (CRAs) will use different scoring models and criteria to measure risk. For example, Experian uses its unique credit rating algorithm named the 'Commercial Delphi Score' to calculate a business's creditworthiness. This means that it is not uncommon for scores to vary slightly between different credit reference agencies. The table below shows the risk bands calculated by Experian.
| Business Credit Score | Risk Band |
| --- | --- |
| 0 | Failed company |
| 1 | G - Imminently failing company |
| 2-15 | F - Maximum risk |
| 16-25 | E - High risk |
| 26-50 | D - Above-average risk |
| 51-80 | C - Below-average risk |
| 81-90 | B - Low risk |
| 91-100 | A - Very low risk |
Your business should be aiming for as close to 100 - a perfect score - as possible. But let's be realistic, what category score would mean you're no longer a high risk to lenders and shareholders?
A score of between 51-80 labels you 'below-average risk' - so you should aim to be no lower than this. The next category up is labelled 'low risk', but to get this, you'd have to score between 81-90 - and 'very low risk' is 91-100. However, if your score is less than 25 - then your business may be classed as 'high risk'.
We've simplified Experian's business credit scores banding into high, medium and low risk bands: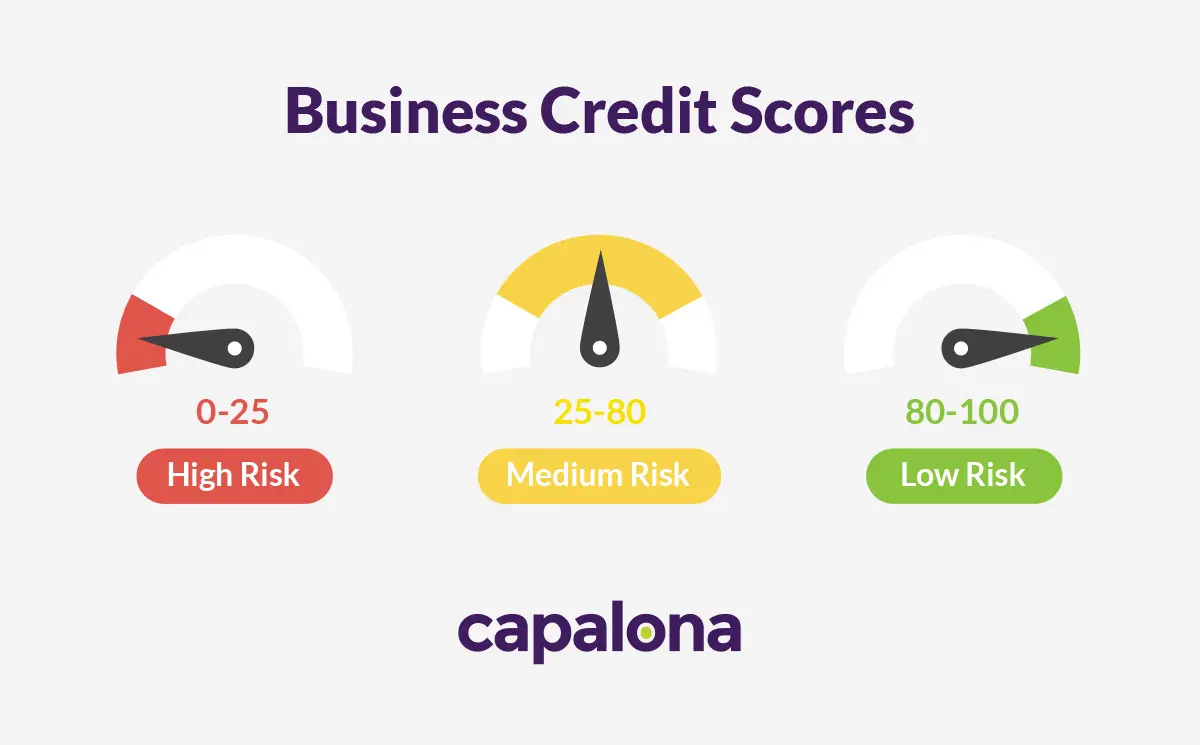 How to check your business credit score
There are many business credit score checkers online - so if you're not sure what yours currently stands at, check it out so you know what you're working with.
Most providers will charge you a fee to access your business credit report. Some may offer you a free trial, but you may be limited to the data you can see. A small selection of providers that offer company credit check services in the UK are listed below.
Compare business credit rating agencies and costs
Provider
Fee
Experian
Three month FREE trial
£24.99 + VAT per month after your trial
Credit Safe
Free trial offered
Equifax
Price on application
Credit Passport
Basic Plan: Free
Plus Plan: £20 per month
Premium Plan: Coming soon
List updated: August 2023. We do our best to update the plans and prices featured above. For the most accurate costs, please visit the provider website.
Can I check my business credit score for free?
Yes, many commercial credit rating companies offer business credit scores and reports free of charge. Here are a few companies you can use to check your company credit score for free:
Credit Passport - Their basic plan is free for life.
Experian - They are currently offering a free credit score trial.
Why should I improve my business credit score?
Like your personal credit score, improving your business credit score can benefit your business and affect your ability to borrow money. For example, the higher your business credit score is, the more likely it could be that:
Your application for credit, such as a business loan or a business credit card, will be accepted.
You will be offered a higher loan amount, which can make your business achieve your goals quicker.
You will be offered a lower interest rate and better terms which can make borrowing cheaper.
You will receive better terms from your suppliers.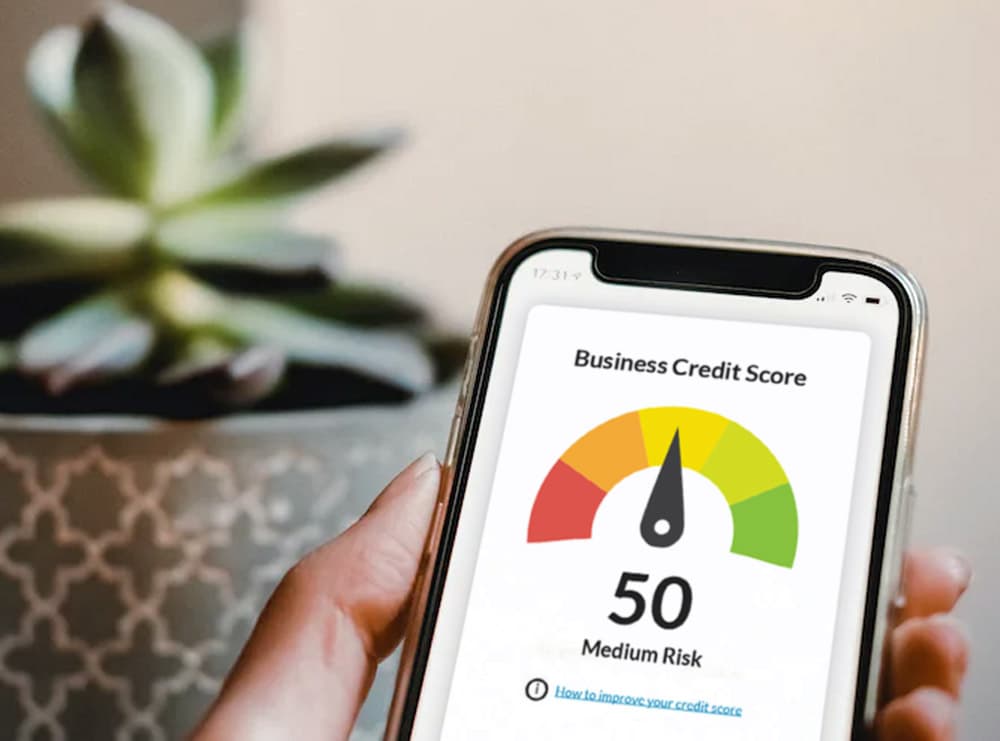 How to improve your business credit score
Already know your business credit score? Great, let's get into how you can go about improving your business credit score.
1. Make sure payments are made on time
Missing payments or making payments late is a sure-fire way to damage your business credit score. If you're not in charge of the payments in your own company, you need to sit with whoever makes the payments and reassess their process.
At the end of the day, the late payments won't personally affect the finance manager in your company - it's only going to affect the business's credit score. You need to ensure strict and robust payment processes are in place so you can start paying your bills on time.
On the other hand, if it is you who is in charge of paying invoices and you're struggling to keep on top of all the paperwork - maybe you should consider hiring an assistant to help you with your admin processes.
Either way, you need to make paying invoices a priority. No excuses.
2. Keep an eye on your personal finances
If you're a sole trader, there is nothing to separate your business finances from your personal finances legally. Therefore, it's essential to keep an eye on your personal financial situation.
If you have a poor personal credit score, this can be taken into account when applying for business funding. If your business has not built up a good credit rating, then lenders will only have your personal finances to rely on as a blueprint for how you handle money and pay your lenders.
3. Check your credit score monthly
Checking your company's rating every month means there are no surprises when you apply for credit. You can also sign up to receive alerts, so you are notified every time someone runs a credit check on your company or something changes with your credit score.
Keeping yourself informed means you're never in the dark when it comes to your business credit score.
4. Limit the number of credit applications you make
When you submit any credit application, you run the risk of the company running a credit check on your business. Every time a credit check is processed, it is filed and kept on your business account. If many credit checks are carried out in a short space of time, this can look as though you're struggling to secure finance - which is not a good indication of suitability for potential lenders.
5. Communicate with suppliers
Although the ideal scenario would be that you pay all your invoices on time - cash flow issues are common in business. Business Insider reported that over 80% of companies fail due to cash flow issues! As this is such a common occurrence in companies across the world - sometimes communicating with your suppliers and sharing the reasons why payment will be late can help you keep them from reporting you to a credit scoring company. Make sure you outline precisely when they can expect payment - and try to make it a one-off.
Communication is critical with these issues; you need to swallow your pride and be upfront about your predicament.
6. Try and fix cash flow issues
Working with an accountant on these issues is a good idea if you can afford their help. Sometimes as the business owner, you can't see the wood for the trees - and that's ok, you might need an unbiased party to tell you where you're going wrong.
If you can't afford an accountant in the infancy of your business - look at changing the payment terms you set out for clients. Is there any chance you can ask for part payment upfront, or shorten the payment window? Getting a new customer or client on board is exciting but then realising you're not getting paid until 90 days have passed - is disheartening.
If you've got cash flow issues because of slow-paying clients, consider cutting ties with them. Although saying 'no' to money is hard, you'll thank your future self when your business credit score stays intact!
7. Consider Investing in invoicing software
Keeping a good business credit score, in principle, is simple - pay invoices on time, get paid on time and don't borrow over your limits. But in reality - we know it can be challenging to get paid on time - which, consequently, has a knock-on effect to paying invoices on time! Argh!
To help you get organised when it comes to your finances, it could be a good idea for you to invest in an invoicing system. Although anything with the words 'software'; or 'system'; attached to them might sound expensive - there are plenty of cost-effective options on the market - such as Freshbooks or Quickbooks.
An invoicing system can help take unnecessary admin away - admin tasks can drain your time as a business owner, time that could be spent securing new customers and clients! Remembering to send out invoices can make the mind boggle - particularly if you don't have an admin assistant or office manager to oversee the process.
Invoicing software can automate invoicing, chase clients for payment automatically and help you keep a clear head when it comes to your finances. Logging into a dashboard that tells you how much you've made, outlines your expenditure and highlights what you're still owed and by whom - is helpful to any business owner.
A viable finance option for your business
Although you don't need a perfect credit score to apply for business finance, having a good score can give you more choice, better interest rates, longer repayment terms and larger loans.
Whether you have a bad or good credit score, we can help you find fast and flexible business finance. At Capalona, we offer various business funding options, from invoice finance to small business and startup loans to merchant cash advance and bad credit loans.