Are you thinking of starting your own business? Congratulations, it's an exciting time! This piece will help you understand what the market for new business looks like from 2018 and explores the industries that continue to flourish in the UK.
Not interested in any of that?
Skip through to common personality traits of successful business owners and see if you measure up! (We're sure you will).
The Office for National Statistics (ONS) state new business birth rates have been steady for the last few years, with 12.8% new businesses coming to fruition in 2018.
You can see just how steady the birth and death rates for businesses since 2013 look in the below graph. It's encouraging to see that the death rates don't overtake the birth rates, so new companies are continuing to survive.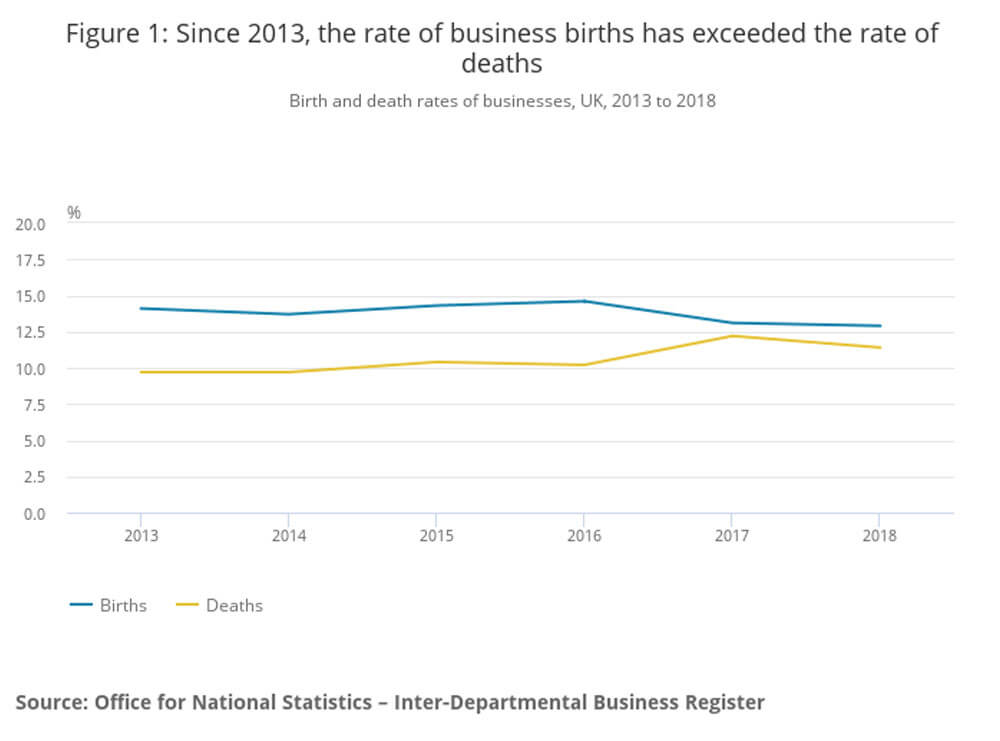 A relatively steady birth rate might be enough to give you the confidence that there is a market out there for your business idea - after all, 4.8 million people in the UK are currently self-employed, what's stopping you joining them?
But before you jump the gun, let's have a quick look at the sectors flourishing and those dwindling when it comes to new businesses.
The top three industries for the total number of active businesses in the UK are:
Professional, science and technical (542,000)
Construction (389,000)
Business administration and support services (278,000)
And when it comes to the new businesses setting up shop in 2018, the picture looks no different. It's still those three broad industry sectors people are trying to penetrate - 63,000, 50,000 and 48,000 respectively setting up in 2018.
Perhaps unsurprisingly, these industries also have the highest number of business deaths in 2018.
If your business fits into one of these three most active industries, it would be worth conducting a bit of market research to completely understand what issues are causing business failure for them to try and steer clear preemptively.
Why do businesses fail?
What are the most common reasons for business failure in the UK?
Cashflow issues
According to the Office of National Statistics, cashflow is one of the biggest business killers; in fact, an overwhelming 90% of businesses succumb to it. With payments from clients being made late, this causes companies to have outstanding debts over £30,000.
How can you combat this? With many corporate clients having payment terms such as a 30 or 90-day payment window, it can be tricky to forecast income for the coming months. There are a few ways to try and combat these issues:
If clients don't pay on time, drop them. It's hard to say no to business, but if they could put you in crippling debt down the line, what's the point? You need reliable clients you enjoy working with.
Write your payment terms into your contract and insist it's essential to you.
Get partial or full payment upfront; even if this is just for a few clients, then you've always got money coming in you're not having to invoice and wait for payment.
Lack of research
Not knowing your market can cost you your business. You need to understand what the market your joining looks like and how you can positively contribute to it. If you're not able to differentiate yourself, you're going to struggle.
Some questions to ask yourself:
Who is the leading competitor in your industry?
How do people react to them?
What can you do differently?
Who is your target market? (build a buyer persona)
Failure to listen to your customers
Going ahead with what you want for your business is not the route to success. You need to listen to the people who are buying your product or your service - they're the opinions that count. Ignoring customer feedback and making decisions based on your ideas alone can mean alienating future custom.
Inc.com reported that 84 per cent of people trust online reviews as much as a personal recommendation. That's a lot of people influenced by past customers - so you must focus your business around your customers. Get them to test your site and your processes and build a thorough and continual feedback process.
Asking for reviews and recommendations for your business from clients is what can help you stand out next to your competition. So don't be afraid, ask - the worst that could happen is they don't leave you a review - oh well, onto the next!
Common personality traits of successful business owners
Business owners come in all shapes and sizes - from educated backgrounds to having as little as zero experience in the field. But if you're wondering if you've got what it takes, here are some personality traits we believe can carry you far and wide.
A great communicator
You need to be able to communicate your business to anyone. From clients to suppliers, communication is crucial in business regardless of industry. Whether it's chatting on the phone, writing a proposal, presenting an idea or communicating via email - you need to be able to clearly and succinctly converse with everyone.
Creativity
"If you have anything really valuable to contribute to the world, it will come through the expression of your own personality, that single spark of divinity that sets you off and makes you different from every other living creature." - Bruce Fairchild Barton, co-founder of Batten, Barton, Durstine & Osborn
As Barton says, personality is what can help set you apart from your competition. Although you can learn from, mimic and better your competitors' approach to business, it's your personality that can offer your business a unique angle - find a way to communicate your personality and exploit it creatively!
Passionate
If you don't love what you do, you'll run out of steam eventually. When things don't go quite right, your passion for what you do can help spur you on. Try and focus your small business idea on something you enjoy rather than it being motivated by monetary gain. Of course, making a living is essential, but it shouldn't be your sole driver.
Knowledgeable
By knowledgeable, we don't mean highly-qualified - many billionaire businesspeople famously dropped out of college (Mark Zuckerberg and Bill Gates - to name a few!) What you should be knowledgeable in is the industry you're trying to penetrate. You should also know your product and your customers inside out. All these points are vital to understanding how you can level yourself with or better your competition.
Most common reasons people start a business
After surveying 800 recipients, The Business Journals shared the results of their small business survey. The survey sought to uncover the most common reasons people started their own business.
It seems business owners mainly fall into one of the four categories below.
Struggling to survive
Wanted to create a legacy
Sought freedom
Passionate about what they did
Are any of the reasons surprising to you? Maybe they correlate with the reasons you wanted to start your own business?
The answers are certainly commonplace.
Seeking freedom
Many employees yearn for freedom; in fact, a study conducted by the Institute of Leadership and Management (ILM) found that three-quarters of employees crave more freedom within their roles. So it's not surprising to hear it is one of the primary motivators for starting a business.
Freedom allows for the ultimate work-life balance, a balance that is getting increasingly harder to, well, balance. Being your own boss means you call the shots - you can decide where and when you work and, who you work alongside.
A passion for their job
As we've discussed in the previous section, a love for your job can carry you far when building your own business. Passion can help you through the struggles of growing a business - particularly in oversaturated markets. And passion, it seems, is also a big driver for leaving full-time employment and flying solo.
Being passionate about your business will radiate through your elevator pitch. Nothing can mimic natural passion.
Wanting to create a legacy
Many people want to be remembered for something special from their time on this planet, and if that means designing, building and growing your own business, then it's a viable option. Leaving a company to your children can give you ultimate parenting satisfaction. Providing for your family is one thing, but the ability to work closely with relatives in the future can be what dreams are made of!
Struggling to survive
If you're struggling to make ends meet with your current employment, starting a side business and growing it until it becomes a more profitable and fulfilling career option is a popular route into self-employment.
Although the average cost of starting a new business is £22,756, this average excludes online businesses and building an online business can be a cost-effective option into self-employment.
When starting an online business, you don't require overheads including office space, employees or even products to sell - all you need is a computer/laptop, an internet connection and a viable professional service to offer, and you're off!
If you're not sure how to get started online, there are many online learning platforms for you to master new skills to help you build a templated website, get a marketing strategy together and business advice. Platforms including Google Digital Garage, YouTube, LinkedIn and Udemy offer all kinds of resources to help you widen your digital skillset to set you on a path to business success.
If you're looking to save money in your business (and who isn't?) - check out our guide to simple money-saving business tips.