Regardless of how well your business is performing, you should always keep an eye on cost-cutting measures for your small business. Keeping tight hold of the purse strings in some areas of your business means you can save or spend them wisely to help your business grow further.
We all understand you have to spend money to make money - but that doesn't mean you should spend randomly or frivolously. Here at Capalona, our money-saving tips are realistic with a view to help you grow your small business effectively and efficiently.
Do you know how much it costs to start a new business?
A study conducted by Lloyds Bank in 2016 found that the average cost to start a business in the UK was £12,601. 32% of new business owners found the financial cost of starting up to be higher than expected, with only 6% claiming it to be lower than their budget.
Talking about the Lloyds Bank study, Jo Harris, Managing Director, Lloyds Bank Retail Business Banking, said:
"When you're starting up a new business, don't rush into rash expenditure that you may later regret. Planning and research are essential, so spend wisely and keep costs low. The more you spend upfront, the more money you'll have to generate in the crucial first months of being in business."
So with Jo's advice in mind, how can you start making business cost savings?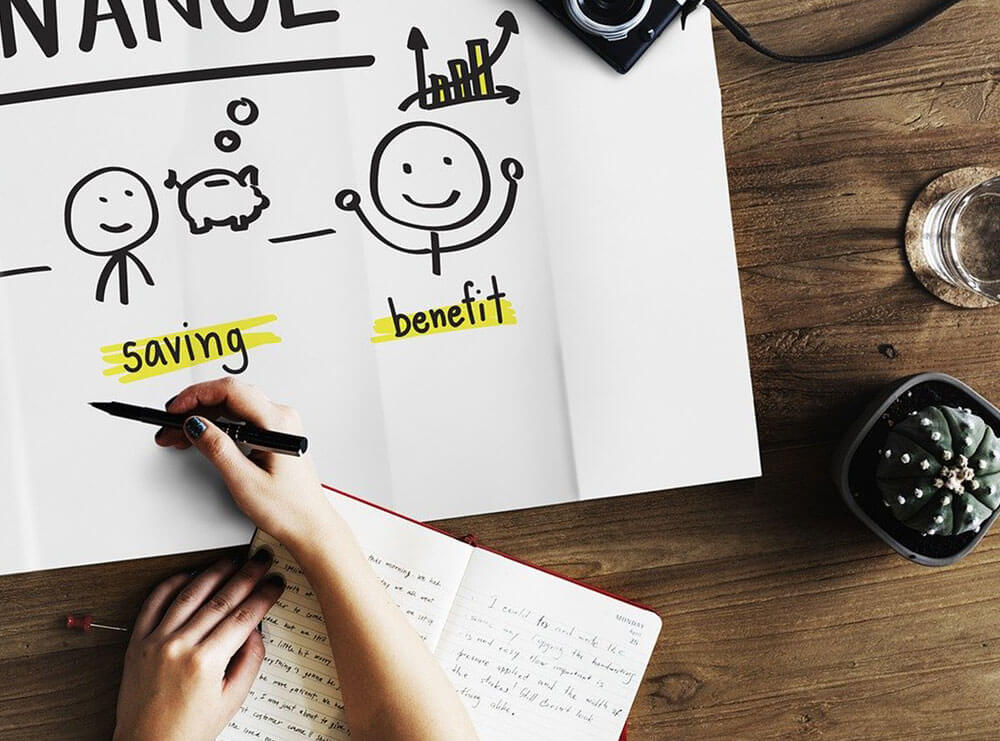 Invest in digital marketing
Traditional forms of advertising and marketing can be extortionate - from radio jingles to direct marketing pamphlets - it can be an expensive marketing strategy. But if you want to spend some of your budget on raising the awareness of your new business, you should seriously consider digital marketing.
Digital marketing is highly measurable and puts you in the driving seat. For example, all paid advertising - whether it's a Facebook ad or a Google Ads campaign is customisable and, most importantly, the purse strings are well and truly in your hands. You can stop, edit and pause your campaigns whenever you like.
Testing just £10 worth of ads can get you in front of a whole new segment of your audience, an audience who didn't know you existed before.
Outsource the stuff you don't know how to do
Outsourcing is a great option when you're just starting. Paying people on a freelance basis means no additional overheads - no pension pot to pay into, no sick days to account for and, no computer workspace eating up the electricity for your new colleague.
Outsourcing is the key to excelling in areas of the business you may not have the time to dedicate to or don't have the skillset to fulfil. Knowing what you're not good at and getting help with it is the best way to save yourself time and money down the line. Also, it can help you from burning yourself out - then you're not useful to anybody!
Outsourcing can help you deliver the work of a team when it might just be you in your business. Outsourcing can be more time-intensive for you (writing briefs, finding a freelancer etc.) but if you're looking to save some pennies and save sanity - it's a great option.
Embrace going greener
Reducing your carbon footprint and saving money? That's a combination most would happily welcome. Although adopting greener initiatives into your small business shouldn't just be done for publicity, in its early years, your business could do with all the publicity it can get - so it's a win-win situation.
Embracing a greener way of running your business means you can promote the fact to your audience. Trying to better the previous year's green initiatives gives you a nice PR piece for your company.
Switching energy provider
Martin Lewis from Money Saving Expert has long been an advocate of changing your electricity supplier to save pennies. MoneySupermarket state customers can save an average of £238 on their energy bills by switching provider.
Buying LED bulbs
Buying LED light bulbs can also help to lower your energy costs and embrace the go green initiative. Simply LED state that an LED bulb that uses only 5 watts of power does the same job as a filament bulb that uses 40 watts. After that news, why wouldn't you switch over your lightbulbs if you can?
Go paperless
Anything else you can do to become greener? Yes - forgo a printer! Go paperless (well, as much as you can). Not printing out meeting notes and looking at them on a projector screen or laptop screen instead saves paper and money. Printer ink is pretty expensive, too! Go without and stay paperless.
Ditch software and utilise cloud storage
If you've been eyeing up the Microsoft Office 365 packages you'll notice you have to pay per user - but have you considered using Google Drive? Google Drive is free to use and offers users their version of Word, Excel, Presentation and more. With 15GB for free with a Google account, it's a great way to keep costs low when you're starting.
Other benefits of using Google drive
You can access your work on any computer wherever you are - all you need is an internet connection
You can share files easily with colleagues and edit live documents at the same time
You can view a comprehensive revision history
Documents save automatically and save offline if you've lost internet connection
And, you can also download the documents just like you can with a Microsoft package. Save as PDF, Word document, Rich Text Format and more.
Put effort into retaining your staff
According to Accounts and Legal replacing just one member of staff costs a small business £12,000 on average - which is a staggering amount.
Great employees are invaluable to your small business, so don't let them slip away. Directly communicating with your employees can help you identify issues within business processes and help you catch and solve problems early.
Learn more about how to find, attract and retain top tier talent.
Question every purchase
This is an important one. Sometimes you can save money by simply not spending it! Sounds simple, and it is. You've just got to think about the item you're considering purchasing and weighing up whether you need the item immediately for your business or not.
Austrian neurologist and psychiatrist, Victor Frankl once said that "between the stimulus and response there is a space. In that space is our power to choose our response."
So to put a bit of space between thinking about purchasing and actually purchasing is to wait a week before acting on your thoughts. Sometimes this space to think is enough to subdue the urge you had to buy something in the first place.
If, after a week, you still want or need the purchase, go ahead and buy it.
This can help you determine the essential purchases for your business - while weeding out those miscellaneous items you didn't need.
Join a coworking space
Insight from Lloyds Bank states that property is the single most significant contributor to business costs - it accounted for 25% of expenses incurred. So if you're only a small team, working from a coworking space could be more cost-effective.
Most are contract-based but are usually only short-term with a few month's notice required to vacate. If you're happy to work amongst other business workers, it could be an excellent option for you. The facilities usually include tea and coffee, Wi-Fi, printing facilities and new people to interact with each day.
Coworking spaces can also offer tenants discounted food, drinks, meeting rooms and the opportunity to attend networking events which can help you increase awareness of your small business.
So remember…
Building a small business can be costly, so it's essential to be mindful when making any decision that affects your bottom line. Operating while implementing some of these cost-cutting initiatives can help your business grow or at least sustain its growth.
Always ask for a discount
Take time to act on purchasing decisions
Look for alternatives to paid-for software
Consider a coworking space to eliminate the need to pay for energy bills
Put effort into retaining good employees
Embrace going green
Outsource tasks you can't do yourself
And, invest in digital marketing over traditional marketing
If you're looking to grow faster, we can help you quickly access the best unsecured business loan for your business.