Getting funding for your business can be the stepping stone you need to grow quickly. Applying for a UK government grant can be a great way to get your hands on this finance; whether you're just starting a business or you run an established one.
A government grant can come as non-repayable funding or advice and workshops. They aim to help businesses fulfil specific goals in certain industries and sectors. It could be worth applying if you meet the criteria for one of the many government grant schemes.
This blog explores whether you should apply for a business grant, how to create a successful grant application and alternative funding options to government grants.
Why should I apply for a business grant?
Whether you should apply for a business grant depends on what you want to achieve with your business. Accessing funding can be the quickest way to launch a new business, fund your startup or help your established business achieve specific goals. You can also benefit from access to insightful workshops or advice from other entrepreneurs to help further boost business growth.
Government grants can help you:
Access funds you don't need to repay
Boost innovation in your business
Gain competitive advantage
Implement sustainable solutions
Create jobs to benefit the local economy
Can I get a grant from the government?
The criteria for getting a grant from the government depends on the type of grant you're applying for. For example, grant criteria can be divided by eligible organisations (i.e. there are specific grants for charities), business sectors such as education and energy and industrial development-specific, some grants are aimed at startups or established businesses and some are location-specific i.e. some geographical areas might be more heavily invested in than others.
Each grant will have its own qualifying criteria you must meet, so it's worth checking out local business grants, sector-specific grants or purpose-specific grants like green energy grants to find one that matches your business needs.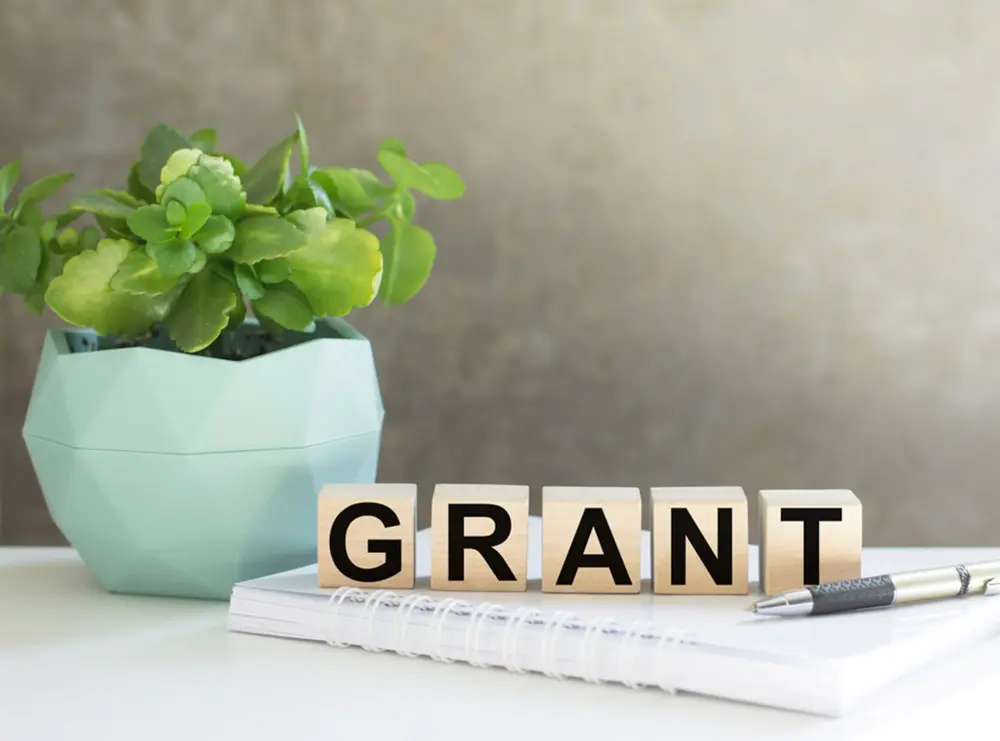 5 tips on how to apply for a government grant
Before applying for a business grant, planning and preparing as best you can is essential. Grant schemes are highly competitive, so you'll want to ensure your application gives you the best chance of securing funding.
1. Research, research, and research some more
There are many business grant schemes, and you need to know which type of government grant suits your business goals best. To research, you can use our free business grant finder. Filter by business stage, region, and sector.
2. Carefully check the requirements of the awarding body
Different awarding bodies have different requirements; contact them directly to find out exactly what they're looking for. I.e. is their grant to help you create new jobs in your region, or maybe they expect you to match the funds they give you? Customise your application to meet their specific criteria.
3. Write a business plan
Don't leave the awarding body asking questions about how you plan to use the grant or what your business does. Take time to write a business plan that lays out your plans for future growth and how the grant fits into your plans — how will you use the money?
4. Apply quickly for a government grant
Don't hang around when applying for grants; they're competitive, and sometimes they have limited cash to give away. Whether you're applying for grants in Scotland, England or Wales, a grant for startups or a government grant for small business — don't dither; act quickly and get your application in.
5. Keep trying
Just because you might not secure the first grant you apply for, doesn't mean you should give up. Try and take what you've learnt from your previous applications to improve your next one.
If you don't want to wait around for a business grant, you can always explore alternative financing options such as
business loans
,
angel investment
or
crowdfunding
. You can receive funding from an unsecured business loan in as little as 48 hours after application approval.
Free business grant finder tool
Our free business government grants finder tool helps you filter business grant schemes specific to your industry or business stage so you don't have to scour numerous websites looking for suitable grants.
If you find a grant you're interested in, just click through to learn more.
Our grant database is regularly updated with new grants, ensuring you don't miss out on any relevant funding prospects. So feel free to bookmark our business grant finder to keep your eyes peeled for relevant opportunities!
Alternatives financing to government grants
If you don't have the time to apply for UK government grants, don't worry. There are plenty of alternatives out there. Business loans are a popular option to boost business cash flow to help you cover necessary short-term expenses or give you the working capital to invest in new products or services or renovate your business premises.
We work alongside a panel of flexible alternative UK lenders to offer various business finance products.
To sum up
Government grants can get you the funding you need to grow your business — helping you achieve a competitive edge, become more sustainable, or help grow your local economy. But to ensure you're successful with your grant application, you must find suitable grants and customise your application to meet their requirements.
Not sure a business grant is for you? Find and compare business finance options instead (it's free).