Equity finance is when you swap shares for cash. You give shares to current or new investors in exchange for cash. Shareholders won't see a return on their investment until you do — this means they have a vested interest in seeing you succeed.
Once you raise funds, you can start spending to grow your business. Use your new funds to buy equipment, stock up on supplies, hire staff, or consolidate your debts. There are many ways you can spend your money — but some investors might have specific requirements on how you spend it.
How does equity finance work?
Equity finance works by selling shares in your business to investors. These investors then become shareholders, who make money through dividends you pay them or by selling their shares to others.
A great example of this is the BBC show Dragons' Den. Business owners approach the panel of angel investors, and in exchange for a stake in the business, they invest cash and use their contacts to help them grow their business.
Whether you're a startup or an established business, equity finance is a great way to raise the capital you need to grow. It's also a good option if you're considering buying a business.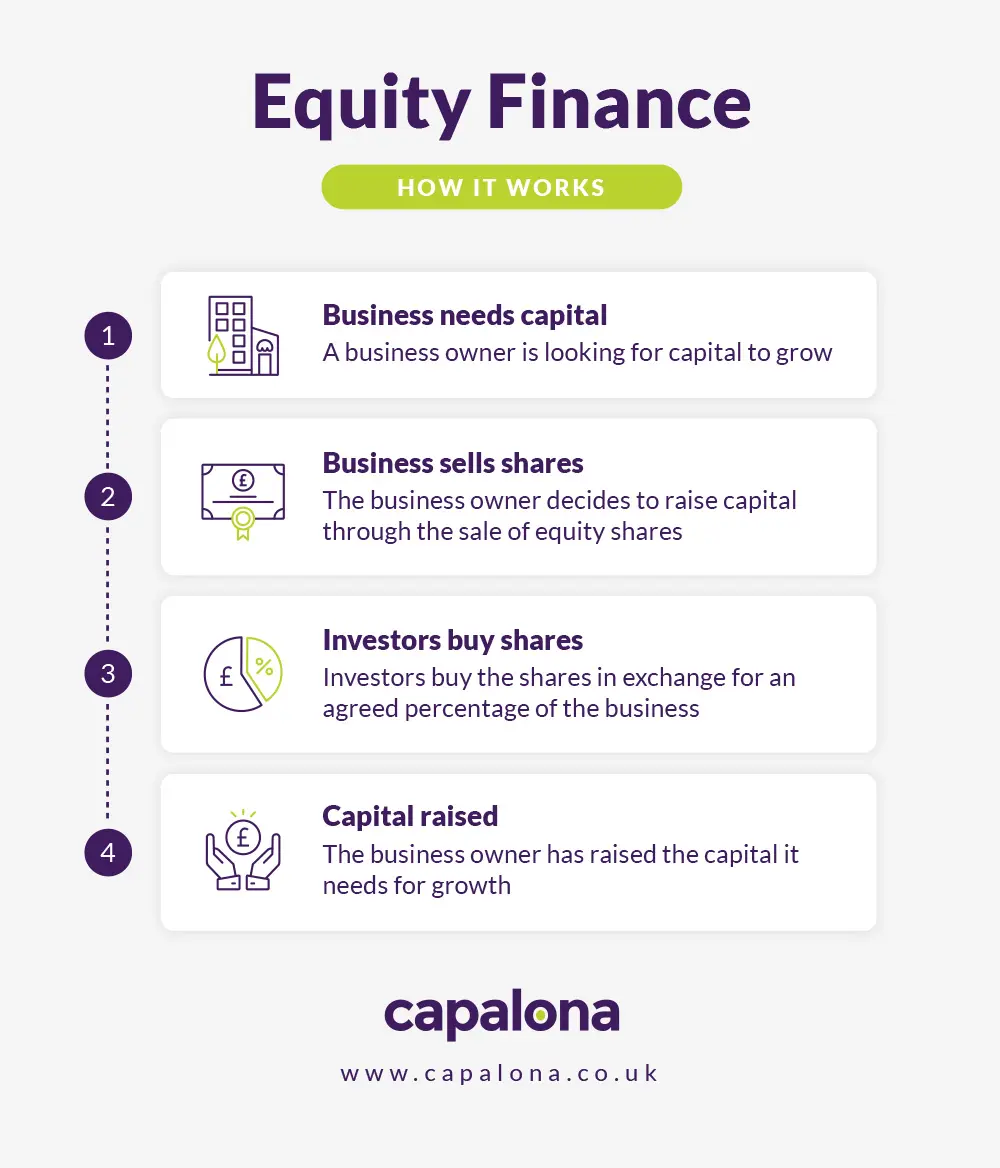 Advantages of equity finance
Equity financing can give business owners the injection of cash they need to push on with their business idea. Here is a handful of advantages to equity financing.
You can access larger sums of money
If you can't get the investment you need from one investor, you can approach multiple investors to get the full amount you want or need for your business. Not all investors will want to share equity, though, so this is something you have to be clear about from the outset.
No monthly repayment obligations and no interest
Unlike debt financing, i.e. when you take out a business loan and must repay the amount in full with interest. That's not the case with equity finance. You don't have to pay interest or repay in monthly instalments — this means you keep more money in the business. Which is ideal if you're a startup needing seed funding.
Tap into business advice from your investors
It's not just the financial investment you gain with equity finance — when the investor comes on board, they effectively bring their contact book with them. You can access, not only the investor's knowledge and expertise, but their business network, too.
Investors can help you explore new opportunities
The thought of entering new markets on your own can be daunting, but with the backing of an investor, these risks seem less risky. You're doing it with the help and guidance of someone with experience in making these leaps.
Access further funding if needed
If part way through your investment relationship, you need more funding — investors can usually invest more whenever you need it. This is something you should ask investors before bringing them on board, though, not all investors will be willing to provide follow-on funding.
Disadvantages of equity finance
Just like all business finance solutions, there are disadvantages to equity finance. Make sure you weigh the pros and cons before applying for this type of finance.
You do have to give away equity
As the name 'equity finance' suggests, you do have to part with a percentage of equity — this is by far the biggest drawback. How much you give away is down to you and the investor to agree on. The more equity you give to investors, the less control you have over the business.
Finding investors can be time-consuming
While you're eager to grow your business immediately, finding the right investors can take precious time away from this goal. Although, ultimately, it can be worth it. Waiting around can mean you're wasting time that you could spend growing your business.
You have to keep shareholders informed
Keeping them informed might mean producing reports on progress and having regular meetings. These meetings can be useful but they can also become a burden.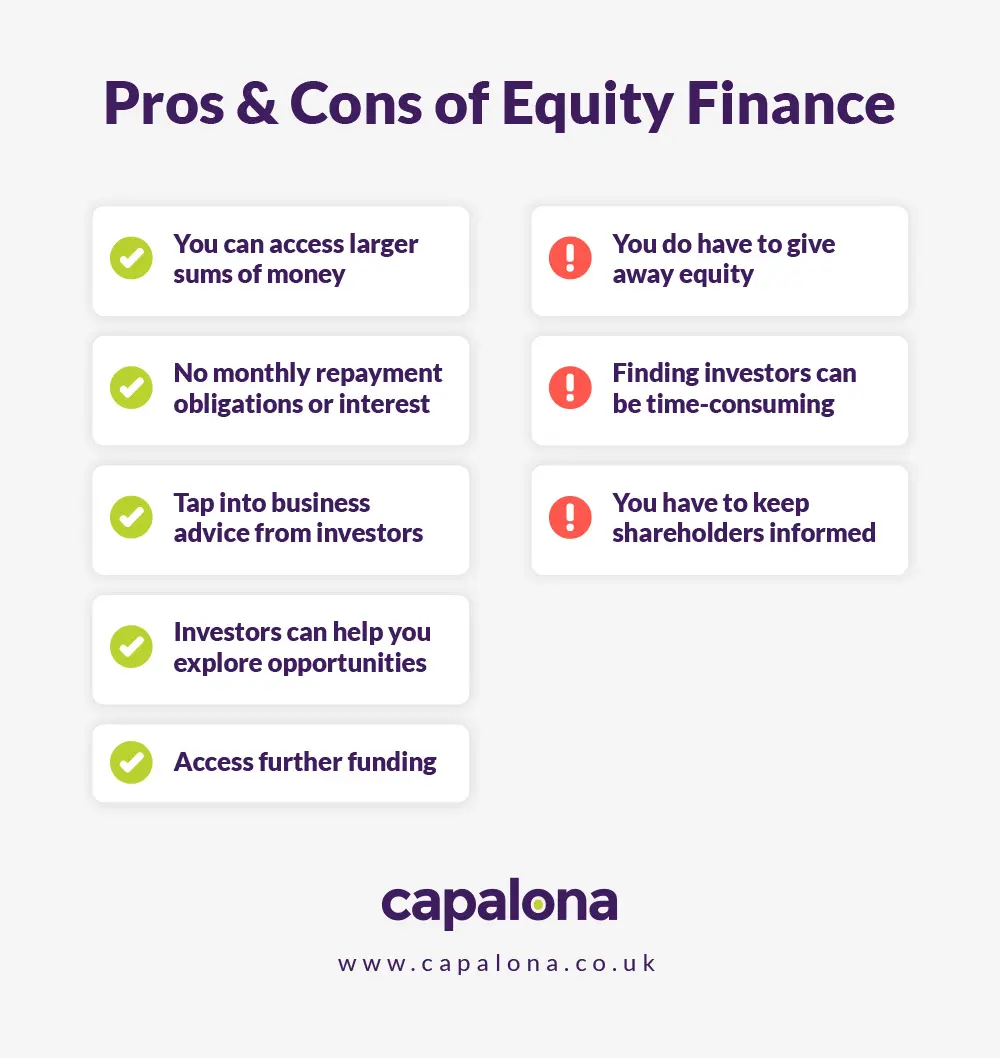 Types of equity finance
There are many types of equity financing available for UK SMEs. Here are four.
Angel Investment
An angel investor is a private investor that usually parts with their own money when investing in your business. In return for their investment, these investors expect ownership equity of up to 25%. Angel investors usually invest at the very beginning of a business in the startup phase.
So if you're an early-stage startup or an entrepreneur looking for seed or even pre-seed investment, angel investors could be a good match for you.
Venture Capital
Venture capitalists are professional investors who work for venture capital firms, where they handle the money on behalf of clients (pension funds, foundations, individuals etc.). Brokering a venture capital deal is time-intensive. Therefore, they only get involved in investments worth their time (and money).
You can access much higher amounts of capital investment through a venture capitalist than you can with angel investors. Venture capital firms usually invest in businesses already with a proven track record rather than investing in startups.
So, if this sounds like your business, it's an option worth exploring.
Private Equity
Private equity firms look to invest in companies that have the potential for sustainable growth and they usually take a majority share in the business. The firms invest in mature companies they can add further value to and sell on to another private investment firm or list the company publicly.
The private equity route could be for your business if you're looking to exit the business or your company has consistent growth.
Crowdfunding
Crowdfunding for your business can be a great way to get small amounts of funding from a large pool of people who want to support your business idea. Rather than taking on debt from a traditional bank, crowdfunding is a low-cost alternative to raising funds.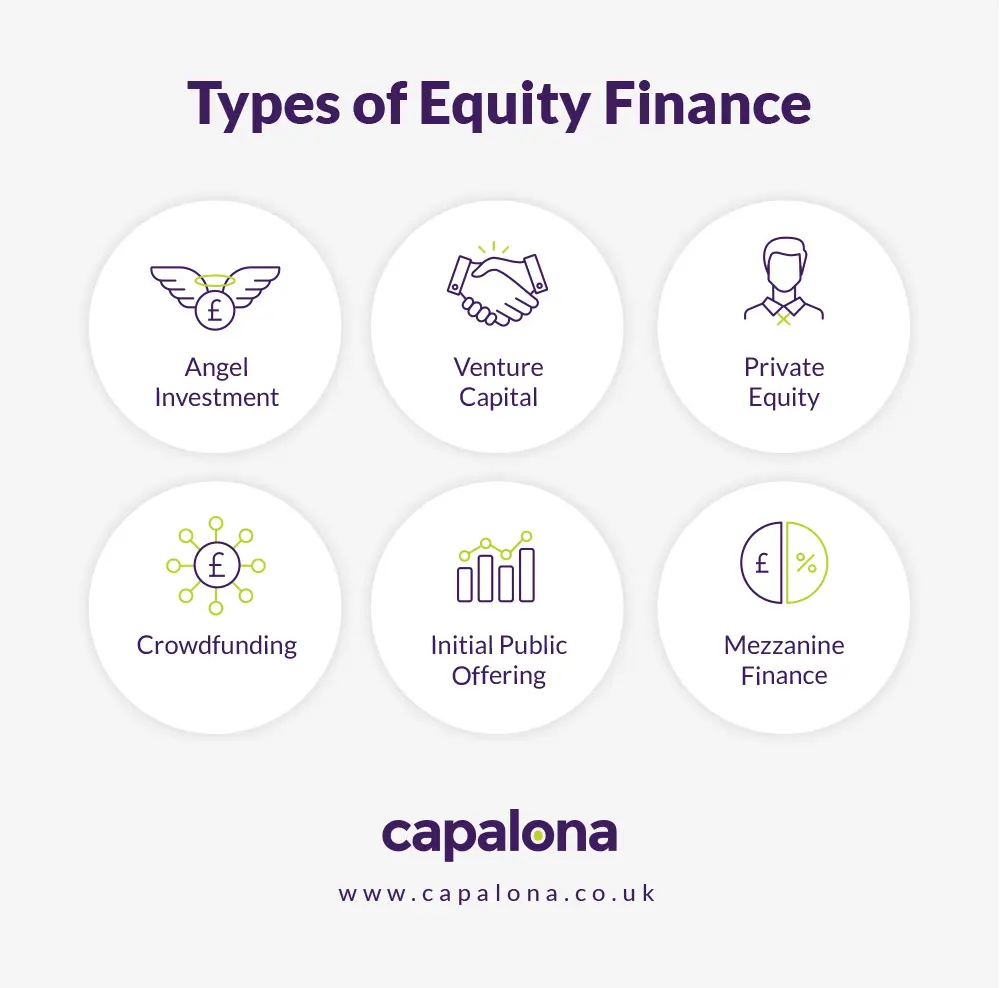 What to look for in an investor
You must look past the cash injection and ask yourself — what else can the investor offer me?
Perhaps you see your business entering new markets in the near future — has your investor got significant experience in this area? Where does their expertise lie? Can they offer access to the right contacts to help you grow your business?
It can be exciting when you start looking for investment opportunities. But try not to jump straight in without being mindful of what you want for your business in the future.
How to apply for equity financing
You can approach investment firms or angel investors directly, or you can use your accountant or financial advisor as an intermediary. Alternatively, you can search for business financing options yourself by using our free business finance comparison tool to find and compare lenders and finance deals.
If you see an offer you like the look of, click through to the lender's website to apply directly. There is no obligation to proceed with any of the quotes you're presented with.
At Capalona, we work with a panel of trusted UK alternative lenders. We're confident our free comparison tool will find you a finance product to suit your needs perfectly. Compare business finance options.