By 2025, banks will withdraw finance from unsustainable businesses. What does this mean? It means companies must take responsibility for their carbon footprint and start hitting sustainability targets. If you don't do this, you could struggle to access finance in the future.
92% of businesses are already positively influenced by their banks to act more sustainability. So is 2023 the year you make positive changes, too? In this blog, we're exploring what green finance is, why it's important, and how a green finance strategy can help your business.
What is green finance?
Green finance or green business loans are to encourage businesses to make more eco-friendly and energy-efficient investments for their business. The UK is on a mission to reach net-zero emissions by 2050, and as part of this strategy, the UK government has made £5 billion worth of funding available to help businesses become greener and remain within the UK green taxonomy, (a framework detailing activities that can be considered environmentally sustainable).
How to apply for green finance
There are a few ways to access green investment and update your green finance strategy for your business:
Green grants and funding
Accessing grants and funding means you don't have to pay back any money you receive toward specific green projects, i.e. installing heat pumps. Applying for funding through the government usually comes with strict eligibility requirements, and they're very competitive, so you should be prepared for a lengthy process.
The government updates its funding list with active projects regularly, and you can view all current funding opportunities on the gov.uk site.
Green business loans
Many high street banks and lenders are offering SMEs green loans. These green business loans can be used to install solar panels, upgrade your machinery so it's eco-friendly, improve your EPC ratings and more. Some banks allow borrowers to access as much as £10 million to support green initiatives, and many offer incentives to encourage borrowers, including lower interest rates or larger loan amounts.
Green asset finance
If you want to buy new green assets but don't want to purchase the assets outright, you can use asset finance. Let's say you want to upgrade your fleet of company cars to electric vehicles and reduce your carbon footprint. In this case, the lender would purchase the cars on your behalf, and you repay in monthly instalments until the end of the lease or hire purchase loan agreement.
Lender conditions apply, and loan terms vary, contact the lender directly to understand specific eligibility requirements.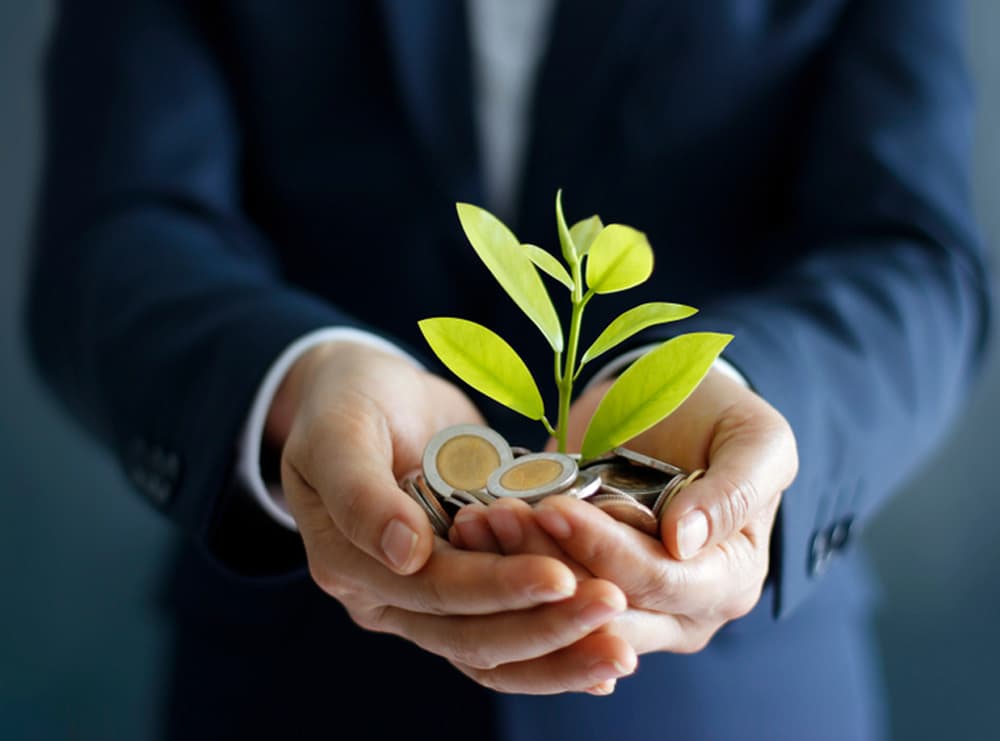 Why is green finance important?
Climate change is quickly reaching a point where some of the damage done to our planet is irreversible. But we can still take action to reduce our carbon emissions.
And as a business, you should look for ways to reduce your carbon footprint. Not only is it the right thing to do, but you might have limited access to funding if your business doesn't take sustainability seriously.
Being seen to act more sustainably can improve your business reputation.
Who doesn't admire a company that helps plant trees in the rainforest? Or one that has managed to create a carbon-neutral business model? These initiatives can become great talking points across social media channels — impressing customers, potential investors and new hires.
Investing in eco-friendly projects is also eventually profitable. 95% of business leaders surveyed say their sustainability initiatives were either a net gain or cost-neutral, but 98% believe they will be profitable within three years. So it's worth looking into.
Finding eco-friendly projects to back
If you're interested in finding green initiatives to invest in (even if just as an individual), there are plenty of platforms out there to help you find campaigns and projects you can back and make a difference in a smaller way.
1. Check out Tulipshare
Check out Tulipshare "the future of activist investing". Here users can invest their money to back campaigns addressing important issues. One of their active campaigns discusses holding the construction and mining equipment company Caterpillar accountable for its contribution to climate change.
2. Look on Kickstarter
Another way to seek out green projects is by using Kickstarter. Kickstarter has an entire section dedicated to green initiatives and products. For example, you can back a company whose goal is to create a wind turbine that fits in your backpack, harnessing the power of clean, efficient wind energy to power your devices
3. Get involved in tree planting initiative
You can get involved in initiatives to help plant more trees, whether it's starting your own tree-planting project or getting involved in the many others out there.
Take Forest as an example. A simple time-tracking app to boost productivity, users can plant virtual trees which grow as they work. This action earns you coins, coins which you can then 'spend' on planting a real tree. Forest partners with Trees for the Future and has so far planted over 1.5 million trees.
If you have eco business transition plans, we can help you access the finance you need to make green investments. Explore our business finance solutions or get a free quote.