By 2025, banks will withdraw finance from unsustainable businesses. What does this mean? It means companies need to evolve and take responsibility for their carbon footprint and start hitting sustainability targets. If you don't do this, you could struggle to access finance in the future.
92% of businesses are already positively influenced by their banks to act more sustainability. So is 2022 the year you make positive changes, too? In this blog, we're exploring what green finance is, why it's important, and how it can help your business.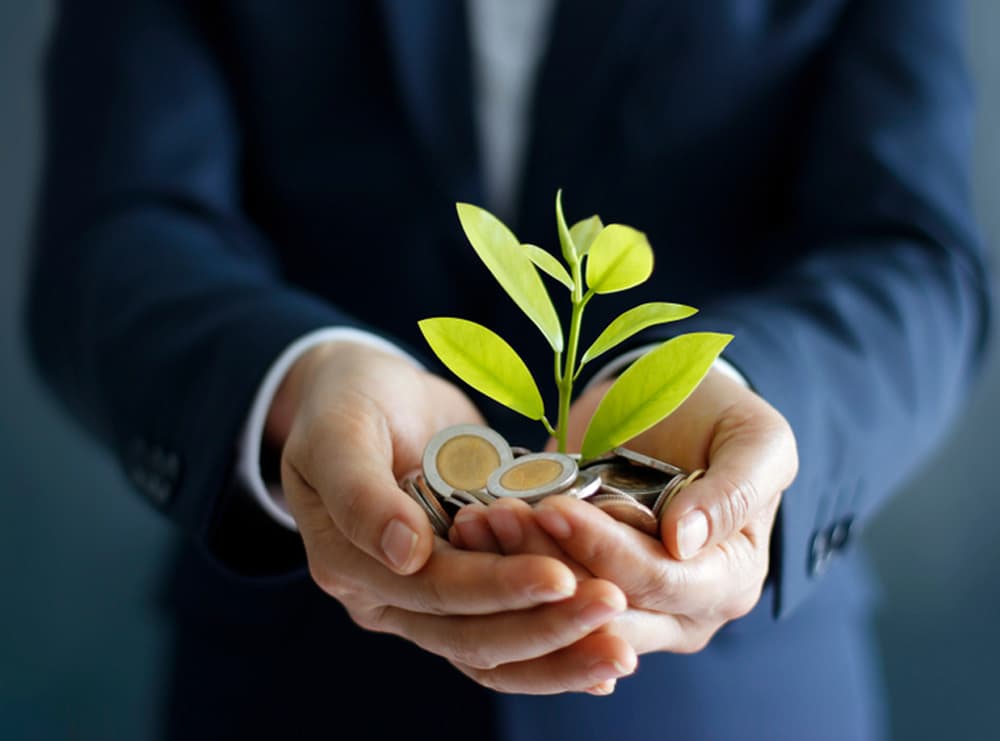 What is green finance?
Green finance or green loans are specifically designed to encourage businesses to make more eco-friendly decisions for their business. The UK is on a mission to reach net-zero emissions by 2050, and as part of this strategy, the government has made £5 billion worth of funding available to help businesses become greener.
How to apply for green finance
There are a few ways you can access money to improve your green credentials.
Green grants and funding
Being able to access grants and funding means you don't have to pay back any money you receive toward specific green projects, i.e. installing heat pumps. Applying for funding through the government usually comes with strict eligibility requirements, and they're very competitive, so you should be prepared for a lengthy process.
The government updates its funding list with active projects regularly, and you can view all current funding opportunities on the gov.uk site.
Green loans
Many high street banks and lenders are offering SMEs green loans. These loans can be used to purchase electric vehicles for your business, install solar panels, upgrade your machinery, so it's more eco-friendly, improve your EPC ratings etc. Some banks allow borrowers to access as much as £10 million to support green initiatives, and many offer incentives to encourage borrowers; these incentives can include lower interest rates or larger loan amounts.
Why is green finance important?
As we're all very aware, climate change is very quickly reaching a point where some of the damage done to our planet is irreversible. But we can still take action to reduce our carbon emissions. And as a business, you should be looking for ways you can reduce your carbon footprint.
Aside from the fact that it's the right thing to do, you might have limited access to funding if your business doesn't take sustainability seriously. Investing in eco-tech or switching to a green energy supplier can save your business money in the long run. But being seen to act more sustainably can give your PR campaigns a boost.
Who doesn't admire a company that helps plant trees in the rainforest? Or has managed to create a carbon-neutral business model? These initiatives can become great talking points across your social media channels, impressing both customers, potential investors and new hires.
Investing in eco-friendly projects is also eventually profitable. 95% of business leaders surveyed said that their sustainability initiatives were either a net gain or cost-neutral in 2020, but 98% believe they will be profitable in just three short years. So it's worth looking into.
Finding eco-friendly projects to back
If you're interested in finding green initiatives to invest in (even if just as an individual), there are plenty of platforms out there to help you find campaigns and projects you can back. And make a difference in a smaller way.
1. Check out Tulipshare
For example, check out Tulipshare, "the future of activist investing". Here users can invest their money to back campaigns addressing important issues. One of their active campaigns discusses holding the construction and mining equipment company Caterpillar accountable for its contribution to climate change.
2. Look on Kickstarter
Another way to seek out green projects for backing is by using Kickstarter. Kickstarter has an entire section filtered by green initiatives and products. As an example, you can back a company whose goal is to create a wind turbine that fits in your backpack, harnessing the power of clean, efficient wind energy to power your devices.
3. Get involved in tree planting initiative
You can get involved in initiatives to help plant more trees, whether it's starting your own tree planting project or getting involved in the many others out there. A great way to start your involvement in tree planting is by backing projects that already do a great job.
Take Forest as an example. A simple time tracking app to boost productivity, users can plant virtual trees which grow as they work. This action earns you coins, coins which you can then 'spend' on planting a real tree. Forest partners with Trees for the Future and have so far planted over 1.3 million trees.
How to make your business more eco-friendly (without finance)
If you're not ready to apply for a green loan or you're not eligible for green funding, there are still plenty of ways your business can reduce its carbon footprint. The changes proposed below may seem insignificant, but they have a major impact on the environment around us.
1. Go paperless
Going paperless should be pretty easy for many businesses, particularly since Covid has meant tech adoption has risen. To put paper usage into perspective, the average tree can produce 17 reams of paper but takes 100 years to grow. And the result of this process? Around 110 lbs of C02 is released into the atmosphere each time. So put a stop to printing emails and documents, and embrace digital connectivity and shared screens.
2. Reduce unnecessary travel
With Covid forcing many businesses to adopt a hybrid working approach, it means employees are enjoying a mix of office working and remote working. And reducing the number of commutes by car has a substantial impact on CO2 emissions. A study conducted by Lead researcher Dr Christian Brand, from the University of Oxford found:
"[...] those who switch just one trip per day from car driving to cycling reduce their carbon footprint by about 0.5 tonnes over a year, representing a substantial share of average per capita CO2 emissions."
3. Switch off electricity when it's not in use
According to a report from the government, in 2019, the business sector was responsible for 17% of all emissions. So, if it's possible, unplug all devices that are not in use overnight; this will save you money and reduce the about of carbon emissions into the atmosphere.
4. Ask employees for their ideas
83% of workers don't think their workplaces are doing enough to address climate change. This is a great opportunity to get them involved in the future of your business and explore new ways to save money and save the planet. This exercise means your business can become better aligned with its staff's values, and you'll probably come across some pretty fantastic ideas.
Hopefully, this blog has opened your eyes to the green financial support available to your business and inspired you to get involved in more green business initiatives.
If you're looking to grow your business, we can help you get access to the finance you need. Explore our financial solutions or get a free quote.