As a small or medium-sized business owner, you might think green business changes you make won't impact the environment. But you'd be wrong! UK SMEs are generating 15 tonnes of carbon dioxide each year on average and 77% of small businesses don't have a strategy to reduce their carbon footprint over the next three years. The good news is that you can start by making small green business choices today.
Improving how eco-friendly your business is is crucial. Not only to lessen greenhouse gas emissions and positively impact climate change but to also appeal to customers and investors. 88% of consumers are more loyal to companies supporting environmental issues.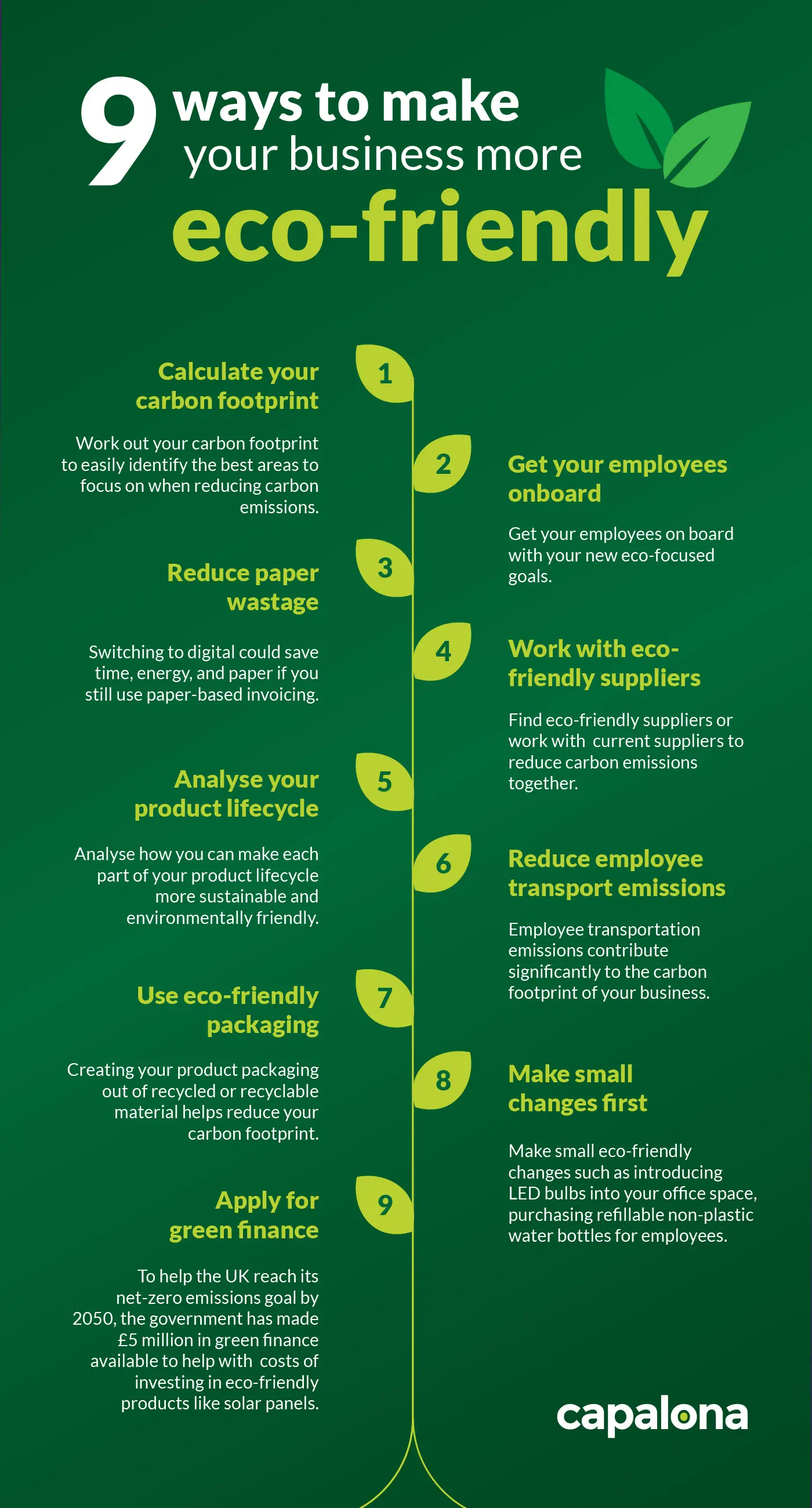 Here's how you can get started:
1. Calculate your carbon footprint
It's a good idea to work out your carbon footprint to easily identify the best areas to focus on when reducing carbon emissions. Plenty of carbon footprint calculators are available to help you understand your environmental impact, like
Carbon Trust
and
SME Climate Hub
. Carbon emissions can come from your employees commuting to work, how you dispose of your waste products, the materials you use in your product packaging, and the emissions your suppliers and customers expel.
2. Get your employees onboard
It's not just customers who favour eco-friendly businesses; employees also want employers who care for the environment. 69% of employees are more willing to accept job offers from environmentally sustainable companies.
So, with that in mind, it should be relatively easy to get your employees on board with your new eco-focused goals. Meet with employees and gather their suggestions for making small yet impactful changes to benefit the environment. Without their help and support, you can't implement successful company-wide initiatives.
3. Reduce paper wastage
Switching to digital could save time, energy, and paper if you still use paper-based invoicing or print-out insurance policy documents, for example. Not only does using digital solutions reduce the paper you use and, therefore, removes the associated purchasing costs, but it also makes business operations easier and more efficient. Need to check a customer invoice? Search for the invoice in your software instead of riffling through your filing cabinet.
By digitising operations, you can reduce your carbon footprint, improve your customer experience and operational efficiencies in one go.
4. Work with eco-friendly suppliers
By working with eco-friendly suppliers, you can attract eco-conscious customers, reduce carbon emissions and improve your brand image. But how can you find eco-friendly suppliers? There are plenty of resources online to help you find the best green suppliers for your business, including The Wholesaler and EcoEnclose.
If you can't find suitable eco-friendly alternatives to your existing suppliers, you could instead work with local suppliers to cut down on transport emissions or work in partnership with your current suppliers in your supply chain to reduce carbon emissions together.
5. Analyse your product lifecycle
From raw materials through to production, distribution and beyond, how sustainable is your product and its processes? Analyse how you can make each part of your product lifecycle more sustainable and environmentally friendly. Perhaps you could look at your waste disposal; if it's currently going to a landfill, are there other alternatives, perhaps recycling or reusing materials if possible?
6. Reduce employee transport emissions
Employee transportation emissions contribute significantly to the carbon footprint of your business. But there are a few ways you can easily reduce them.
Firstly, consider carpooling initiatives where you can. If employees are local, perhaps you could encourage them to share car rides to and from the office in return for an incentive, i.e. enter them into a competition to win an extra day off etc.
Another way you can reduce employee transport emissions is by implementing a remote working policy. Allowing employees to work from home can greatly reduce your business's carbon footprint because transportation emissions decrease and employees can achieve a better work-life balance.
You could eliminate your office space completely to reduce energy consumption and associated costs or move to a smaller office or coworking space.
7. Use Eco-Friendly Packaging
Creating your product packaging out of recycled or recyclable material helps reduce your carbon footprint and meet consumer preferences simultaneously. We spoke with Nicholas, Dragolea, founder of dog supplement company Fetched.
Based in London, Fetched ensures all its packaging and accessories (including enclosed scoops) are 100% recyclable, including the individual pouches and containers for their supplements and the outer postal packaging.
"In terms of the outer packaging, we've switched from a printed white paper box with tissue paper inside to a simple, fully-padded envelope made of recycled paper." Explains Nicholas, "Not only is this more economical for us, but it's more eco-friendly, and our customers also appreciate the recycled aspect."
8. Make small changes first
Making big changes to your business can be overwhelming, but you can work up to the bigger changes and start by making smaller changes. Small eco-friendly changes could include introducing LED bulbs into your office space, purchasing refillable non-plastic water bottles for employees, using refillable ink cartridges, start composting waste products or using green products i.e. for cleaning.
Other eco-friendly business practices include spotting opportunities to reuse or recycle materials and waste used or generated by your business, i.e. paper, unsold goods or surplus raw materials, and find a way to breathe new life into them, whether it's through donating to a worthy cause or repurposing it for use within the office.
9. Apply for green finance
To help the UK reach its net-zero emissions goal by 2050, the government has made £5 million in green finance available to help shoulder the costs of investing in eco-friendly products. Products can include solar panels or purchasing and leasing electric company vehicles. Small businesses can also access green business loans and green asset finance if suitable government funding is unavailable.
Using these loans can help you achieve your own eco-friendly business goals.
Eco-friendly initiatives at Capalona
We're passionate about making a positive difference to the world around us, and that's why we've implemented a remote working policy. All team members work from their homes to limit any emissions from unnecessary commuting.
We're also 100% paperless, which means we embrace digital solutions for every part of our business from managing invoices to all documentation. Not only do we find this more efficient and measurable, it significantly reduces our carbon footprint.
Apply for a small business loan to help you reach your green goals faster.
See how much you're eligible for by getting a free quote today.