Equestrian Finance
Whether you've got a livery yard in need of repairs, you're planning to buy property, you need to purchase new equipment such as a horsebox, or you need to pay an unexpected vet bill, equestrian finance can help you.
Compare a wide range of lenders and rates
Check your eligibility in minutes
Find out how much you could borrow
Get Started
It's fast, free and won't affect your credit score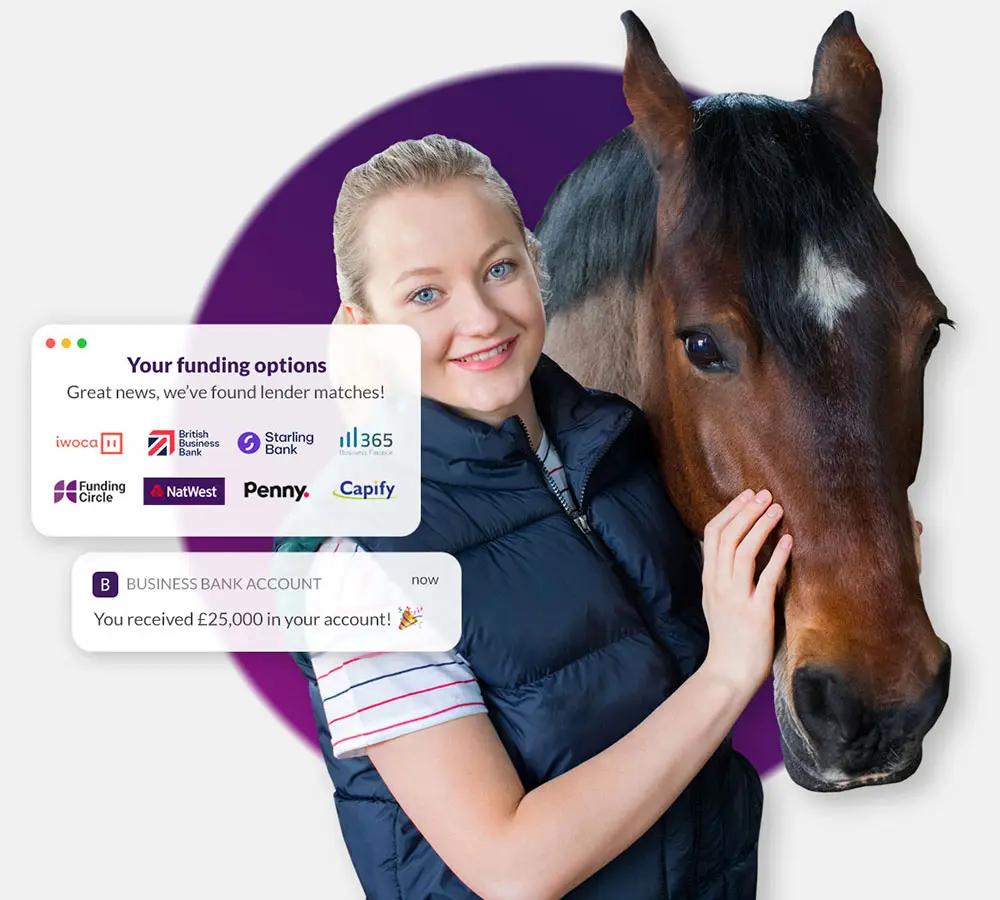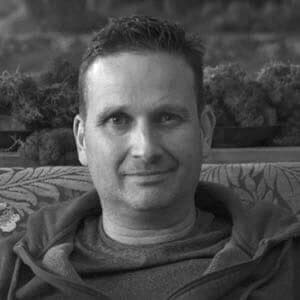 What is equestrian finance?
Equestrian finance is financing specifically designed to help support equestrian businesses, from riding stables and liveries to hacking and grooming companies. Equestrian finance can give you the working capital to reinvest in your business or keep it running smoothly.
Equestrian finance includes loan products like unsecured and secured loans, invoice finance, asset finance and more.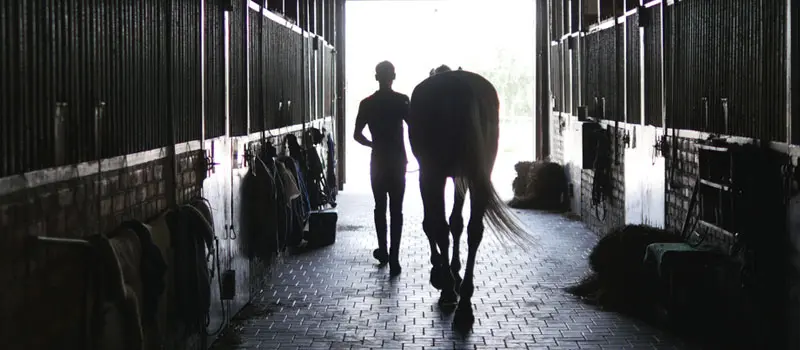 ---
Types of equestrian finance
Unsecured loans
If you're looking for fast equestrian finance, an unsecured business loan could be a good option. You don't have to risk your assets, and there are no lengthy loan applications. Instead, you can apply for an unsecured loan up to £500,000 and see cash quickly.
You can access working capital to reinvest in your equine business in a matter of hours.
Secured loans
A secured business loan is a good option if you're confident you can repay on time each month, as you must put up collateral. In addition, securing the loan with an asset means you can access higher loan amounts, lower interest rates, and longer repayment periods.
You can use a secured loan to purchase new equipment, expand your equestrian product range, or bulk-buy stock.
Commercial mortgages
Equestrian mortgages can be used to buy land or property for your equine-based business. However, the Financial Conduct Authority (FCA) doesn't regulate the majority of commercial mortgages, so you won't have the same protection as consumers. You should also know that commercial mortgages come with higher interest than residential mortgages.
You will usually need a deposit of at least 25% to secure a commercial mortgage.
Commercial bridging finance
If you have the chance to buy equestrian property like stables or land, but you don't have time to wait for a mortgage application, commercial bridging finance can plug that financial gap so you can move quickly on your purchase.
If you're in the middle of selling your existing farmland and want to purchase another before the other one has sold, bridging finance can also help ensure you have the funds readily available.
Bridging finance is usually paid off with the sale of the existing property or the mortgage on the new property.
Property development finance
If your yard or livery is in disrepair, or you want to develop a new property, property development finance can help shoulder the cost. Use property development finance to tackle bigger projects such as improving your horse facilities, upgrading your menage, or rebuilding barns and stables.
Do I need equestrian finance?
Looking after horses, buying new horses and keeping stables and liveries in good condition all cost a lot of money, not to mention the vet bills. In a recent survey, 55% said they were worried about the cost of vet bills and 30% worried about the cost of insurance.
If you're worried about costs, accessing equestrian finance can give you that peace of mind when paying monthly expenses. Pay staff wages on time every month, enjoy a healthy cash flow, make necessary upgrades to your facilities, or purchase new property and land to expand your business.
---
Why choose Capalona to arrange equestrian finance?
We work with a panel of trusted UK lenders offering fast, flexible and affordable financing options for equestrian businesses like yours.
Our free loan comparison tool lets you quickly find and compare lenders offering suitable finance options for your specific business needs.
Getting a quote is quick, and there's no obligation to accept anything offered to you. Find and compare equestrian finance.
What our customers say...
Adrian T
5/5
Amazingly fast, efficient service, minimal paperwork. So much faster than my business bank of twelve years.
4.70 out of 5 based on 86 reviews
Reviews last updated on 12 Oct 2023