Looking for a business loan might sound straightforward, but when it comes down to it, there are so many types of business loans to sift through, you've probably got a lot of questions — primarily, where do I start?
Other questions might include — do I need a loan with security? What's the difference between secured and unsecured? What types of loans are available to me?
But don't worry — this blog is here to simplify things for you. We'll take you through the different types of loans available, lender eligibility criteria, how to apply for a business loan, and more.
How to choose the right loan for your business
If you're wondering how to choose the right loan, don't worry; here's a step-by-step guide:
Figure out what you will use the loan for and how much you need
Before looking at business loan options, you must know how much cash you need and how you'll use it. For example, if you want to redesign your website, gather quotes from designers to price the job up. You can apply for loans between £1,000 to £2 million+, so you need a clear idea of how much you need before applying.
Check the state of your business finances
Will the lender consider you a good loan candidate? If your credit score is a little on the low side, you need to be aware of this so you can either take steps to improve it or understand you might have to apply for a loan with higher interest rates or sign a personal guarantee.
Start comparing loans and lenders and ask all the right questions
Look at lender interest rates, repayment terms, and eligibility criteria, and consider any additional fees, including setup fees, admin fees, or early repayment charges. Take your time considering your option; you don't want to rush into applying for the wrong type of loan.
Things to consider before applying for a business loan
Taking on business debt isn't a decision you should take lightly; that's why you must ask yourself the following questions before applying:
Can I afford to repay the loan?
Although the lender will carry out credit checks to ensure they're lending responsibly, you should sit down and understand your business's finances to avoid taking on debt you can't afford to repay.
By carrying out credit checks, the lender can determine whether the loan amount and repayment schedule are realistic for you. They might need proof you're making money and able to make repayments, i.e. three months' worth of bank statements.
Does my business qualify for a business loan?
If you're a small business or a sole trader, you might be wondering if you qualify for a loan, or whether you can only apply for a limited company loan. The good news is, as long as you're a limited company, sole trader or limited liability partnership (LLP) registered in the UK, you could be eligible to apply for business finance.
Just make sure you meet the lender's other criteria before applying.
Do I need to apply for a loan?
Do you need a loan, or can you borrow from family and friends or use personal savings? Borrowing from family can be a great alternative to a business loan because you can access the cash you need quickly, and you might not have to pay interest, saving you money.
Do I have a good credit score?
A good credit score means you can access more favourable interest rates, larger loan amounts and more providers and loan options for small businesses to choose from.
But if you have bad credit, don't worry. Our lenders look at loan applications individually, and their lending requirements are more flexible than traditional banks. (We also work with lenders specialising in bad credit loans.)
What is the criteria for a business loan?
When it comes to that business loan, there are a few basic criteria you'll need to meet. Let's break it down so you know exactly what lenders are looking for:
Been trading for at least three months
UK registered business
Sole trader, partnership, or limited company
Over the age of 18
Some lenders may consider your trading history
Some lenders may have minimum turnover requirements (depending on the type of finance)
Different lenders might have additional requirements or specific criteria based on the type of loan you're applying for. So, it's always a good idea to double-check with the lender you're considering to ensure you meet all their criteria.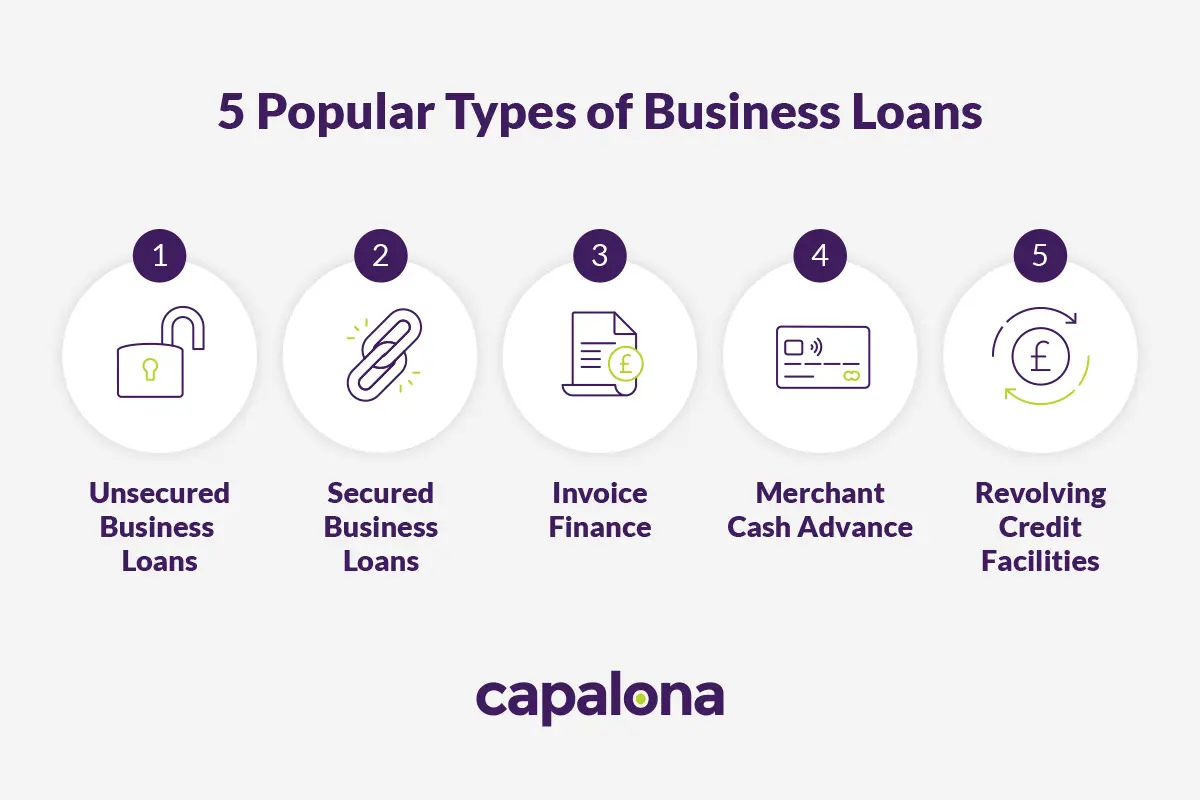 Most popular types of business loans
Each loan type has pros and cons, so consider your needs and ensure your chosen one aligns with your business goals.
Here are five common types of business loans:
Unsecured Business Loans: Unsecured loans are quicker to access as you don't need collateral to secure them, which means it's riskier for the lender, so you'll usually pay higher interest rates.
Secured Business Loans: A business finance option for large loan amounts with longer repayment terms is a secured business loan. If you default on your repayments, the lender can seize your asset.
Invoice Finance: Unlock up to 95% of the cash in your unpaid invoices. Use invoice finance to balance cash flow by selling just one or multiple invoices to the provider.
Merchant Cash Advance: If you accept debit and credit card payments, you could be eligible for a merchant cash advance. Unlike traditional forms of finance, an advance is repayable as a percentage of your future monthly sales; this means monthly payments aren't fixed.
Revolving Credit Facilities: Revolving credit means you can withdraw funds as and when needed, paying interest only on the money you use. You agree on a limit with your lender, and once you repay, you can use the money again.
What type of loan do I need? Secured or Unsecured
What type of loan you need depends on a few things, including how much you want to borrow, the repayment period you're after, whether you have bad credit, or whether you have a high-value asset you want to use as collateral.
Why you might apply for a secured business loan:
You have a high-value asset, i.e. commercial property, equipment, vehicles, land
You have a poor credit history — as you're securing the loan with an asset, credit history is less important)
You want to borrow more money (£2 million+)
You want to repay over 10+ years
You want to access more favourable interest rates
Why you might apply for an unsecured business loan:
You have a good credit history
You need the loan quickly
You want to borrow between £1,000 and £500,000
You don't have a high-value asset or don't want to risk your asset
Should I use an alternative lender or a bank?
Alternative lenders offer flexibility for businesses that don't meet strict bank criteria. They tailor loan terms to suit your circumstances, repayment options are flexible, and they can offer funding to those with bad credit. Their streamlined application processes provide quicker access to funds for business owners than traditional banks, with borrowers sometimes seeing funds within 48 hours after application approval.
If applying for a business loan is the right choice for you, compare lenders in seconds with our free comparison tool. Compare business loans.