Debt financing, also known as debt funding, is a type of business financing involving borrowing money from lenders in exchange for repayment with interest over a set period.
It's one of the most popular ways to raise capital for businesses of all sizes. This type of financing gives businesses the cash needed to help grow their business. From helping fund expansion plans to buying new equipment and hiring more staff. — debt financing can help you reach your business goals quickly.
How does debt financing work?
After you decide which debt financing solution works best for your business, you'll agree on the loan amount and repayment terms with the lender. Once the lender has checked you're eligible for the loan, and you agree to the repayment terms and any other conditions, you'll usually receive the amount in full.
The money is then yours to do with as you want. You'll repay the business loan in fixed monthly instalments, with interest, over the period agreed upon until the loan is repaid in full.
Remember: If you've chosen a secured business loan, your assets are at risk should you default on your repayments. Defaulting on any finance repayments can negatively affect your credit score.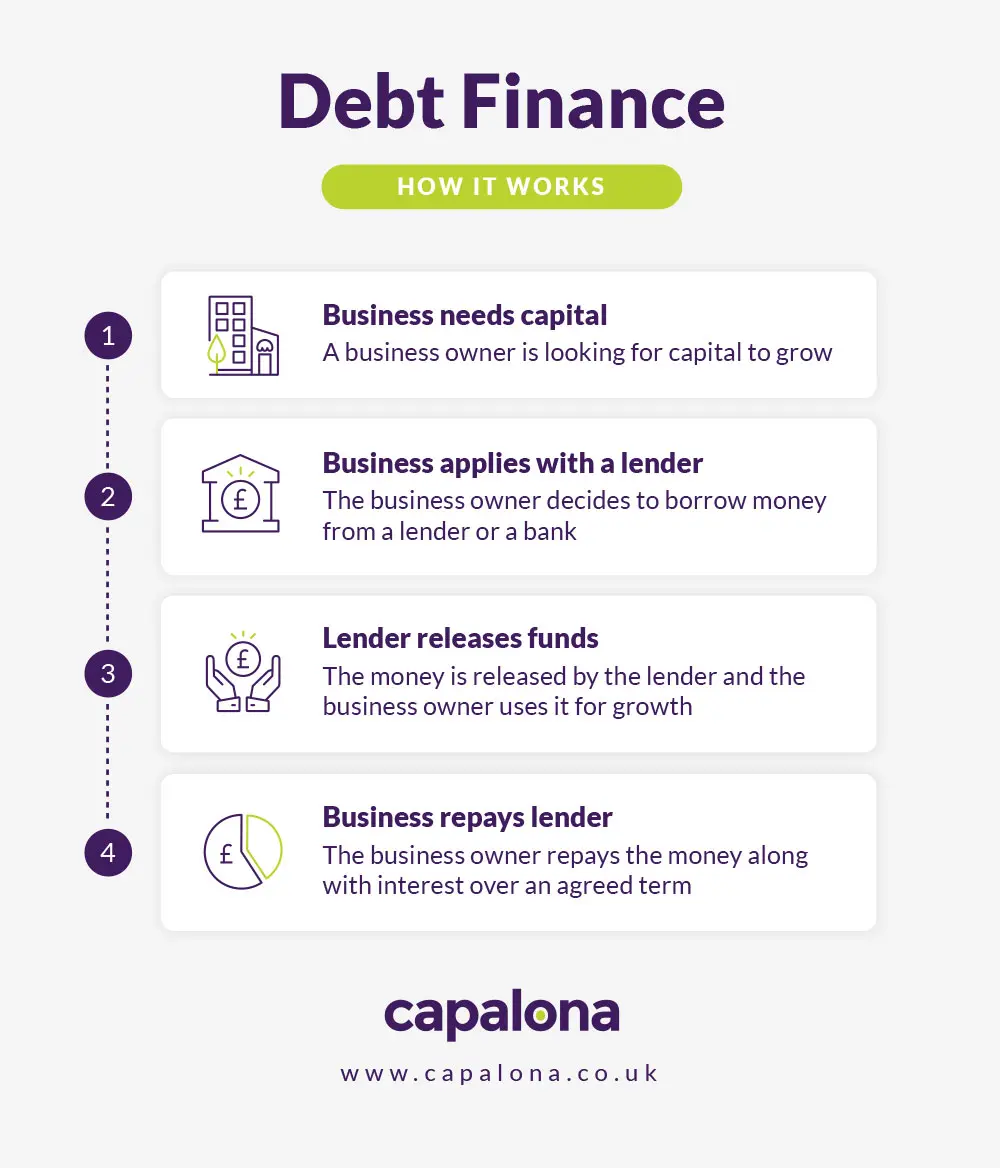 What's the difference between equity finance and debt financing?
With equity finance, you part with company shares in exchange for cash and the money isn't repaid in monthly instalments. But this isn't the case with debt financing. In debt financing, you keep full control of your business and repay the loan amount with interest over a set period.
Investors in equity finance are repaid through dividends — they make money if the business makes money. So they have a vested interest in the business succeeding and can usually offer you business expertise to help you grow your business.
Investors in equity finance are repaid through dividends — they make money if the business makes money. So they have a vested interest in the business succeeding and can usually offer you business expertise to help you grow your business.
Debt financing can require collateral which could be property or assets, but this isn't required for equity finance. Additionally, with debt financing, the interest payments made on your loan are classed as a business expense and are, therefore, tax deductible. But an equity finance investment is not usually tax deductible.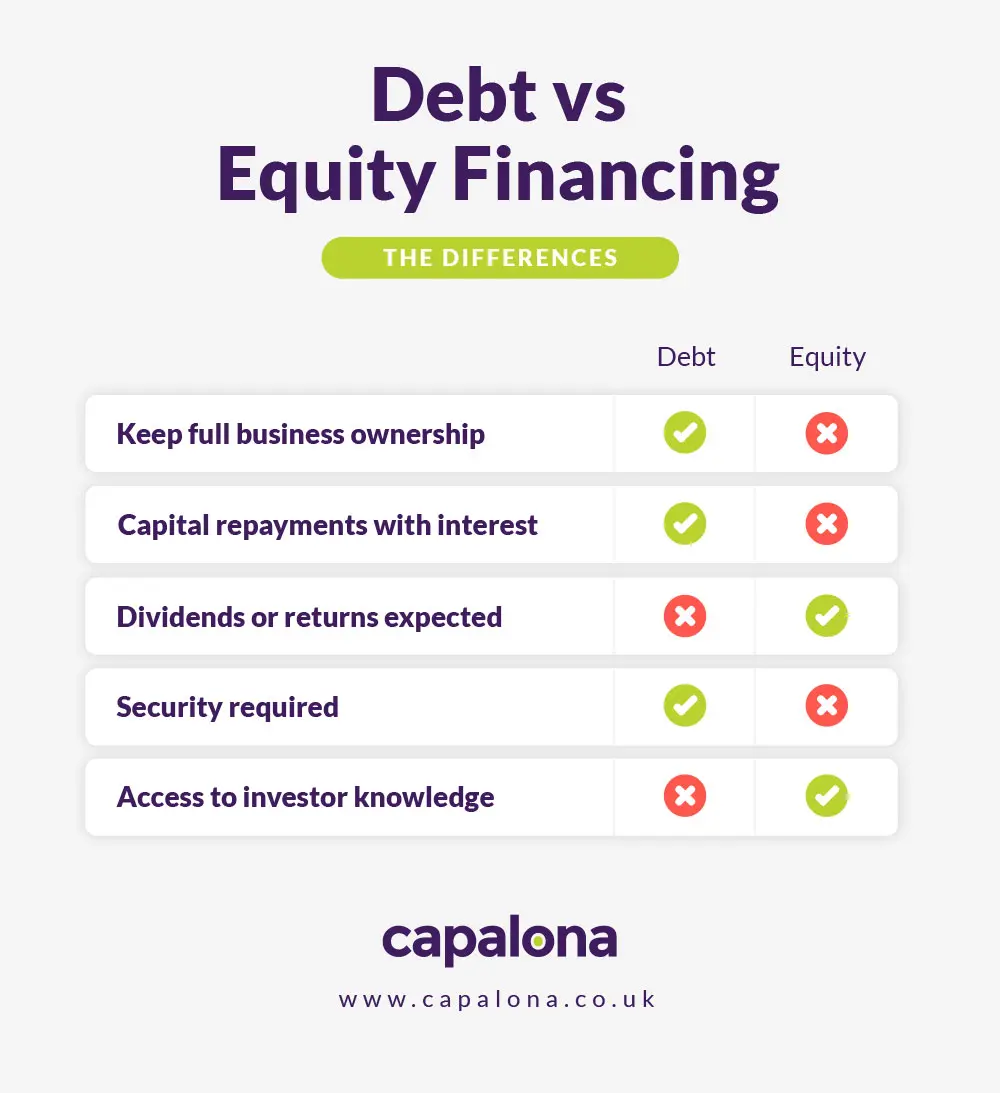 Types of debt financing
The type of debt financing you choose depends on what you're looking for. The most popular type of debt funding is business loans. Read more about some of the types of debt funding you could qualify for below.
Unsecured business loans
An unsecured business loan is quick and easy to apply for. The lender doesn't require collateral, so the process is faster. Because you don't secure the loan, the risk is higher for the lender, so you can expect lower loan amounts and pay higher interest rates.
Secured business loans
If you need to access a larger sum of money or you want to lower your interest rate, you can apply for a secured business loan. These loans enable you to access loan amounts that surpass £2 million. Remember, if you default on loan repayments, the lender can seize your assets.
Invoice finance
If you're looking for a solution that helps you manage your cash flow, then invoice finance is worth exploring. You can access up to 95% of the value of your unpaid invoices. This means you don't have to wait for the full payment terms you've given your clients or customers.
Business credit cards
Business credit cards offer SMEs a revolving credit facility that can come in really handy when you have to pay out for unexpected expenses, giving you much-needed peace of mind. Dip into your credit card funds and repay to access the amount if needed again in the near future. You can also unlock similar funding with business lines of credit.
Wondering what other business finance options are available? View all funding solutions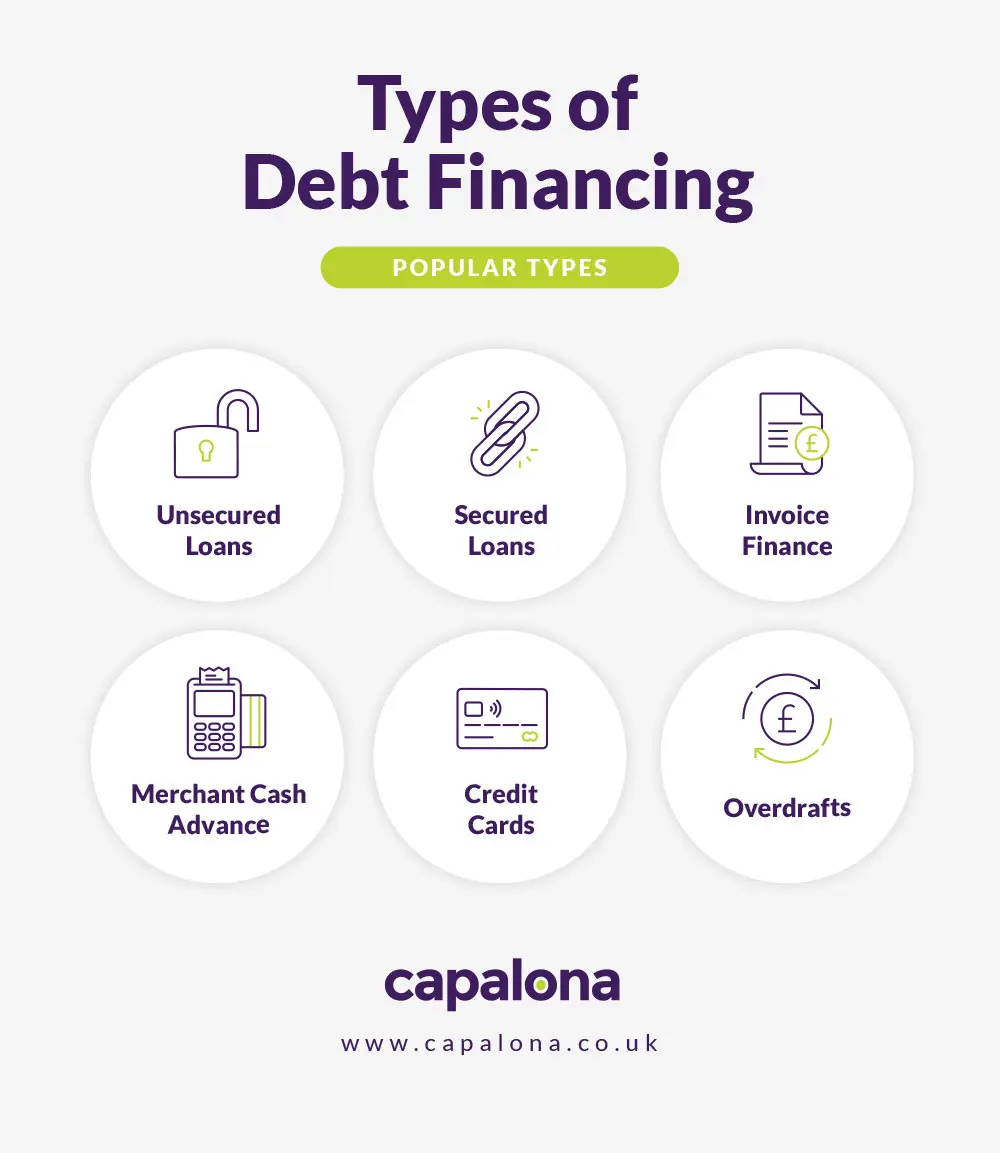 Advantages of debt financing
Business growth - To grow your business, you might need to access more working capital, so you can take calculated risks — from hiring more staff to exploring new markets. Debt financing gives business owners a chance to reach their business goals faster.
Reduce your financial risk - Debt funding helps spread the cost of borrowing over a longer period of time, which means you can manage cash flow more effectively with predictable monthly loan repayments.
Tax deductible interest - The interest payments you make on your business loan are business expenses, which means they're tax deductible. This helps reduce the cost of borrowing.
Keep full control of your business - Unlike equity finance, you don't have to part with ownership shares with debt financing. This means you keep complete control of your business and any decisions you make in the business.
Disadvantages of debt financing
Like with any finance, there are advantages and disadvantages of debt funding. So make sure you're aware of the following disadvantages before making your decision about whether it's right for you.
Personally liable - Some lenders might require you to offer a personal guarantee. Then, if the business fails to make repayments, you become personally liable for the debt. This is something you'll have to seriously consider before taking on debt.
Risk losing your assets - If you put up collateral for your loan, you could lose it if you fail to make repayments.
What businesses would benefit from debt financing?
If you're an SME business owner looking for an affordable financing option, debt financing is an option worth exploring. You won't dilute your ownership, and you don't have shareholders dictating how you spend your cash.
Instead, you can use your money however you see fit to grow your business.
Find and compare the best debt financing solutions with our FREE loan comparison tool.