If you're searching for funding for your small business, it's important to keep an open mind and consider all your options. Business grants, angel investors, and crowdfunding platforms are all great funding sources, but there are also other avenues you can explore.
For example, you can check in with local business organisations or networking groups like the Chamber of Commerce to see if they know of any potential investors. There are also government grants and small business or startup loans that can be a valuable source of funding without requiring you to give up equity in your company.
The key is to stay persistent and keep looking until you find the right fit for your business.
What do investors look for in a business?
Projected growth
Market demand/proof of concept
Cash flow
Debts and liabilities
Investors will also want to see a comprehensive business plan. This plan should include all the above and also share how you plan to use the funds they give you. Some lenders might also want to see your business plan, so regardless of the type of investment you decide on, it's always good to have a business plan to hand.
What percentage of equity should you offer investors?
Equity is a valuable tool for financing company operations and investments. Deciding what percentage of equity to offer potential investors can be tricky, as it depends on several factors.
When determining equity, it's important to consider the stage of your business, the amount of money needed, and the investment potential and risk. It's also worth considering how much equity may be needed to attract and incentivise investors. For example, many private investors for small businesses expect around 20% in equity.
What happens if you don't want to give away equity? That's fine, too. There are plenty of funding options available that don't share equity. We discuss various options below.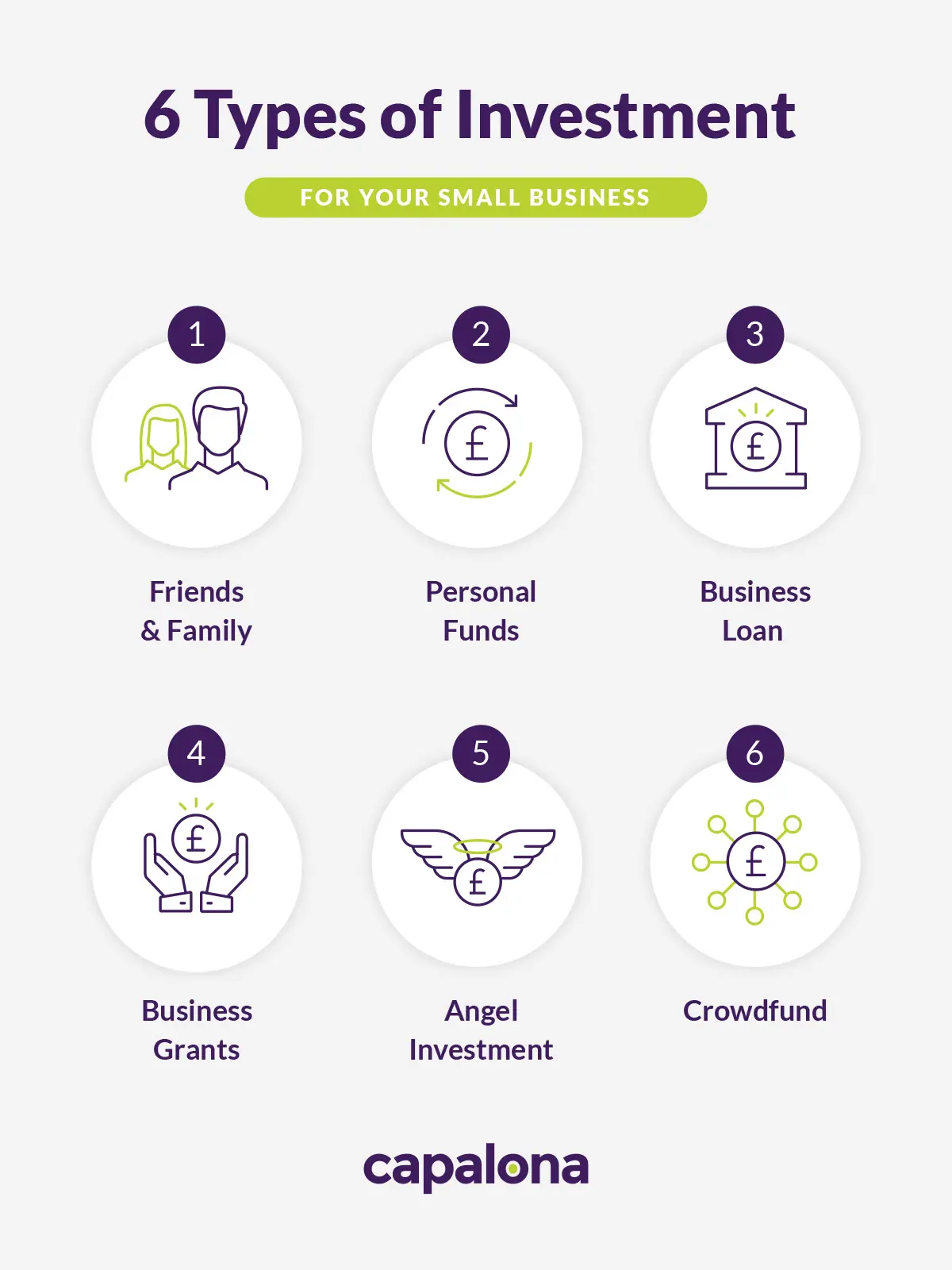 How to find investors for a business - 6 types of investment
Raising capital can sometimes feel like a full-time job, and with so many ways to raise capital, the options can get overwhelming. Here, we're exploring six of the most common ways to get investment for your small business.
1. Ask family and friends
Investment from family and friends can be a great way to boost your working capital. They are emotionally invested in your startup business and will likely charge you less interest than a bank loan (or no interest, if you're lucky!).
Remember, though, you're limited by the amount they want to give you, so if you have ambitious growth plans, you might have to reconsider your approach to scaling up.
Pros:
Don't have to part with equity
Little to no interest rates
Quick access to money
Cons:
Can damage relationships
Limited access to cash
2. Invest your personal funds
When you use your own money to finance your business, it's called 'bootstrapping'. Numerous companies, including Tough Mudder, Facebook, and Apple, have started this way. By funding yourself, you have complete control over how the money is spent without any interference from investors or equity sharing.
Using limited personal funds can force you to look for creative ways to grow your business. But don't skimp on important things such as technology or software subscriptions that could save you time with efficiencies in the long run.
Pros:
Don't have to share equity
Make 100% of the business decisions
Find creative ways to market and grow your business
Cons:
Limited by the funds in your bank account
Can't grow as quickly
3. Apply for a business loan
A small business loan can be a cost-effective and flexible way to access the funds you need to grow quickly. Before applying for a business loan, it's a good idea to understand how you'll use the funds to maximise output, squeezing the most value out of it as possible.
Business loans can be unsecured or secured. It's best to check you can comfortably afford repayments before applying. Check lender eligibility requirements and read terms and conditions carefully before signing on the dotted line.
Pros:
Access cash within days of approval
Flexible and affordable repayments
Cons:
You have to pay interest
You must meet lender criteria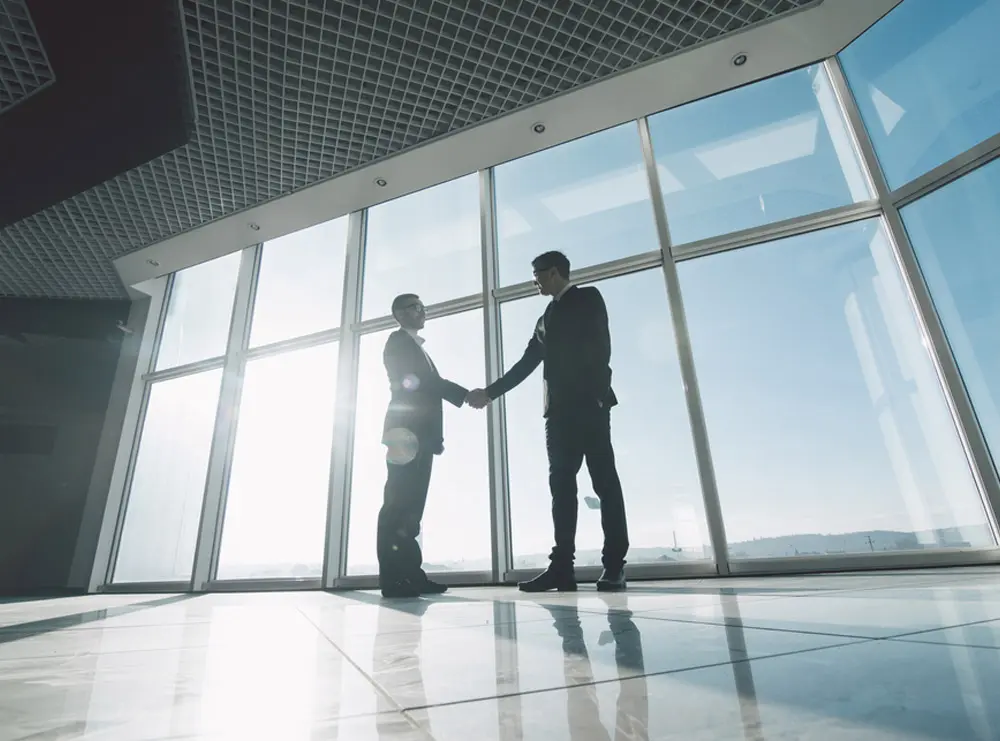 4. Find and apply for business grants
Business grants, although competitive, offer businesses the opportunity to access free resources and specialised business advice alongside non-repayable funds.
There are hundreds of government grant schemes you can apply for. Many will expect you to match their contribution, which can take at least six weeks for local grants or up to six months for national grants.
Pros:
You don't have to repay funds
Access to free resources and workshops to help you grow your business
Cons:
You might have to match the total grant amount given
Competitive and long application process
5. Angel investment
Angel investors give you money in exchange for ownership equity, usually around 20%. This is a large percentage of equity to give away in your business, so ensure the investor relationship is more valuable than not having the funds.
You can find angel investors by visiting the following resources:
Pros:
Make use of their network of contacts
Use their business knowledge to get ahead
Can provide future funding
Cons:
Have to part with equity
You don't have 100% of the decision-making power
They can be hard to find
6. Crowdfund
Crowdfunding can be a great way to raise the capital you need from many small investors, usually the general public. Plenty of crowdfunding platforms, like Kickstarter, allow you to set up a fundraising campaign quickly.
The key to crowdfunding is to make your campaign as engaging as possible and get it in front of the right people. This means understanding your target audience and showing them how your business solves a problem.
Pros:
It's free and easy to set up a crowdfunding campaign
Funds from many smaller investors
Cons:
It can take a while to see progress
And the process can be quite time-intensive for potentially low-reward
Before you go
Finding investors can seem daunting, but good advice and preparation can improve your chances. Explore all your options, including family and friends, angel investors, business loans, and crowdfunding platforms. Remember, investors will want to see you have proof of concept and potential for growth, so be sure to include all these details in your business plan.
How much can you access with a business loan? Get a FREE quote today.
Disclaimer
This information is for guidance purposes only and should not be regarded as a substitute for taking legal advice. When making financial decisions, it is important to seek appropriate financial advice.