According to Barclays, only 47% of small businesses in the UK have a formal business plan in place that is written down or recorded.
And we understand, it's so tempting to jump straight into building a business; formally documenting it sounds exhausting and unnecessary. But before you jump in headfirst, you need to gain clarity around the market you're hoping to enter, pinpoint your target customers and figure out whether your product is viable.
And that's precisely what a business plan can help you do.
Without that information, you stand to waste time and money on a business idea that lacks real thought or structured direction. For example, did you know that the most common reasons for business failure in the UK include lack of funding, cash flow problems, and not having a structured business plan?
Please don't fall into the trap of jumping straight in; let's start planning.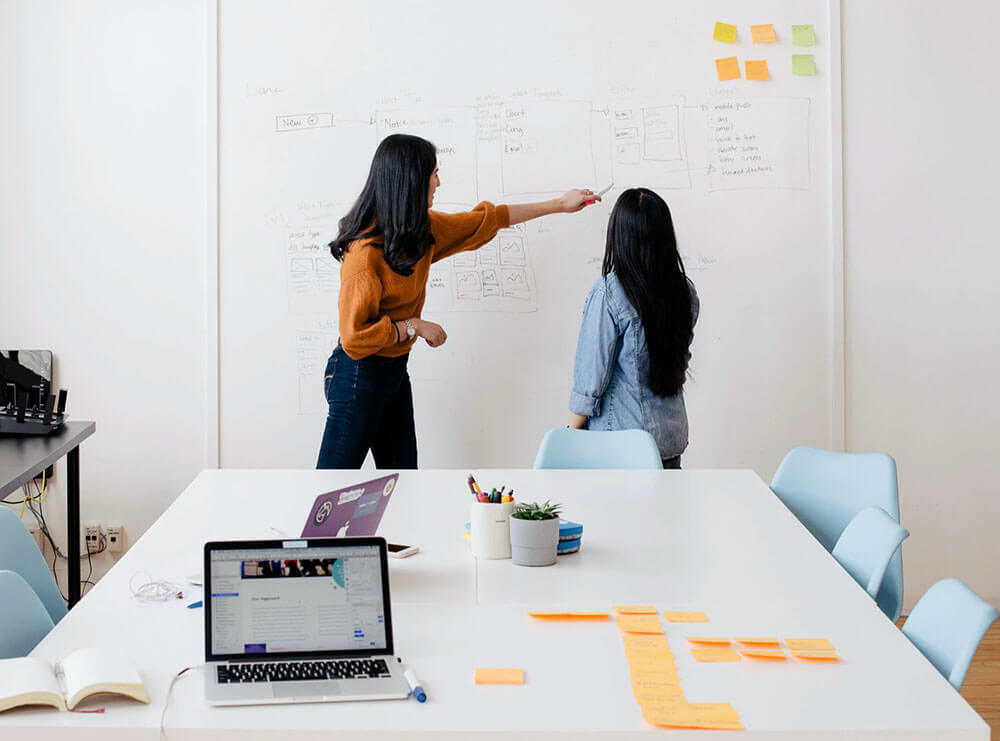 So, firstly, what is a business plan?
A business plan is a formal document outlining your business idea — it's a process that can help you work out whether your small business is viable, e.g. is there a market out there for your product? Can you adequately compete in the current marketplace? And what does your target market look like?
These are the kinds of questions you need answers to before starting your new business venture.
Do I need a business plan?
If you plan to set up a small business, let's say an Etsy shop, then you might not think it's necessary to create a business plan. But, if you're planning on bringing partners on board, accessing financial help or approaching potential investors — then chances are, you're going to need a comprehensive business plan. After all, who wants to invest in something that's no more than an idea?
Even if you don't plan to bring investors on board or apply for business grants, mapping out a path to business success can be helpful regardless of your business idea. Even if it's just so you know what associated costs you can expect to fork out on.
Having a bona fide business plan can help you get your ducks in a row.
More reasons why you should consider writing a business plan:
To understand the marketplace and for solidifying what makes your business different
To understand your customer and their motivations for buying a product like yours
An idea of how much money you can make and how you're going to get there
To identify and mitigate risks associated with your business idea
To help build a roadmap for getting your business off the ground
The above are just a handful of reasons, but if you can identify with any of them, then chances are, you'll need to create a business plan.
But we've got good news; writing a business plan might seem daunting, but we're going to walk you through a simple layout template. So follow along and make notes as you go. Before you know it, you'll be well on your way to making your business idea happen in real life.
How to write a business plan
Before we talk you through how you should structure your business plan, we're sharing a few tips you should consider as you write it.
Keep it simple
When writing your business plan, you want to cut straight to the important bits, keeping it concise and trimming any flowery language or long sentences. You also need to be mindful of jargon or unexplained industry acronyms; remember, it has to be quick and easy to understand.
Keep it professional
You don't want to write your business plan flippantly; it's a document you should take seriously. Lay out your document with headings, numbered pages, and a cover page. You want whoever reads it to be able to find what they're looking for.
Keep it error-free
When it comes to financial projections and market analysis, you need to make sure your information is spot on, so we'd advise giving the plan a thorough proofread and fact check. Then, read and re-read to ensure it's up to scratch — because it might not just be you reading it, it could be your future business partner or passed around potential investors.
How to layout a business plan
Now the all-important part, actually creating a business plan. We've broken down the contents of a business plan into six sections:
1. Executive summary
You should be able to hand your business plan to anyone, have them read the executive summary, and they should grasp a pretty good idea of your business plan. It should inform the reader what they can expect from your business plan and, if it's written well, it can pique their interest from the start.
In your executive summary, you'll want to include your business' purpose, your vision for the company, your goals and objectives. You'll need to briefly introduce the product or service you're hoping to sell and why you think it's a viable business proposition.
Basically, it's a watered-down version of your entire business plan, so it can be a good idea to write this section last.
2. Goals, vision and mission statement
In this section, you should start by briefly describing your mission statement. According to a retired professor of strategy and governance at McMaster University, Chris Bart, three key components make an impactful mission statement:
Your target audience
The product/service you're selling (and how it solves a problem)
Your business USPs (why would people buy from you over competitors?)
You should also set out your long-term and short-term vision for your business — what does an ideal yet realistic future look like for you? What goals are you setting for yourself in the first few years? Why are these goals important to you?
3. Market research
Before you jump into any new business venture, you need to see if there's actually a market for it, and that's where market research comes in.
In your market research section, you'll want to demonstrate that you know the market you're targeting and what they look like. What age bracket do they belong to? What's their income? Why would they purchase your product?
Understanding your target market is crucial to a successful business; without this knowledge, you're building a business on shaky foundations. There are plenty of data sources to help you explore data trends and demographics, including Statista, ONS Census, and Gov.uk.
You'll also need to include competitor research to show you've thought about what brands are already out there and how you see yourself slotting into the market. To conduct competitor research, you can undertake a PEST analysis to highlight big external factors that could affect your industry or your business directly: political, economic, social and tech. And you can also perform a SWOT analysis, which helps you determine strengths and weaknesses (internal) and opportunities and threats (external).
These frameworks are here to help guide you through your market research.
4. Sales and marketing plan
So now that you've identified your target market, how are you going to spread the word about your business? A solid sales and marketing plan is vital. It's easy to waste budget trialling new channels, so take your time and understand which sales channels you're going to focus on and think about the marketing tactics you're going to use to capture and convert customers.
When firming up your marketing plan, it's good to use the 4 Ps of marketing as a guideline. Price, Place, Product and Promotion. All four overlap each other.
You need to outline how you're going to price your product and why, where you're going to find these target markets, the product and its USP and the problem or need it addresses, and finally, promotion. How are you going to promote your product to that target market?
5. Financial projections
Without financial projections, investors or partners can't come on board; it's too risky. In your business plan, you need to layout your cash flow projections and discuss any capital you need to raise.
As a startup business, you haven't got past sales to make accurate predictions, which can be tricky. But that doesn't mean you can't use your market research to inform future projections.
You should know about the state of the industry you're looking to compete in; you can analyse industry trends and use your competitor analysis to get a crystal clear picture of pricing strategies and gaps your product can fill.
Break down your financial projections by monthly sales — when you're into your second year, you can start breaking them down by quarter. Include how many units you sold, the price you sold them at, and predicted monthly sales.
You should also include cash flow projections. Again, difficult when you're just starting out. But in your business plan, you need to show that you've thought about any revenue lags. For example, if you rely on invoice payments, take into account it could take your client between 30 and 120 days to pay the full invoiced amount. Make sure you're aware of these pockets where expenditure will come out of your account before you've been paid.
If you're a startup business looking to access funding to help you grow, we can help. Compare startup loans for free.
6. A roadmap of your business milestones
Once you've researched and filled in each section of your business plan, it's helpful to write a timeline of when you expect to complete certain milestones. For example, milestones could include deciding which structure your company will take, registering your business, and building a website, setting up marketing channels and designing and printing product packaging.
This section can be used to summarise all the milestones you want to achieve and by when keeping you focused and pushing the business forward and into fruition.
Where can I get a free business plan template?
Sometimes, when faced with writing such an important document, it can be tricky to know where to start. Luckily, there are plenty of free business plan templates available online. We've included links to a handful below:
Barclays free business template [PDF]
The Prince's Trust free business template
HubSpot free business template
Before you go
Hopefully, you've got an idea of how to lay out your business plan from scratch. Take it from us, writing a business plan saves time and money down the road; it's best to put the leg work in now.
If you're looking to access a startup loan to help you grow, we can help you. We're brokers, which means our loan comparison service is 100% free for you to use. Apply in minutes and see funds in as little as 48 hours. Read more about startup loans.