Business bank accounts to suit all types of UK SMEs
Whether you are a small start-up looking to open a new business bank account, or a large established SME looking to switch, we have a range of online bank accounts that cater for all types of businesses.
Bank accounts for businesses with bad credit.
Compare
Providers that offer free business banking.
Compare
For individuals who are classed as contractors.
Compare
Bank accounts for sole traders and self-employed.
Compare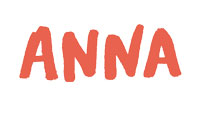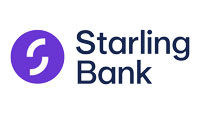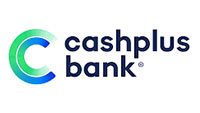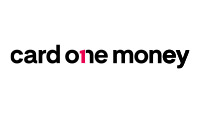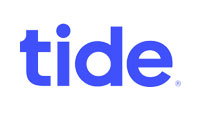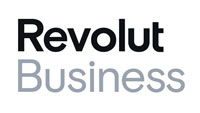 We've helped many businesses find the best business bank accounts for their needs
We work with an extensive range of business bank account providers in the UK. Our comparison can help you choose the best offer that's right for your business so you can keep on top of your companies finances.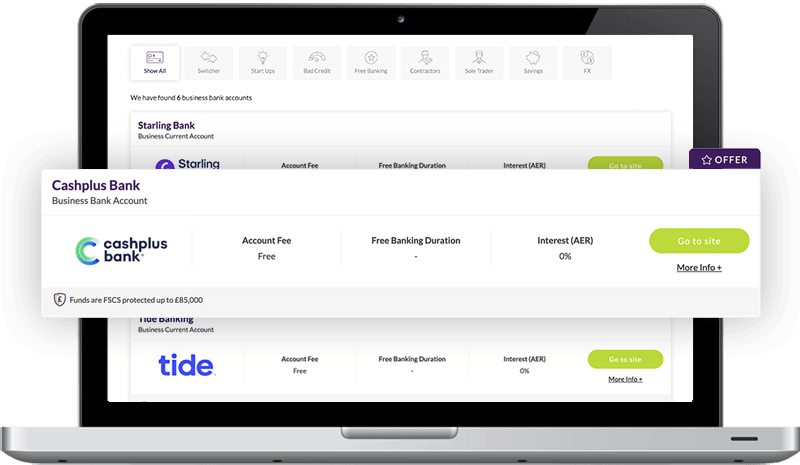 1

Search Offer

Search for your preferred business bank account from startup bank accounts to switching bank accounts.

2

Compare Providers

Compare business bank account providers in seconds.

3

Select & Apply

Simply select the best business bank account offer for your needs. You'll be redirected to the provider's website to complete the process.
Switch business bank account
You're always looking for the best value in everything you buy for your business, so as you approach the end of your fee-free introductory banking period with your provider, you might be thinking if you can switch business bank accounts. And the answer is yes, you can.
Switching bank accounts is straightforward, particularly with the help of our free comparison tool. Simply check out the deals below to see which you prefer - you don't even have to take precious time out of your day to hunt for the best deals - they're right in front of you, neatly organised for you.
And when it comes to switching bank accounts, it's a doddle; in fact, when using the current account switching service, it's quicker and easier than you think. Look out for banks that have a Current Account Switch Service (CASS), you simply select a date for transfer and the banks take care of the rest.
You've got nothing to lose by comparing your options.
Compare Now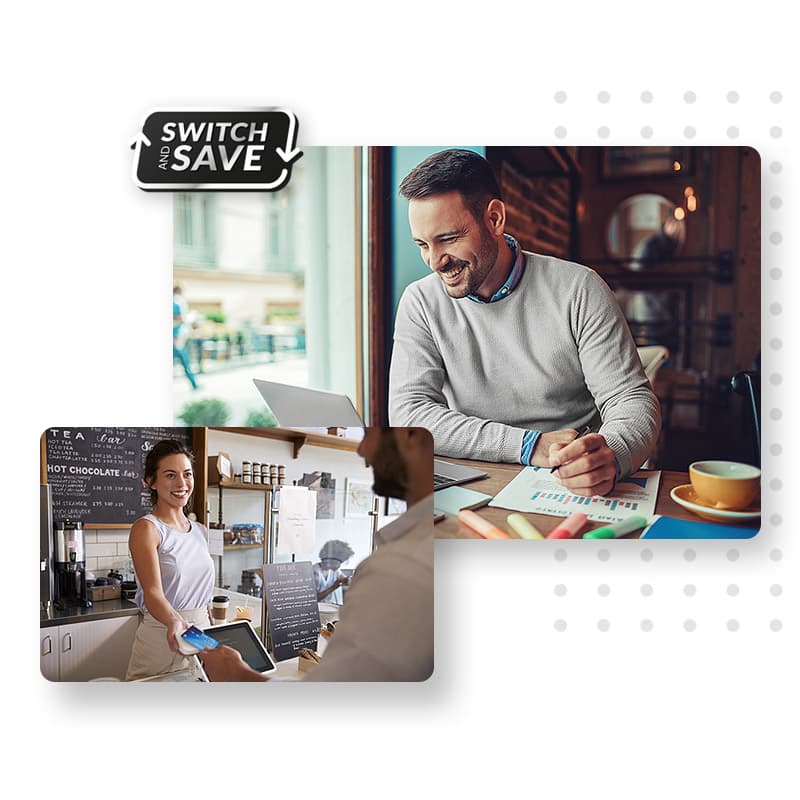 Why switch your business bank account?
There are many reasons you might consider switching your business bank account, including poor customer service from your current provider - or perhaps your business needs have changed, maybe you now take more electronic transitions than cash?
Other common reasons for switching business bank accounts include:
You've had a bad experience with your current bank
You're looking for better features (maybe a more suitable app or access to local branches)
You want the incentives that come with a new account (free trial or cash)
Use our table above to compare current business bank accounts in the market. Maybe you could snag yourself a better deal?
What are the business bank account switch incentives?
Providers may offer you incentives if you switch your business bank account. These extra perks can benefit you and your business. Some popular switch incentives may include:
Cashback / cash bonus
Free banking for a period of time
Lower interest rate for an introductory period
Am I eligible to switch my business bank account?
To be eligible for switching your bank account, you need to have an active business account already. And you'll still need to pass the ID and eligibility process with your new bank. Please note that eligibility may differ between providers.
All providers have their own specific eligibility criteria, the features they offer and their best deals. Take your time to understand what's out there before you switch; you don't want to miss out on anything because of rash decision making.
How do I switch from my current business bank account to another bank?
Switching from your current business bank account to a new provider is really easy.
Step 1 - Pick a bank account that you are eligible for and would like to switch to and apply.
Step 2 - Enter a few basic details and provide proof of your name and address. You'll also need to supply the details of your old account (including the account number, sort code and card number).
Step 3 - Pick a date you want the transfer to take place - (at least 7 working days in the future). The bank will switch your account on the transfer date you chose. This is only applicable if the bank is part of the Current Account Switching Service (CASS) and if the business meets the criteria.
Step 4 - Start using your new account!
What happens during the business bank account switching process?
Some of our bank providers will do all of the heavy lifting for you. No need to worry about all of your pre-existing standing orders or direct debits you had set up in your old account - they'll be transferred to your brand new bank account. Once everything has been set up and transferred across, your previous bank account will be closed down, and you can start using your new bank account.
Remember, switching is more straightforward than you might think. If you're not satisfied with your current provider, you should consider checking out other bank account deals.
How easy is it to switch business bank accounts?
You'll be glad to hear that the process of switching business bank accounts is easy and stress free, especially if the bank you are moving to is part of the Current Account Switch Service (CASS). They'll handle everything for you and ensure the switch goes as smoothly as possible.
How long does it take to switch business bank accounts?
If the bank participates in the Current Account Switch Service (CASS), then it will take up to 7 working days for the switch to complete, so you won't have to wait long before you can start enjoying the benefits of your new business bank account.
If the provider does not offer a switch service, it will be your responsibility to move everything across. Depending on how complex your existing account payments are, this may take you a few days or a few weeks until you are fully switched over.
What is the best business bank account to switch to?
There isn't one specific 'best' switching business bank account. Businesses are unique, they come in all shapes and sizes, and that can be said for bank accounts. With many features and benefits, you need to decide what you want from your banking provider.
For example, if you take large amounts of cash from customers, you need to make sure the bank account you are switching to accepts cash deposits.
Choosing the best business bank account to switch to can be made easier by using a comparison website - just like ours. Why not compare business bank account switch deals to find the best one for your business today.
Do all business bank accounts providers offer a switching service?
No, not all business bank account providers offer a switching service.
Providers such as banks and building societies participating in the Current Account Switch Service (CASS) will offer hassle-free switching. This means that they will move all payments across, including payees, outgoing payments, direct debits and standing orders to your new account on your behalf.
Without a switching service, you will have to handle moving all payments across from your existing bank account to your new account.
Which banks are backed by the Current Account Switch Guarantee?
There are currently over 40 banks and building societies part of the switch guarantee, but not all banks that we partner with here at Capalona are backed by the current account switch guarantee.
Acorn Account
Adam & Company
AIB (NI)
Allied Irish Bank (GB)
Arbuthnot Latham & Co., Limited
Bank of Ireland UK PLC
Bank of Scotland
Barclays
Barclays Private
C. Hoare & Co.
CardOneMoney
Clydesdale Bank Plc
Co-operative Bank
Coutts
Coventry Building Society
Cumberland Building Society
Danske Bank (Northern Bank Limited)
First Direct
Habib Bank Zurich plc
Halifax
Hampden & Co
Handelsbanken
HSBC CIIOM
HSBC Private Bank
HSBC UK Bank plc
Investec Bank plc
Isle of Man Bank
Lloyds Bank
Lloyds International
Lloyds Private Bank
M&S Bank
Metro Bank
Monzo
Reliance Bank
Royal Bank of Scotland
Santander
smile
Starling Bank
Tesco Bank
thinkmoney
Triodos Bank
TSB Bank
Ulster Bank
Unity Trust Bank
Virgin Money
Weatherbys Bank Ltd
Yorkshire Bank
You can take advantage of the Switch Guarantee if you're a small business, charity or trust who has less than 50 employees and an annual turnover of less than £6.5m.
Benefits of the Current Account Switch Service (CASS) for UK businesses
The Current Account Switch Service (CASS) was launched in 2013 and is available through participating banks and building societies. The scheme was created to make switching business and personal bank accounts an easier and stress-free process. Here are some of the benefits:
The service is free
You choose and agree on the switching date
Switch completed within 7 working days
All incoming and outgoing payments (direct debits and standing orders etc.) are taken care of
Any cash left in your old account will be transferred over
Any payments accidentally made to your old account will be automatically redirected. The sender will also be contacted and given the new account details
Your old bank will close your old account
Why Capalona?
Our comparison service solely exists to help you get the best deals for your business; whether it's financial products or banking services you're after - we're here to help your business grow. We've helped thousands of businesses access the funding and businesses services they need, let us help you do the same.
Use our business bank account comparison tool for free. Compare deals now.
A transparent service that leaves you in control
100% FREE TO USE
We don't charge a penny for using our online brokering service.
COMPARE OFFERS
Compare business bank accounts from multiple providers.
NO PRESSURE
Decide in your own time. There is absolutely no pressure.
TRUSTED PROVIDERS
We partner with trusted UK business providers.