Switching your business bank account to a brand new one can mean better interest rates, useful benefits and better customer experience. So why, then, do many businesses put it off? Because it seems like a hassle you just don't need.
But that's where you're wrong; it's easier than you think.
Even if you're just considering switching your business bank account, it's interesting to see what deals are currently out there - the truth is, switching could save your business money.
Should I switch my business bank account?
In short, yes, you should always research other banking deals out there.
Cash flow is a big sticking point for businesses. It's one of the main reasons businesses fail. So if you could save even just a small amount of money, wouldn't it be worth exploring your other banking options?
Although it's still the big four banks holding the majority market share at 80% when it comes to business banking, consumers have more choices than ever before.
Now, you don't just have high street banks to choose from; you can create online banking accounts in minutes through financial platforms like Tide and Cashplus.
The financial playing field is now more competitive than ever, and because of this, the power lies with the consumer.
This means only one thing - competitive deals.
Business bank account switch deals
If you've banked with the same bank for ten years - this makes no difference to the charges and fees you have to pay. The days of being loyal to your bank are over - you won't be prioritised in the customer service queue, so don't feel obligated to stay with them.
You'll have probably noticed that the best banking deals are reserved for new customers. You could be one of those new customers; you could make financial savings by switching.
Although you might've spotted some great current account deals, it's important to research before you jump ship. Some benefits might not be best suited for your business.
P.S. You don't need to do any of the leg work. We've already gathered the best deals in the table below. Scroll down to view.
Things to consider before switching your bank account:
What overdraft limits are available to you?
How much will you be charged for going into your overdraft?
What's the interest rate paid compared to your current bank?
Do they have an attractive loan offer for small businesses?
Do they have a transaction fee?
Do they have a fee-free period when you join?
Do you have free access to your money from other banks ATM?
Is there a branch close to your business? And does it offer all the services?
Are you in a remote location? If so, does your bank have an outreach programme? Or are they partnered with your local post office where you can do your banking?
Does the Financial Ombudsman fully regulate the bank?
Is it difficult to get through to customer service? Or can you live chat on an app with a real person?
How does their app function? Is it easy to navigate? Does it save you time?
Is your deposited money protected by the Financial Services Compensation Scheme (FSCS)?
If you have bad credit, do they offer a business accounts for bad credit?
Where to start
Firstly, it's essential you understand what is on your priority list - what's important to you and your business? For example, some banks have a live chat app feature; this means you don't have to spend hours on the phone waiting to talk to a real person.
Having a branch close to your business premises or your home address might be high up on your priority list. You might find comfort in knowing you can pop in and ask questions whenever you need to.
Go through your current banking deal and note the features you use all the time and would benefit from again, then write down what features you feel your bank lacks.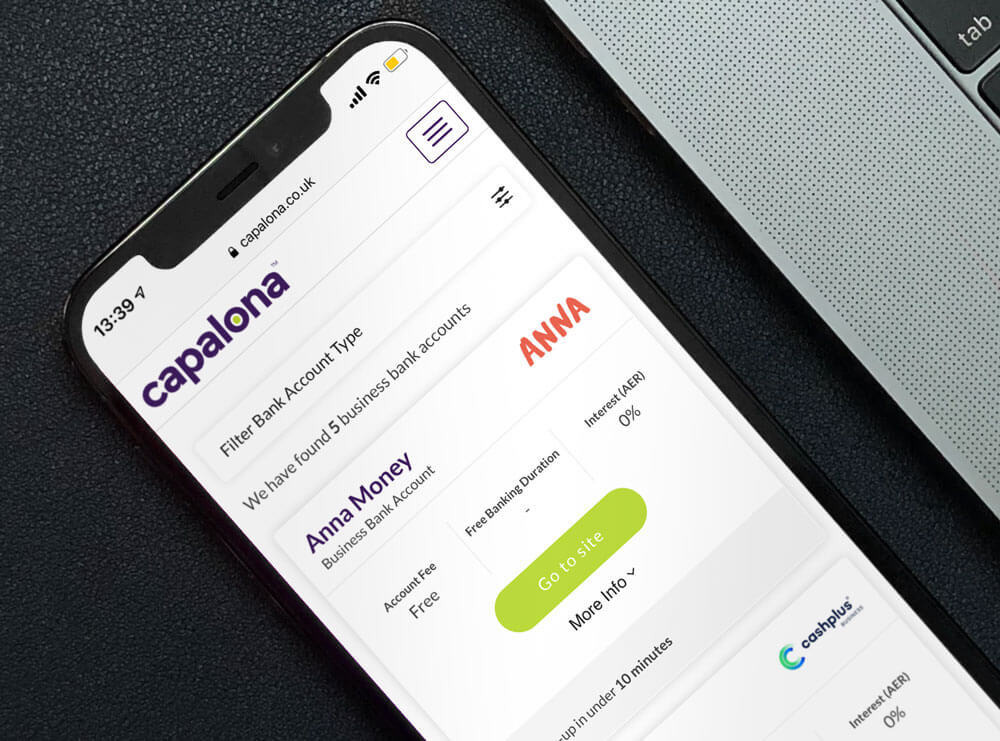 What to look for when comparing business bank accounts
Now you understand what's important to you, it's time to start comparing bank account basics. Read below for some things to look out for on your search.
Look for a period of free banking
Different banks offer different things, but most banks offer a free transaction period, usually between 12 to 18 months. You might be tempted to choose the bank with the longest free period, but that doesn't mean they're the best bank for you. Their fees after this honeymoon period could be astronomical when compared to other banks.
Look for a bank that's offering a fair introductory period and has reasonable charges once it comes to an end.
Check out their overdraft limits
It's important to switch to a bank that can accommodate your overdraft needs. If your business needs change, is your bank able to offer flexibility to increase or lower the limit into the future? Check the small print, always.
How to negotiate an overdraft limit:
Justify why you need access to short-term funds. The more information the bank has, the more likely it'll be able to offer you a deal that works well for both parties.
Clearly explain how you'll be repaying the funds. Any bank will need to feel confident they'll get their money back without chasing you for it.
Ask for a secured overdraft. If you're in a position to offer personal assets as collateral to secure the overdraft, that you should consider it. A secured overdraft usually means lower interest rates. But remember, if you default on your overdraft repayments, you risk losing your assets.
Only settle for superior customer service
If they have the best rates, their free transaction period is the longest, and they've got great banking features, but their customer service is shabby; think twice before switching. This banking deal might be absolutely faultless until there's a problem or you need to seek out customer service.
Reading Google and Trustpilot reviews thoroughly can help you get an indication of the bank's overall customer service. You can forgive a handful of poor customer reviews but read between the lines. Are the same problems cropping up time and again?
When something happens, and you need urgent financial assistance, this is not a problem that can be left in a customer service inbox. You want a progressive banking solution, one that's able to proactively solve your queries and put your mind at ease.
It's also worthwhile noting that some banks offer specialist advisors who work with you on a one-to-one basis. These specialists are usually knowledgeable and can help you with business planning, understanding the features in your account and guiding you on investment services.
Compare add-ons and perks
Perks are great - they help banks stand out from the competition. But don't be lured in by fancy features if their basic account features and customer service isn't in order.
How do you find out which add-ons and perks are for you?
Think about how your business operates. Maybe your company deals with a lot of trading abroad; in this case, you'll want to find an account that gives you free currency exchange. Because being able to move money without any annoying charges could save you a great deal of cash in the long run.
Or maybe you need access to higher ATM withdrawal limits if you're a business that needs a lot of petty cash. Lots of banks now offer free text and email alerts to help you manage your money correctly and escape any late fee payments on your account, which is great if you need a little reminder from time to time.
There are plenty of additional services that banks now provide, so if you need something in particular you need, get in touch with the bank and find out if it's something they can offer you.
You also want to be crystal clear about what the bank offers after this 'new customer' period. So always be on the lookout for the small print or ask them directly what happens after that period ends.
How do I switch my business bank account?
Once you've chosen the account you want to open, it's time to switch. You might be thinking, how long will it take? Will switching interrupt my current cash flow? These questions and more are completely normal and to be expected. Switching accounts can be daunting.
The good news is that switching won't affect your business activity; it won't mess up existing direct debits or standing orders, so you can rest easy. Banks are used to switching accounts over, so much so that it's become more streamlined and efficient than it once was.
To make switching your bank account as hassle-free as possible (and quick, it takes just seven business days), you can use the Current Account Switch Service — open your new account, pick a switching date and let your bank do the rest. That's it.
If you incur any fees from missed payments due to the switch, they'll be reimbursed.
See if your chosen bank is compatible - this is the current list of banks and building societies currently signed up to the Current Account Switch Service.
The Current Account Switch Service is a government service. Its sole aim is to help make the process of switching more accessible than ever. It's free, so if your business currently turnover less than £6.5 million and you have fewer than 50 employees, you're good to go.
How can I prepare to switch my business bank account?
To make the switch as smooth as possible, you'll want to prepare a few bits of paperwork. The more you're able to prepare, the easier the switching process will be.
To sail through the security checks, you'll need:
The name of your business or charity
Your trading address
What funding you require
Your HM Revenue & customs certificate
A recent utility bill or statement relating to your business
Directors and business partners might be asked for personal information to complete the security checks. Information could include copies of your passport, driving license, or a recent bank statement (within the last three months).
Once you have this information, you can go ahead and set up your bank account with your chosen provider. After your checks have been completed, you'll be asked to select a switching date.
You can continue to use your current account until your switch day.
A few things you'll need to get ready for the switch day:
Update your payment information on your invoices
Ask for third party permissions to make payments on your behalf (if required)
What can I expect on the switch day?
You can start using your new account straight away. And any payments that were made into your old account after switching will automatically be deposited into your new account. Plus, that person will receive notification of your new bank details for future payments.
Remember, you won't be able to add any new direct debits or standing orders while the switch is in place.
Switching bank accounts is straightforward, and once you've switched, you'll wonder why you've waited so long to do it.
Extra tip: involve your accountant
Don't forget to get advice from professionals around you, particularly from a good accountant. Your accountant will have worked alongside many businesses just like yours; they'll have a good idea of what the best financial deals look like. They're able to give you unbiased, useful advice.
The financial landscape is evolving to meet the demands of customers, which means you should take advantage of its competitive nature and save yourself some money. Even if you only save a few pounds, as they say, it all adds up.
Banking isn't something that should add stress to your business; it should help support it, from offering useful features to delivering the best financial advice and guidance to help your business thrive.
Disclaimer
This information is for guidance purposes only and should not be regarded as a substitute for taking legal advice. When making financial decisions, it is important to seek appropriate financial advice.