Alongside attracting new clients and customers, finding an office space that works for your business and its employees (while not costing the earth!) is crucial to run your business effectively. When it comes down to it, you not only want to attract the best employees, but you also want to retain them, keeping the productivity and efficiency high throughout your business.
Trying to retain employees with a below-average office space that doesn't suit your business's needs - both function-wise and aesthetically, is near impossible.
According to the Fellowes Workplace Wellness Trend Report, 87% of workers surveyed would prefer their current employer to offer healthier workspace benefits.
Some of these benefits include:
wellness rooms
company fitness benefits
sit-stand desks
healthy lunch options
and, ergonomic seating
Unless you're a large corporation or have a lot of money to spare, some of the above employee desires might be a little more than far fetched - healthy lunch options might be a stretch too far - but I guess you could offer fresh weekly fruit as a compromise…
As you'll be well aware, most employees spend more time on average with work colleagues than they do with their own family! Survey results discussed by The Independent state that British workers travel over 94,000 miles to and from their workplace - which amounts to a staggering 14,053 hours commuting. Then, when they eventually make it to work, employees are spending on average a whopping 1,791 hours a year in their workplace.
When you get to work, you want an environment that is productive, welcoming and in a location that is convenient for your employees to travel to.
Now that you're aware just how vital the right office space is for your business and your employees, here are our top tips to help you locate that perfect office.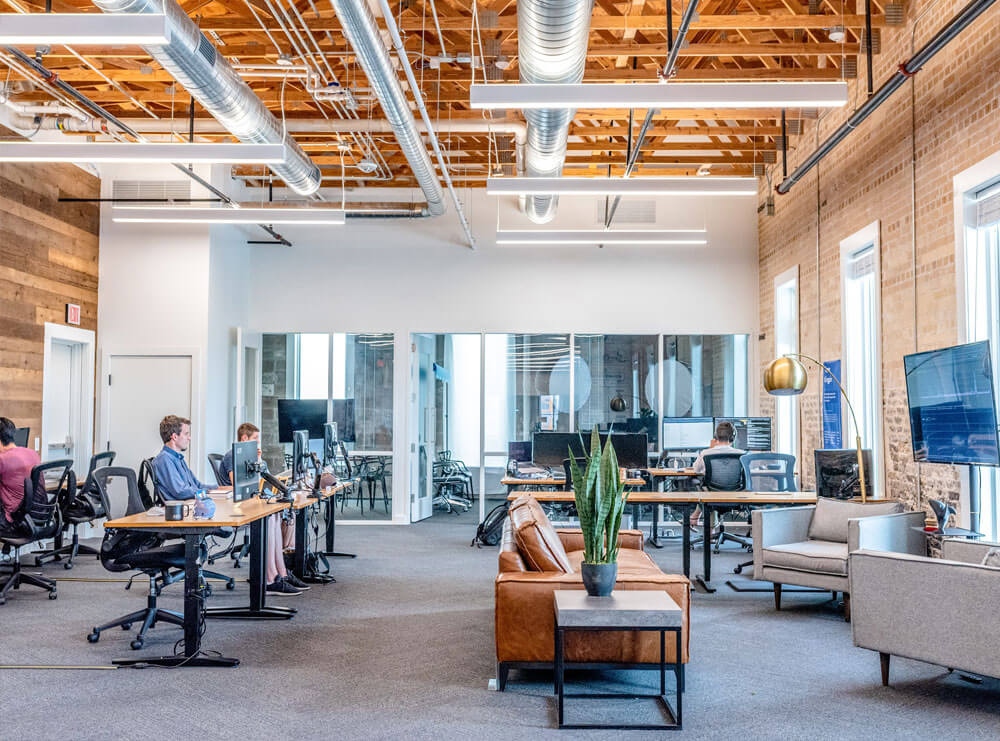 Consider your employees and customers at every step
Both employees and customers should be considered when looking for that perfect office space.
Employees
Whether you're uprooting current employees or are considering recruitment options when you've moved into your new office, always have your employees at the forefront of your mind. As we've already discussed, a lot of your employees' time is spent commuting, and they spend a fair amount of their life at work - and let's be honest, without your employees you wouldn't have a business!
Take time to sit down with your employees and listen to what it is that is most important to them in their workspace. Maybe it's essential to have lots of natural light, an office in the city centre for transport links, or perhaps most prefer a suburban office location offering free parking.
The working environment can damage your employees' mood and motivation - if you can take all their suggestions on board when looking for a new office, there's more chance of pleasing the majority of the workforce.
Clients and customers
You can't please everyone, we all know that but it's wise to consider both your employees and your clients when looking to move office. Although your employees should come first when taking anyone into account, clients and customers are integral to your business as well.
When it comes to location, can clients and customers visit your offices easily when required? If you have online customers you won't need to consider them but if you offer a service where client meetings take place frequently, you might have to make them higher on your priority list. If your office location isn't central to transport or easy to park nearby, you can always take them to one of the many meeting rooms you can hire in the city closest to your offices.
Just make sure you've thought about your clients in this respect - it's always good to plan ahead!
Seriously consider renting space in a coworking facility
According to research conducted by Instant Offices, flexible office space can cost anywhere between £150 - £1500 per person depending on location. Out of the seven most popular UK cities, London unsurprisingly was deemed most expensive to rent flexible office space, costing an astronomical £650-£1,500 per person. The cheapest UK city on the list was Liverpool at just £150-£300 per person.
We're not suggesting you relocate your business to Liverpool, but how can you go about finding the best space solution for your growing business at the best price?
As mentioned above, it can be cost-effective to choose a coworking office space for your business - so don't assume traditional leasing is your only option. Paying per person can mean you only end up paying for the space you need. As a small business looking to grow - leasing a fixed space might not be your smartest option anyway. If you know, according to your forecasts, that your business will need to employ more staff shortly, don't box yourself in with a long lease in a small space.
We're also not suggesting you lease a bigger (and more expensive!) office space that you'll 'grow into'.
Instead, thoroughly research your options and find the best fit for your business and its employees.
Here's why you should seriously consider setting up in a coworking office environment...
This space is filled with small businesses, startups, entrepreneurs and freelancers - these spaces offer a cost-effective option for growing companies just like yours.
You pay per person, usually on a short-term contract, sometimes even month-rolling and this style of working can bring with it a whole host of added benefits. You can receive free tea and coffee, milk, Wi-Fi, there's no need to pay energy bills, no need to purchase further equipment such as chairs and tables. Some coworking spaces even offer tenants free printing and meeting room facilities, so shop around! (House of Pain's lesser-known hit…)
There are many coworking spaces that enable its tenants to purchase either 'drop in' day passes or resident desks - this way your employees get their own desk to call home.
With a coworking space, your daily environment changes - you can sit wherever you want and interact with new faces every day. The coworking organisation usually holds networking events and other opportunities to meet new businesses, which, let's face it, can lend a hand in the infancy stages of your business - the more people are aware of you, the better!
Negotiate and then negotiate some more
Running a small business means being mindful of costs at every turn. Getting a good deal could mean the difference between a more substantial investment in other areas of your business, thickening your savings pot or wasting money on space you don't want or need.
Remember, every penny counts, so drive a hard bargain. The worst they can say is no, as the adage goes 'if you don't ask you don't get!'
The Workplace Company offers excellent advice for negotiating your first office lease. Three of their top tips are shared below.
Most landlords offer an initial rent-free period to cover office refurbishment costs. It's worth researching this to see how long you can get this period extended for.
According to The Workplace Company, most UK office leases are five or 10-year terms. If this isn't suitable for you, they suggest negotiating a break clause.
Don't forget to negotiate the rent price. Conducting a little bit of research to find out the pricing in similar office spaces can help give you the leverage necessary to bump the landlord down on rental pricing.
Before signing your contract
As with any big deal you need to, of course, make sure you've read all the small print. (This goes without saying!) Hiring professional legal advice can be a good idea, having someone with the knowledge of legal jargon can help set your mind to rest that your property contract isn't hiding anything untoward.
In addition to this, you should consider talking to current tenants - without the landlord present. This exercise can help you gain insight into the landlord themselves - do they fix issues on time? Are they helpful? And if it's a coworking space you're looking to sign with, are the communal areas kept clean? How do they monitor who uses the space?
You can forget about questions on your walk around, so make a list of all the things you want to ask the tenants, this way you won't miss out any of your deal breaker questions!
Ready to start looking for your first office space? Growth is an exciting time for any business, so you mustn't make any hasty decisions — view office spaces after you've clued up and researched other office space pricing and included facilities. The more prepared you are for your viewing, the more you'll be equipped to negotiate a fantastic deal on the office space you want and need to support your business growth.
If you're considering financial support for your business, we offer a free service to help businesses just like yours take their next step quicker with business funding. Find out about the funding options available to your business today.