According to research shared by insurance firm LV, the average worker in Britain can expect to have nine jobs spanning 48 years, which is a job change every five years. With earlier generations set with a 'job for life' - the current state of employment clearly shows a shift in employment perspective.
A study conducted by Deloitte found that 43% of millennials plan to leave their current jobs within just two years, and only 28% saw themselves staying beyond five years.
So, why are workers leaving their jobs?
The top five reasons cited by recruitment website CV Library are:
A better opportunity came along (52.1%)
I didn't get on with my boss (13.9%)
I went travelling/took some time out (6.6%)
I was no longer satisfied with the job or working environment (5.8%)
I left to study (4.4%)
With that in mind, how can you attract and recruit these job seekers into your small business? And, most importantly, how can you retain them?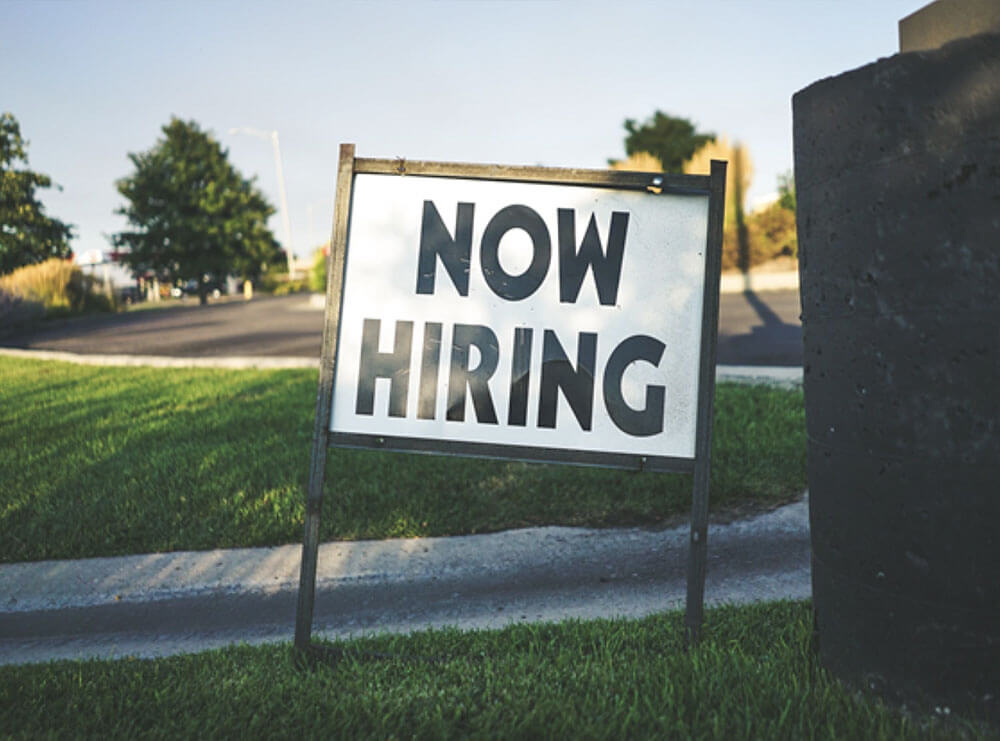 Make your small business appealing to job seekers
Although you might think your business is the best business to work for in the world - you need to communicate why you believe that is to potential employees. Just saying it's excellent won't cut it.
Make your job description transparent
Firstly, you should clearly define the ins and outs of the role, including salary expectations, benefits and holidays. These are the things employees want to know. Who wants to apply for a job where the salary isn't stated?
Find similar positions to yours in the online job ad space and match the pay. Low-balling the employee with a lesser salary indicates you don't value the average salary for the role and gives off the wrong impression. If you want the right person, pay them the right price.
Along with the job description, outline the required skill set and a day-to-day example of responsibilities, if you can. This gives the applicant the chance to understand a bit more about the job - potentially weeding out those not interested.
If you've not got a way with words, consider asking a copywriter to write the description for you. Typos, grammatical errors and other anomalies don't scream 'utmost professionalism'.
Don't highlight expected benefits
If you offer the minimum amount of holidays, for example, don't state '20 days holiday and eight bank holidays' - as though you're trying to sell them something they are already legally owed.
Focus on all the genuine benefits you can offer them. From free tea and coffee and fresh fruit every week, to a discounted gym membership and every birthday off - whatever you offer, focus in on that.
This makes your small business more appealing as an employer.
Find, hire and retain the top tier talent for your small business
Although finding and hiring suitable candidates are the most important parts of the initial recruiting process, retaining top tier talent can be a hurdle in itself. Read on to learn how to find, hire and retain all your new recruits.
Finding the best candidates
Job site Indeed is one of the biggest and most used platforms for job seekers and employers alike with an incredible 250 million unique monthly visitors. With both paid and free job ad posting options, this platform is the perfect place to upload your job advert to.
Just as with the Google search results, the paid job ads do sit above the free ones. It could be worth putting a few pennies behind your job advert if you don't see any traction within the first few days.
Another fantastic way to find the perfect candidate is to headhunt them through the LinkedIn platform. A business network for professionals, you can search for candidates via their current job title and location. It's flattering being approached for a position, and it's even better when the position on offer is a step up for the candidate. Data suggests employees sourced through LinkedIn are 40% less likely to leave the company within the first six months.
Although this strategy can be more time consuming, it could mean you find the perfect candidate quicker (and cheaper!)
The interview process
The interview process is a two-way activity. You want to see if they fit in with your team and they want to take their time to measure up whether you're for them.
Many times, the employer views themselves as the one holding all the power - when, in fact, it's pretty much 50/50.
Don't use the interview as an integration process - as them questions that impact the role directly, ask them about their experience and let them expand on topics themselves.
The number of interview stages should be dictated by the seniority of the position. For example, if you're hiring an administrative assistant - are three rounds of interviews essential? There aren't many candidates who will jump through those hoops for this kind of position.
Take a step back and assess what is required for the level of the position being filled and plan accordingly.
Communication is so important
Whatever the result of the interview, always keep in touch with your candidates. After all, they've given you their time and effort, so the least you could do is stay in touch. Whether it's a 'yes' or 'no' or a 'maybe in the future' - keep in touch with suitable candidates even if they're not right for that role - you never know when you'll need to hire again!
Ongoing processes
As a small business, you're not tied into the corporate processes when it comes to evaluating employee performance, yearly pay reviews and satisfaction surveys. Although a lot of this can be a formal process, you should think about creating a more personalised version of this for your own business.
Think back to when you were stuck in the 9-5 rigidity. Knowing what's happening in your team - both inside and outside of the workplace can help you identify issues within the team and help deliver a working environment that works for the majority (there's no pleasing everyone).
Pay reviews or employee performance reviews give your employees the chance to provide you with feedback on the business processes - what works and what could work better. These sessions give them a non-biased forum to air their frustrations, and it ultimately helps you work with them towards their career goals.
Supporting your employees is crucial when it comes to retention. So give them autonomy, responsibility and recognition for their work, and you'll be off to a good start!
Before you go...here are some extra small business recruiting tips
Hiring employees for the first time can be daunting - are you asking the right questions? Will they fit in with your small business? Do they want to work here? There are so many things to consider, so, before you go here are some last minute tips to help you sail through the process.
Don't be shy - ask for referrals
Sometimes, depending on how much you trust and value your current employees, you can ask them for referrals to past colleagues they've worked alongside. This can cut your recruitment costs down to zero and if they're valued by your current employee - it's a good start.
Don't settle for a candidate
If you're desperate to hire someone, it can be desirable to take the best candidate of a bad bunch, so to speak. It's important you don't jump to any rash decisions. If you know that a candidate isn't the perfect fit for the role, don't hire them. Hiring in a hurry can lead to fractures in the team, particularly if they can't deliver on the job or their personality doesn't sit well within your existing team. In a small business, the team dynamic can be tight-knit - introducing the wrong person can ruin this very quickly.
Don't rush into the interview process
Think through how you're going to approach the interview process - who will you have in the interview room? Usually, the CEO/Managing Director of the company and the line manager should be adequate. Don't overdo it with an entire panel of workers. Just select the most appropriate members of staff and stick to it.
Changing the interviewers part way through your hiring stint means differing opinions - keep the same people throughout the interview process. That way, everyone has had a chance to see the same candidates, which mfeans you can both make an informed decision on each one.
Remember that candidates are probably working to live
Most people, given a choice, would happily give up their jobs if they won a lot of money if this Quora thread is anything to go by. You can't expect them to love and devote all their time to your business, just like you do. Employees require a work-life balance - their life is more than your business, and you need to remember that.
Offering employees flexibility with appointments or when their children are unwell, goes a long way. Instead of offering employees complete flexi-time, you can provide flexible starting times and clocking off times. An understanding of what your staff deem important is crucial to delivering a positive working environment.
Now, go get those candidates!
You're hiring new staff - does this mean you're growing? We can help you understand your funding options - we help many businesses grow every day - find out how.