In 2020, as people were furloughed or let go, a wave of UK entrepreneurs took the plunge and started their own businesses. In June 2020, there were 77,574 new business formations, which is 47% higher than the previous year, according to Enterprise Nation.
And starting a small business is exciting, but when you hear that 20% fail within their first year, it becomes a little terrifying.
But with a bit of market research, realistic planning and a well thought out business idea, you can create a thriving business.
In this guide, we're talking you through some common pitfalls, and new business owners give you their best pieces of advice to help you build and sustain your business post-pandemic.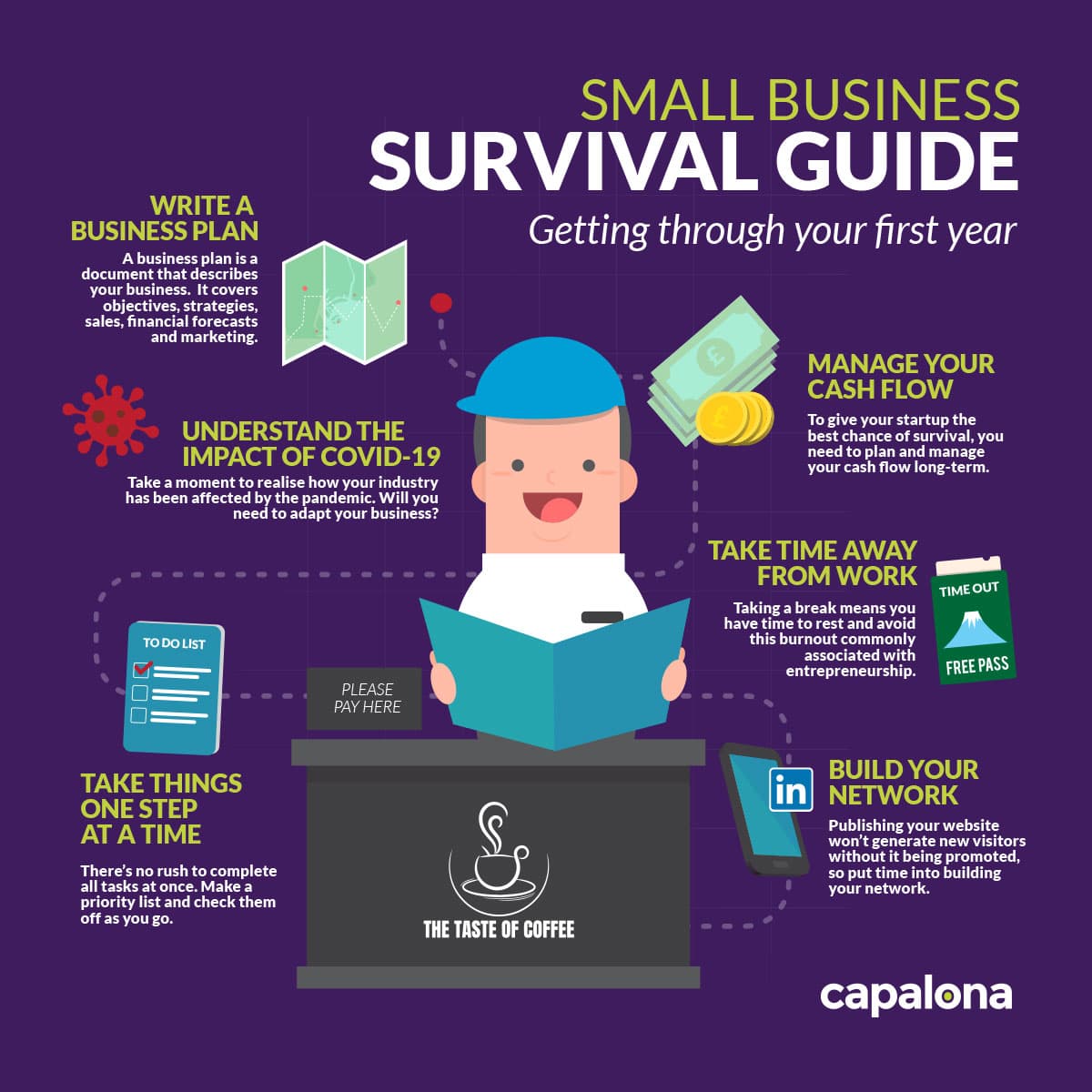 What can you expect from your first year in business?
Your first year in business is a year you learn a lot of new skills. From invoicing and accounting to sales and marketing, you wear every hat, so it's vital that you prepare as best you can for the year ahead.
Don't expect not to make mistakes, though. After all, making mistakes is how you learn what not to do next time. You'll probably lose customers, receive unpleasant emails, and question whether you're doing the right thing, but this is all part of running your own business.
Over the next 12 months, be prepared to work hard and keep an open mind — you're going to need to be adaptable and flexible.
1. Develop a sturdy business plan
If you're a small business right now, but you plan to get some investors on board, or you need to borrow some money, banks and investors will likely want to see your business plan. So put some time and effort into understanding your competition, hone in on your target market and generally figure out what makes your business unique.
If you're the only person in your business — and you plan to keep it that way, let's say, a freelance graphic designer — you might not need an official business plan. But you should at least map out your expectations, how you plan to make money, and take the time to perfect your value proposition. If you don't know what makes your business different from the rest, you're going to struggle to convey this to your target audience succinctly.
Need some help writing a business plan? Read our guide on how to write a business plan.
2. Understand how the pandemic has affected your industry
Take a moment to realise how your industry has been affected by the pandemic; how will both the immediate future and long-term look for your business? How will client or customer needs change? Will you need to adapt how you sell your products or services?
We spoke with Bethan, who started her boutique marketing consultancy mid-pandemic in May 2021. Bethan said it's been tricky to network her service-based business online and to establish rapport with clients over Zoom:
"There is no substitute for a face to face meeting, especially when you're undertaking complex negotiations or trying to build lasting relationships. Despite logistical challenges, I believe that if you have a clear idea and solid proposition, now is an extremely good time to found a new business."
3. Make cash flow a priority
To give your startup the best chance of survival, you need to plan and manage your cash flow long-term.
To adequately manage cash flow long-term, you need to be always mindful of spending. If there's something you want, but don't need, put it on the back burner for now. You need to spend money on essentials, i.e. rent, bills, premises, website costs, inventory, staff etc. Whatever your business needs to function, spend your money there, and spend it wisely.
Don't be afraid to stand your ground with your clients; if you're too lenient, they could pay your invoices late or not at all. So set clear payment expectations from the start; unpaid invoices result in poor cash flow, which means your business will struggle to keep its head above water. Research by Intuit QuickBooks found that 38% of UK small business owners who have had cash flow issues have been left unable to pay debts.
If you've never run a business before, it's also good practice to separate your personal finances from your business finances. This helps you keep track of business expenditure and incoming payments. This way, you'll always have a clear idea of how much money you have in the business, which means better informed financial decision making.
4.Take time away from your business
When you've just started your business, taking time away from it might sound counterproductive, but it isn't. Running a new business can become all-consuming, meaning you never take a break and live and breathe everything business-related.
An article published by Harvard Business Review states that working longer hours doesn't actually result in more output. So take time away from your new venture, spend time with friends and family where you don't discuss anything to do with your business.
Taking a break means you have time to rest and avoid this burnout commonly associated with entrepreneurship. Instead, you can return to work feeling revitalised, armed with free perspective.
5. Tackle just one thing at a time
Starting a small business means you've probably got a to-do list as long as your arm, and when there's just one of you in the business, it can easily seem impossible to finish anything. But take things one step at a time; there's no rush to complete all of them at once; make a priority list and check them off as you go.
Elliott, who started his eCommerce fulfilment company in July 2020, said that aside from building a strong online presence (capitalising on the retail shift to digitisation over the pandemic), he's found focusing on one idea at a time helps propel his business forward.
Elliott said:

"A somewhat underrated skill as entrepreneurs is we tend to get shiny object syndrome, where we basically try and bite off more than we can chew, commit to lots of different projects and spread our focus thin. Especially in a time where the world is operating differently, and things are rapidly changing, you need to be on your 'A' game, and this means sole focus and dedication to your new start-up. You want to stack the odds in your favour as 20% of businesses fail in their first year."
But how do you focus time and energy on just one task or idea? By breaking them down into smaller tasks. One large objective is overbearing and unnecessary. Instead of 'launch business website', break down the steps you need to take to launch the website and assign each task a time limit for you to complete.
Have you heard of Parkinson's Law? British naval historian and author Cyril Northcote Parkinson wrote in 1955 that "It is a commonplace observation that work expands so as to fill the time available for its completion." If you give yourself tight (but realistic) deadlines, you might find you're more productive as the deadline is looming — so limiting your time per task could be a good idea.
6. Build your network
Publishing your website won't generate new visitors without it being promoted, so put time into building your network.
If you have a B2B business, LinkedIn is the perfect platform to build your network. Build your personal brand through your profile, and set up a business page for users to learn even more about your business. Share insightful, educational content consistently, connect with your target audience and, most importantly, don't get disheartened if you don't see results right away.
Launching a brand new business without a network of supporters is difficult. Consider offering your product at an introductory rate or providing users with a free period in exchange for feedback or a review.
Olivier started his platform business which helps connect job seekers and employers in their niche, in May 2020. He believes all new business owners should do everything they can to get their products out there.
Olivier says:

"One of the key factors in growing and improving Niceboard was the Appsumo deal we did about three months after we launched: we offered lifetime access to our product for a ridiculously low price which in turn allowed us to get tons of customer feedback and feature requests and essentially reach product-market fit faster than we would have with a slow trickle of regular paying customers."
Offering discounted memberships to your new product means there's less consideration needed on the buyer's end; the price is no longer a barrier to completing the purchase. When you're just starting out, it's important to get eyes on your new venture — you need feedback to help you shape the offering, so it sits perfectly within the marketplace. And sometimes, the best way to do that is to invest in discounts and free trials.
If you're looking for a startup loan for your small business in the UK, we can help you. We're a broker, which means our services are 100% free for you to use. Fill in our short form and we'll match you with suitable UK lenders. From invoice finance to unsecured business loans; let's grow your business!