What is commercial debt recovery?
Commercial debt recovery, also known as business debt collection, is a service that helps businesses reclaim unpaid invoices. It can be time-consuming chasing debt collection, particularly if your invoices have been left unpaid for a long time.
A debt collection agency can help businesses recover individual or multiple outstanding invoice payments. This service can help you rebalance your cash flow, saving you time and money you'd have otherwise spent manually recovering the debts owed to you.
If you're struggling to collect business debts, you're not alone. According to Sidetrade, in 2020, unpaid B2B invoices were up 23% in the UK.
---
How does commercial debt recovery work?
If a commercial debt is owed to your company, you can use a commercial debt recovery service to collect these outstanding payments on your behalf. You would use a debt collection agency in the event the debtor (your client) had ignored invoice payment reminders, usually within 90-120 days of the expired invoice terms.
Commercial debt recovery exists to help businesses avoid costly litigation and to collect outstanding payments while keeping your client relationships intact. If you're owed money, as the creditor, you would approach a commercial debt collection agency to help retrieve money owed. The debt collection agency would then contact the debtor.
Usually, there are three outcomes of commercial debt collection:
The debtor pays immediately on notification
The debtor requires a payment plan
The debtor may be subject to legal proceedings
---
The commercial debt recovery process:
The commercial debt recovery process is relatively straightforward. Once a debtor refuses to acknowledge your reminders and fails to make payment, you can work alongside a small business debt recovery agency to retrieve this cash in an amicable and professional manner.
You can either assign the debt to a collection agency — to instruct them to collect the debt on your behalf, or you can sell the debt to the collection agency. Selling the debt means they take on the responsibility of collecting and keeping the debt once repaid, and pay you a fraction of the total invoice due.
Take the time to research which collection process option would be better suited to your business needs. If you're desperate for cash now, selling the debt to an agency might be the preferred option.
Cash flow is the lifeblood of any business, so maintaining a healthy cash flow where possible is vital to business growth. But according to HMRC, over £23 billion worth of late invoices are owed to British firms, impacting business cash flow and threatening the future of their business.
A step-by-step process to commercial debt recovery: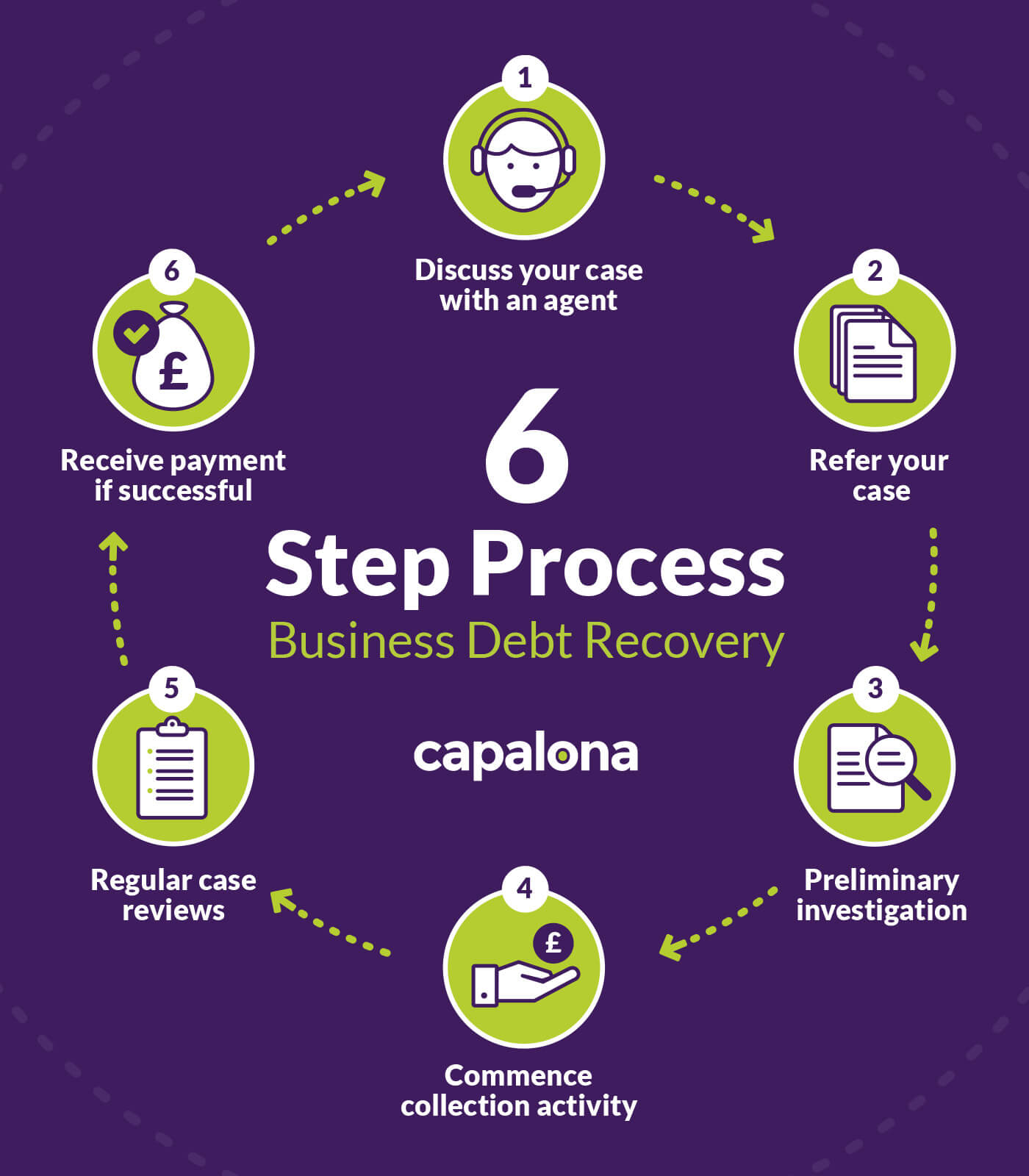 1. Discuss your case with an agent
Discuss your situation and the nature of the case with a highly trained, professional collections specialist. It works on a 'no win no fee' basis, so no need to worry.
2. Refer your case
They will require some information about the amounts owed and any relevant contact details you may have. At this stage, you may be required to sign a contract with the collections agency.
3. Preliminary investigation
The collections agency will conduct preliminary investigations and determine the best way to work on the case. This will be based on criteria such as available contact information, customer location, debt value, age and type.
4. Commence collection activity
This will usually involve communications via letter, email, phone calls and SMS. Communication from a debt collection agency is often all that's needed to persuade your customer to pay their debt in full.
5. Regular case reviews
Conduct regular case reviews and ensure collection activity is maintained.
6. Receive payment if successful
You receive funds minus the debt collection agency fees/commission.
If you're struggling to recoup cash tied up in unpaid invoices let us match you with the best debt collection agency.
---
What are the advantages of using a debt collection agency?
A debt collection agency is filled with specialist debt collectors poised ready to recoup your unpaid invoices. So outsourcing credit control can be a stress reliever for any business owner. The main advantages of using a debt collection agency for commercial debt recovery are:
It provides a quicker way to recover outstanding debt
You gain access to a team of debt collection experts
Cost effective services to collect payments of your commercial debts
There's a better chance of keeping your client relationship intact
Helps with credit management and cash flow
Are there any risks for my business?
When using a debt collection agency, there's a risk of souring the client relationship. Although many debt collectors are skilled at maintaining good relationships with debtors, some aren't. So it might not always yield the positive outcome you're after. It could result in legal action, the disintegration of the customer relationship or damage the company's reputation that you've nurtured for many years.
You've got choices when it comes to selecting a commercial debt collection agency. As a broker, our sole purpose is to match you with the best debt collection services for your needs.
If you decide that debt collection isn't right for your business, you might be interested in finding out more about invoice finance. This can help to release money in outstanding client payments.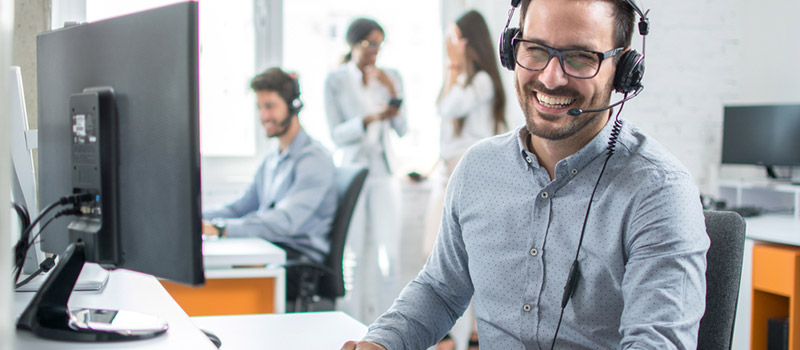 ---
The different types of business debt collection services:
As an SME or small business, your debt collection needs vary wildly to those of large corporations. That's why it's important to understand the different types of business debt collection services available to you.
You might just have one outstanding invoice debt you require collecting, in which case you just need access to a single debt recovery service. Alternatively, debt agencies can manage your entire credit control process which can help improve your payment collection time.
Business debt collection services include:
Multiple debt recovery: allows businesses to outsource a collection of their debts
Single debt recovery: helps businesses recover the occasional outstanding invoice
Credit control: provides support managing company credit
Debt tracing services: locates customers who are indebted to businesses
---
When should my business use a debt collection agency?
Chasing overdue customer payments is tiring and can put a strain on your business's internal resources. If you find yourself in this position and have exhausted all ways to chase unpaid invoices, a debt collection agency could be the best solution for your business.
But when should you use a debt collection agency?
Your invoice is considerably overdue
You can't get hold of your customer
Your customer is disputing the invoice
You don't have the internal resources to chase payment
Your customer keeps giving you excuses
Arrears collections
Complex commercial disputes
If you can identify with any of the above it could be time to see what a debt collection agency could do for your business.
Our partnership with CCiCM gives you the peace of mind you are looking for. Often than not, it's just a case of bringing outstanding accounts up-to-date which enables the trading relationship to continue as normal.
All collectors are highly trained and skilled negotiators and often use a 'soft-touch' approach so that your trading relationship continues without a hitch. Alternatively, the case could be a highly complex commercial dispute, therefore having a requirement to deploy a full range of litigation options through insolvency and contract law.
---
How much does business debt recovery cost?
There are many different ways to pay for commercial debt recovery, but the cost of business debt recovery is typically priced as a percentage of the debt they're collecting on your behalf. With the percentage taken from the full invoice amount including any interest and fees.
Some debt collection agencies work on a 'no win no fee' basis, others take payment from the debtor so the creditor doesn't pay a single penny, and some agencies have a table of charges.
When choosing a debt collection agency, make sure you do your research. As you can see, there are many different payment models out there, it's important to research your options and identify the best agency for your requirements.
What is 'no win no fee' debt collection?
'No win no fee' debt collection means you don't pay the debt collection agency unless they recoup the unpaid invoice amount from your customer. What does this mean for your business? It means you're not out of pocket for a service that wasn't completed, and it also means that the debt collection agency will probably work much harder to ensure that the money is recovered.
However, be aware and read the small print for these payment models, some agencies charge an admin fee if the unpaid amount is left unrecovered perhaps due to the debtor ceasing trading.
---
How long does commercial debt recovery take?
Recovering commercial debt can take agencies just a few weeks in most cases, it's even been known for payments to be settled inside a 24-hour window. Initial contact from a debt collection agency can be enough to scare the debtor into settling their debts there and then. However, if the debtor doesn't have funds to pay the outstanding amount, a payment plan can be put in place over the next few months or years until the debt is fully paid off.
It's important to understand that each debt collection case is different, therefore, it's difficult to gauge how long it will take to recover your debt specifically.
---
Can I collect debt from a dissolved company?
Regardless of whether the company is dissolved or not, any debts that the company owes must still be repaid. If a company owes you money and it has been dissolved, you might be able to get a court order to restore the company.
To apply for court order restoration, download and fill in a claim form N208. Or, you can leave this up to our small business debt recovery partner.
---
Can Capalona help with International debt collection?
Yes, we are partnered with a collections agency who is a member of the International Credit Exchange (ICE) – the largest global network of regulatory-compliant debt collection agencies worldwide.
The ICE network has over 90 offices globally, serving over 130 countries. This enables the international debt collection agency to track and trace payments in any country and jurisdiction.
---
Why choose Capalona to help with commercial debt recovery?
We're brokers here at Capalona which means our services are completely free for you to use. We exist to help businesses, just like yours, find the best business services for your needs — without the legwork.
We've partnered with CCiCM to provide commercial debt recovery services, and they've got a successful track record of recouping unpaid invoices for customers both here in the UK and overseas.
You're busy. So put your feet up and let us do the work for you, we'll assess your needs and match you with the right debt collection services for you.
Benefits of using Capalona:
We've already helped many businesses recover their debts
Our process is quick and easy
It works on a 'no win no fee' basis
Recoveries from £500 to £100 million
Both a UK and International debt recovery agency