Business Debt Consolidation Loans
Consolidating your business debt can help you remain on top of your repayments and access better interest rates and longer repayment terms.
Compare a wide range of lenders and rates
Check your eligibility in minutes
Find out how much you could borrow
Get Started
It's fast, free and won't affect your credit score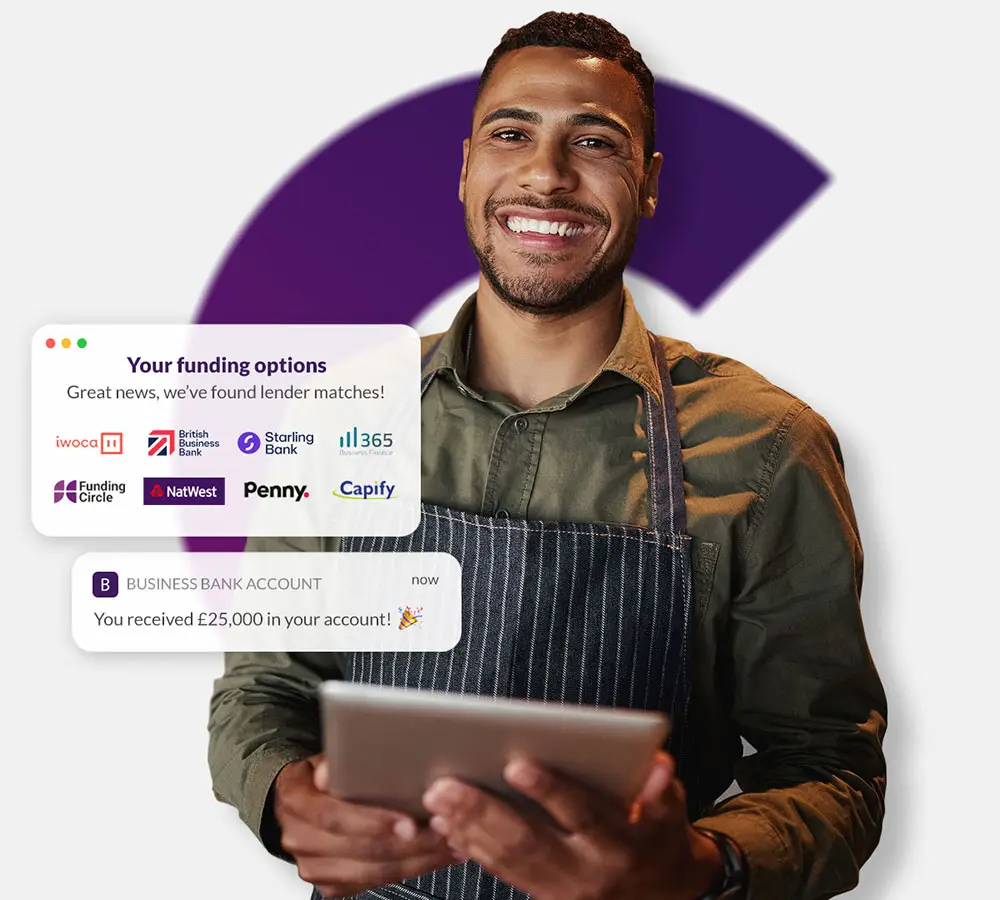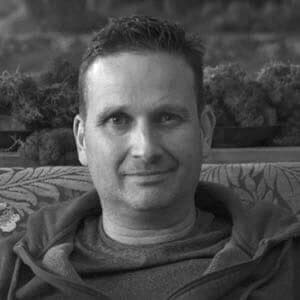 To grow your business, you might need an injection of cash. But when you have multiple loans with different providers, repayments can get expensive and confusing. Consolidating your business debt can help you remain on top of your repayments and access better interest rates and longer repayment terms.
Keep reading to learn more about business debt consolidation.
What is business debt consolidation?
Debt consolidation is when you have multiple loan products from the same or different financial providers and reduce them into one loan. Consolidating corporate debt means you can simplify your loan repayments and save money on interest rates.
So instead of having a secured loan from one provider, a credit facility from another and merchant cash advance agreement, you can replace them with a single loan. One loan, one repayment, less admin.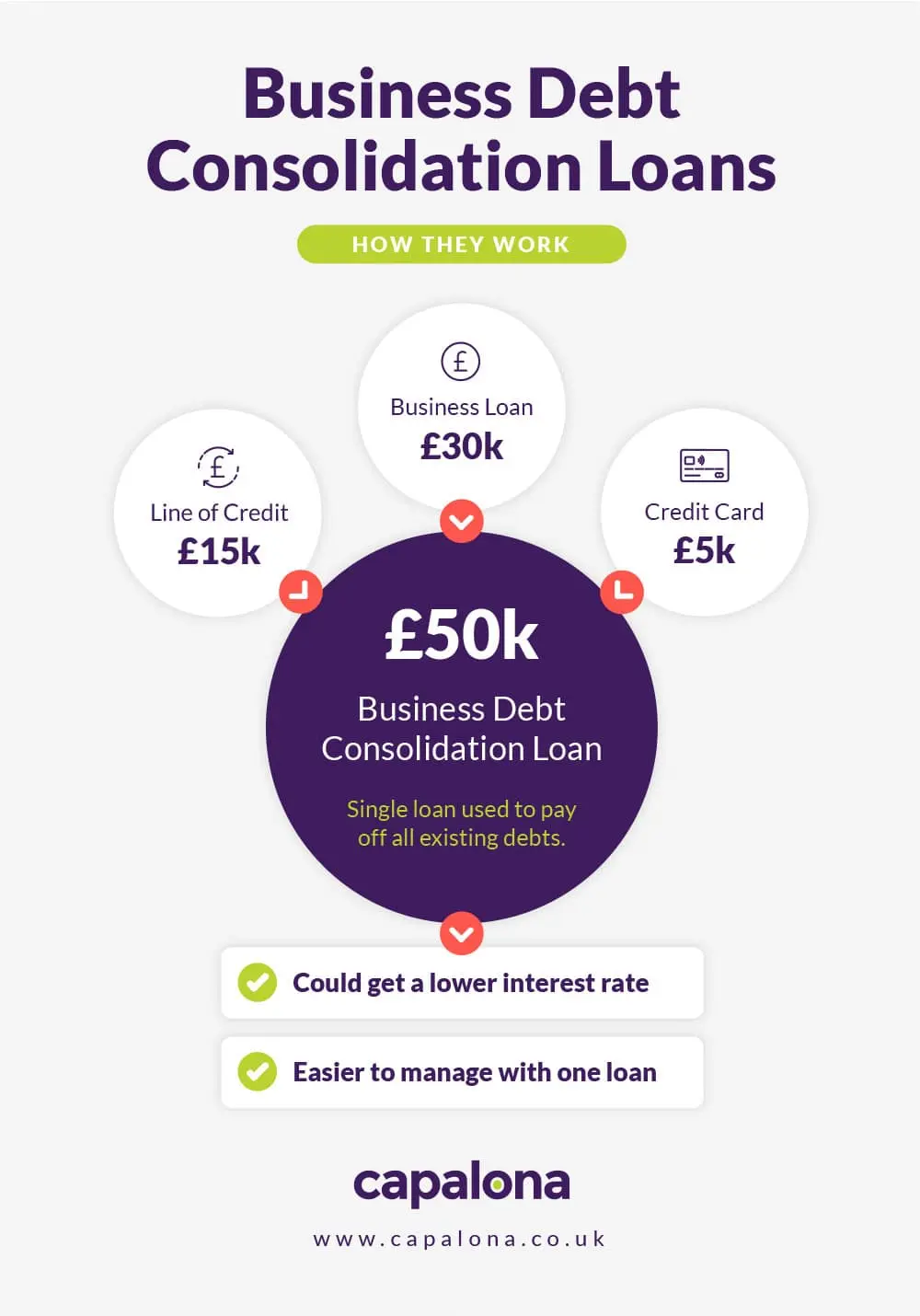 Advantages of consolidating your debt?
There are many advantages of debt consolidation, here are just a few.
Lower monthly costs. You'll save money with your loan repayments if you secure a better interest rate.
Simplify your debt repayments. Consolidating your debt means you'll only make one loan repayment each month instead of several, which means less loan admin and a more manageable repayment schedule.
Reduce risks of missed payments. Because you've just got one loan to repay, there's less chance you'll default on repayments.
Better cash flow. If you can secure a lower interest rate, an extended repayment schedule will reduce your monthly loan repayments, which means more money in the business.
---
Disadvantages of debt consolidation loans
As with any financial product, there are some disadvantages of debt consolidation you'll want to consider, like these three:
More expensive in the long run. Your monthly payments will be lower if you find a better interest rate and a more extended repayment period. Still, you'll be paying off the debt for longer, which ultimately means you'll pay more interest.
Early repayment fees. Your existing lenders might charge early repayment fees, making consolidating more expensive.
New loan charges. You might have fees to pay your new lender, outweighing the financial benefits of consolidating your corporate debt.
---
What types of debt consolidation loans are available?
You can consider a few different types of debt consolidation loans, including unsecured business loans, secured business loans and business cash advances.
Unsecured business loan debt consolidation
An unsecured loan is an excellent option if you don't want to secure the loan with an asset (or don't have an asset to use). An unsecured business loan poses a higher risk to lenders, so these loans usually have higher interest rates and shorter repayment periods. However, you can still access loan amounts up to £500,000.
You pay an unsecured loan back in fixed monthly instalments at a pre-agreed interest rate.
Secured business loan debt consolidation
With a secured business loan, you secure the loan with a commercial asset — this could include property, land or equipment. A secured business loan poses a higher risk to the borrower because if you default on your loan repayments, the lender can seize your asset to repay the loan.
With a secured loan, you can access over £2 million and usually find lower interest rates and longer repayment terms (up to 10 years). This loan is repaid in fixed monthly instalments.
Business cash advance debt consolidation
Known also as a merchant cash advance, a business cash advance is finance that directly correlates with the card payments you process. The more card payments you process in your business, the more of your loan you pay off — it's finance that ebbs and flows with your business performance.
This means you don't have fixed monthly repayments and can rest easy knowing that you repay less in the slower months, and in the better months, you pay more. Providing peace of mind that you won't be out of pocket.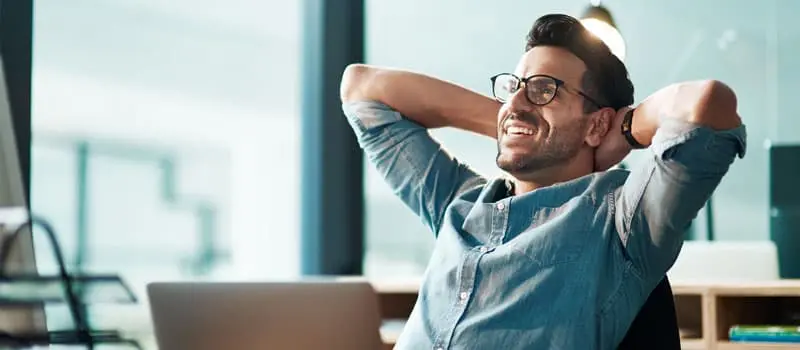 ---
Can I get a business debt consolidation loan with bad credit?
Yes, you can get a debt consolidation loan if you have bad credit. Consolidating your debt means you can use your consolidation loan to pay off all or some of your existing debts.
Please note, although there are plenty of lenders out there specialising in bad credit loans, you might find there's not as much choice provider-wise. You could find it easier to get approved for a secured loan with bad credit. This is because the provider uses an asset as collateral should you default on your loan payments.
Remember, if you don't keep up repayments, your credit score could be affected. You should always look to
improve your business credit score
where you can — a better credit score means better business finance options in the future should you need them.
---
Should I get a business debt consolidation loan?
Whether you should take out a debt consolidation loan really depends on your situation. If you can access better interest rates and therefore save yourself money, then it could be a good idea.
You should consider if the loan will improve your money management. As a business owner, you might already have multiple loans you're repaying. If this is the case, you could benefit from a consolidation loan to simplify your finances.
You should check with your current providers to see if they impose early repayment charges before you apply for a debt consolidation loan. These charges might mean it's not worth consolidating your loans.
---
Why use Capalona to compare business debt consolidation loans?
Our loan comparison tool is completely free for you to use and can help you find the best consolidation loan providers quickly and easily. We're a broker, which means we're focused on helping SMEs like yours grow through access to affordable alternative finance.
We work with a panel of trusted UK lenders to give you the best options available to help your business thrive. All you have to do is fill out your requirements and see which lenders are a good match for your needs.
What our customers say...
Adrian T
5/5
Amazingly fast, efficient service, minimal paperwork. So much faster than my business bank of twelve years.
4.70 out of 5 based on 86 reviews
Reviews last updated on 12 Oct 2023