If you're fed up with the nine-to-five grind and want to combine your love of dogs and the outdoors with working for yourself, dog walking could be a viable business for you. 10 million UK households have a dog, which means the dog-walking market is pretty vast.
But there's much more to setting up a dog-walking business than handing out a few business cards. This guide will take you through the steps so you can set your new dog-walking business up for success.
The pros and cons of starting a dog walking business
Before diving headfirst into business ownership, it's important to weigh up the pros and cons of becoming a professional dog walker.
Pros of dog walking
Flexibility: work the hours you want to work.
Fresh air: walking dogs means plenty of fresh air and exercise.
Be your own boss: working for yourself means you answer to no one, and challenge yourself as much as you want.
Spend all day with dogs: if you're an animal lover, spending time with many dogs could be a dream come true.
Uncapped income: each year, you can increase your rates or charge based on client. You're not capped at making a particular income each year.
Cons of dog walking
Stress: running a business can be stressful. It's not just about walking dogs; you have to market yourself to get new clients, deal with late payments or customer complaints.
Lonely: although you work with dogs all day, you might not interact with many humans.
Burnout: working for yourself means you have no one else to rely on. It's up to you to get your name out there, get qualified, collect reviews etc.
Expensive: although starting a dog walking business has minimal overheads, there are still costs to consider.
Unstable income: any self-employed person experiences highs and lows with income. As it's not a contracted position, your income might not remain predictable. Clients come and go so you should be consistent when marketing to keep low-income months to a minimum.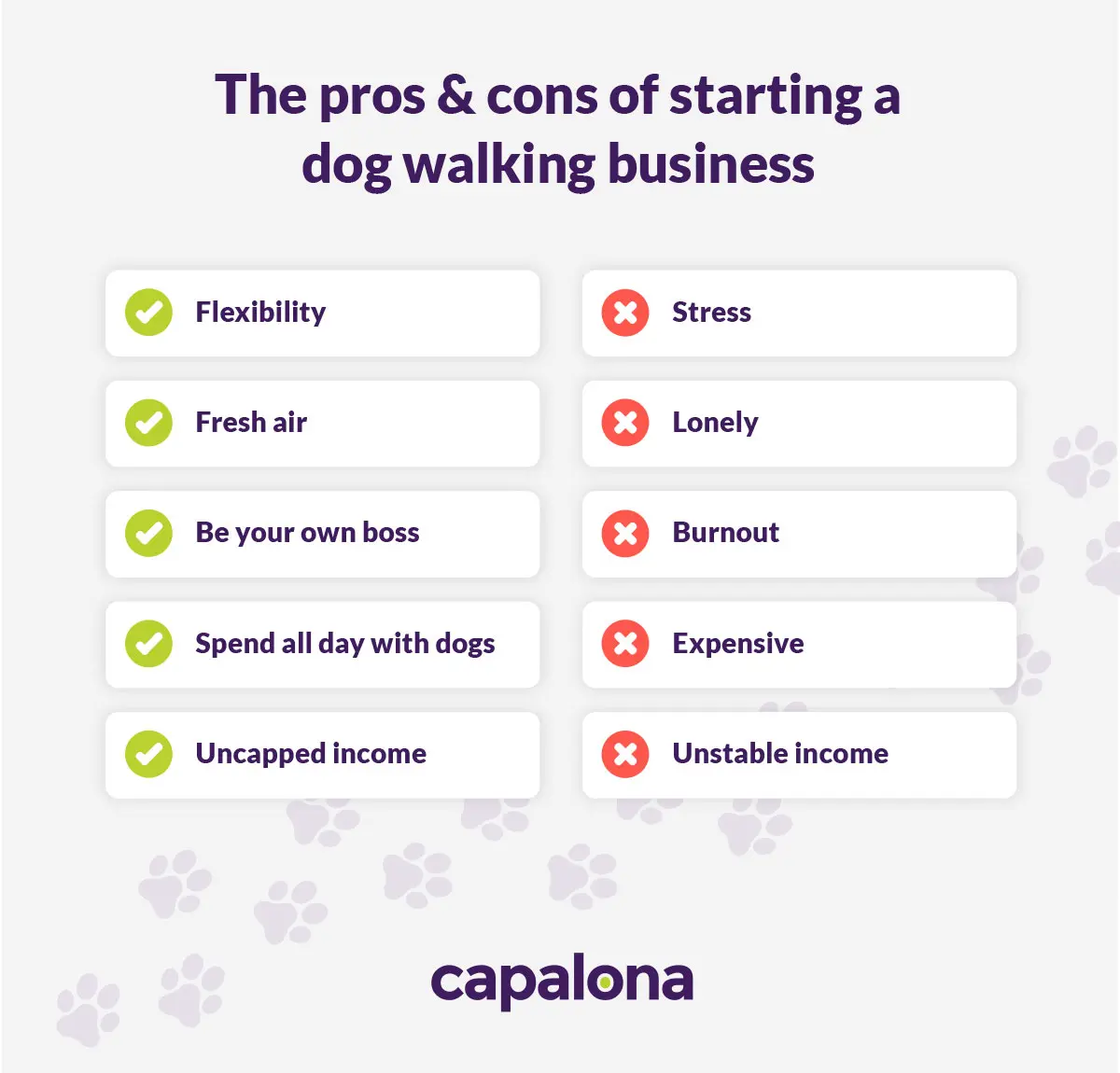 Getting qualified
You can become a dog walker without formal qualifications, but even though you might love dogs or have had them yourself, you'll want to demonstrate that you take your job seriously and learn more about the welfare of animals. From learning how to perform CPR to looking after dogs in general — this will give your customers the confidence they need to book you as a walker.
You can enrol on a level 4 certificate in professional pet sitting and dog walking. This qualification gives you the knowledge required to start and run a small dog walking business with modules including understanding dog breed characteristics and behaviour, canine nutrition, and how to transport dogs safely.
You could also consider other courses, including a dog first aid course. This will not only give customers further confidence in your abilities, but it also gives you peace of mind should a medical emergency happen while the dog is in your care.
Set your business up with HMRC
You must notify HMRC when your income exceeds £1,000 per tax year. The good news is, registering your business is straightforward. As a dog walker, you can register as a sole trader rather than a limited company. Registering as a sole trader is quicker and cheaper than setting up as a limited company, and you have fewer responsibilities.
If you're not sure whether registering as a limited company or a sole trader is the right choice, you can seek professional advice from an accountant.
By registering for self-assessment, HMRC is aware your business exists, and you can easily complete your annual tax return, paying income tax and National Insurance.
P.S.
Don't forget to keep a record of your client payments. You'll need these to fill in your tax return each year, using invoicing software makes this straightforward. Also consider setting up a
business bank account
to keep personal and business finances separate.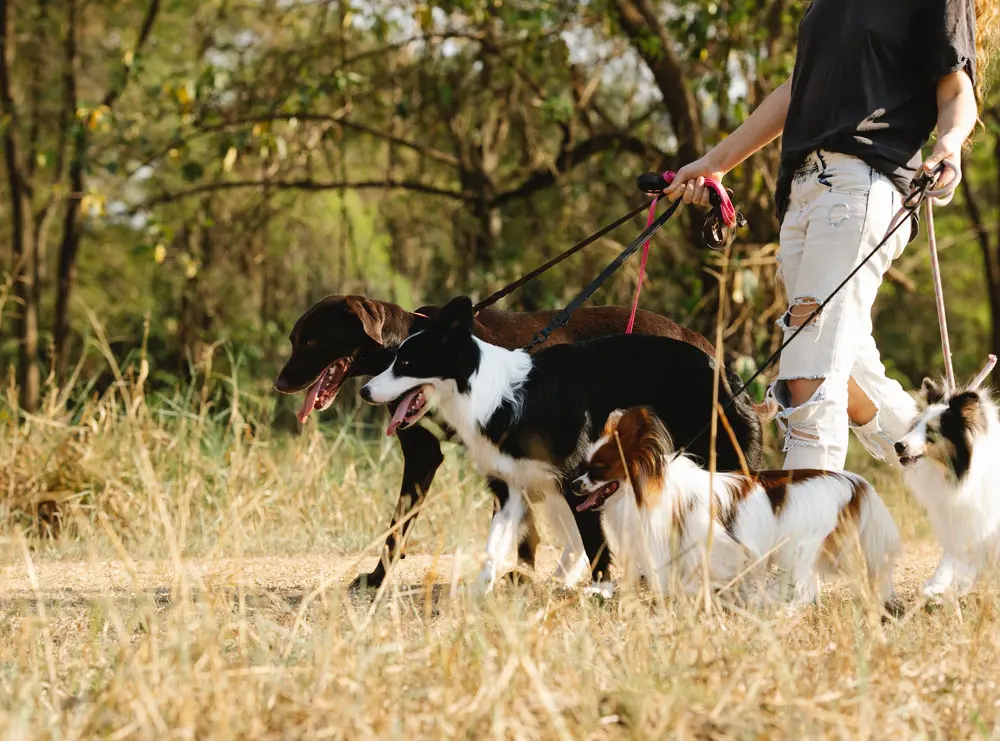 Research your competition
Starting a business from scratch can be daunting, so it's always a good idea to check out the competition. What are they charging? Do they charge an hourly rate? Do they pick up dogs each morning, take multiple dogs on one walk, or do they visit dogs individually?
You need to figure out how your business will operate because it largely determines what dog-walking equipment you need. If you're just walking individual dogs, you can probably just use the owner's lead. But if you plan to walk multiple dogs at once, you might need to purchase different leads, you'll need a van to transport the dogs in, and you'll need to work out good dog walking spots.
All this should form your preliminary research, which helps you understand how to setup your business going forward.
Buy pet business insurance
Should anything happen while the dog is in your care i.e. they slip and hurt themselves and need medical assistance, they're attacked by another dog or they damage property while you're out and about, you need to make sure your business is covered.
Specialist insurance for dog walking businesses can protect you against all of these public liability claims and more, for example, if you lose your client's house keys or their dog is stolen. Your insurance will also state how many dogs you are insured to walk at one time.
You can't control every situation, so buying business insurance gives you the ultimate peace of mind when running your business. This type of insurance usually starts for as little as under £10 per month.
What equipment do you need to start a dog-walking business?
After figuring out the services you will offer, it's time to start investing in your equipment. Dog walking equipment can include:
Dog first aid kits
Treats
Leads, harnesses or muzzles
Towels
Balls and other dog toys
Dog bags
Business mobile phone
Marketing materials (website build, brochures, business cards etc.)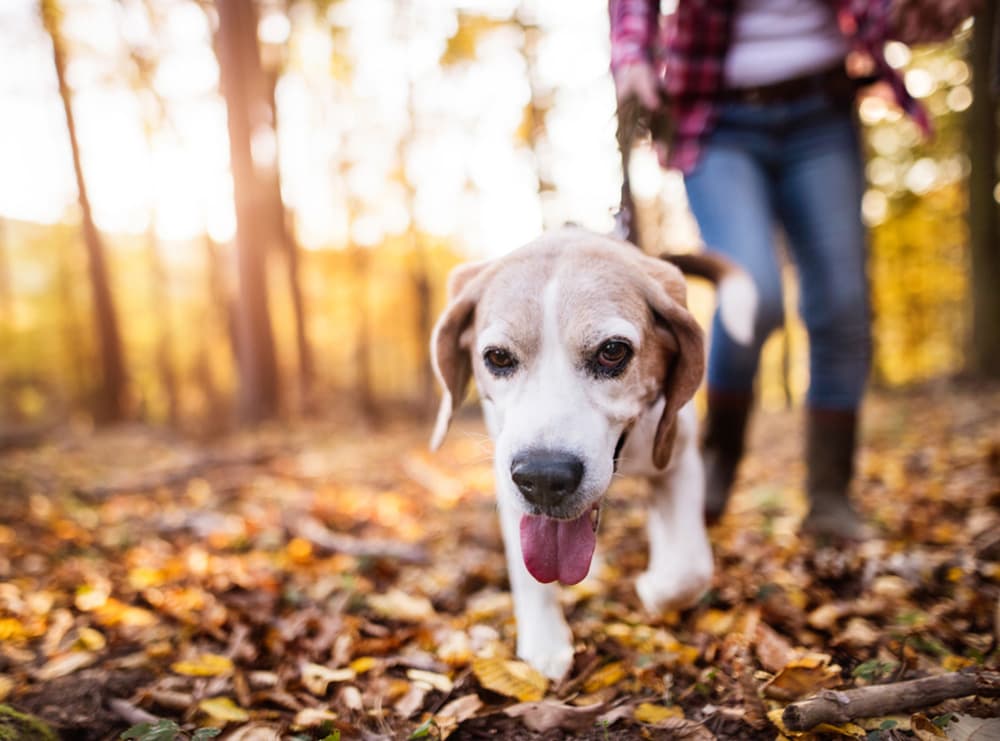 Know your canine laws
There are a handful of government laws you should be aware of when becoming a dog walker.
The Control of Dogs Order 1992: In public, every dog must wear a collar with the owner's name and address on it, whether engraved, written or on a tag. It's your responsibility to ensure the dog has this collar on.
The Dangerous Dogs Act 1991: It's a criminal offence to allow any breed of dog to be dangerously out of control. This law was brought in to rid the UK of menacing fighting dogs.
The Clean Neighbourhoods and Environment Act 2005: In this act, it's an offence to breach a dog control order, this breach carries a maximum penalty of £1,000. Breaches can include dog fouling, nuisance and control.
How to get dog-walking clients
To start with, you can walk your friends' or familys' dogs to get some hands on experience. Take photos, upload them to social media channels and start building your dog walking brand. When you're out walking dogs, to chat to other dog walkers and view these interactions as a great opportunity to network with potential clients.
When you do get your first few clients, don't forget to ask them to leave your business a review, whether on Google reviews or on Facebook to help you further build your business.
You can further raise your dog walking profile by joining community Facebook groups and promoting your services, helping you build your local presence.
Consider joining NarpsUK (National Association of Pet Sitters and Dog Walkers) to give your business credibility and access insightful resources to help you build a successful business.
To make managing client bookings and payments even easier there are dog walking apps out there, like Rover, that help to make dog walking business management effortless.
Before you go
Becoming a professional dog walker has its benefits and drawbacks, so it's important to research your options before taking the plunge. Make sure you understand how to set up a new business with HMRC, your tax obligations, canine laws and manage client expectations and you'll be on your way to running a successful dog walking business.
If you're considering financial support to get your business set up we can help you access fast and flexible startup loans and small business loans to help you buy the dog walking equipment you need and get your business up and running quickly.
Getting a quote is completely free. Get your quote today.