Buy now, pay later payment methods have taken the B2C marketplace by storm. It's easy to see the attraction — you can buy items you want or need even if you don't have the total cash in your bank account.
And that's pretty much how it works for B2B buyers, too. In this blog, we're exploring more about what buy now, pay later (BNPL) is and how embedded finance solutions like this can add real value to your business as a merchant.
What is buy now pay later for B2B?
Buy now, pay later is a payment method you can offer your B2B buyers in exchange for immediate payment. In return, you can offer the buyer the option to break down their purchase into interest-free repayments over the next few months.
This encourages larger buyer orders which can help you grow your retail business while giving you an instant boost in cash flow.
How does buy now pay later work for trade?
Buy now pay later (BNPL) is a form of short-term lending offered to your business buyers at the point of sale. Buyers can then spread the total payment of goods and pay for them in manageable repayments. But as the seller, you'll receive payment instantly.
Although, as a retailer, you pay a transaction fee to the BNPL provider, these costs are usually justifiable as having a BNPL option can increase the average order value and improve the customer experience.
The software is easy to integrate with your accounting software or e-commerce platforms to ensure a frictionless B2B buyer experience.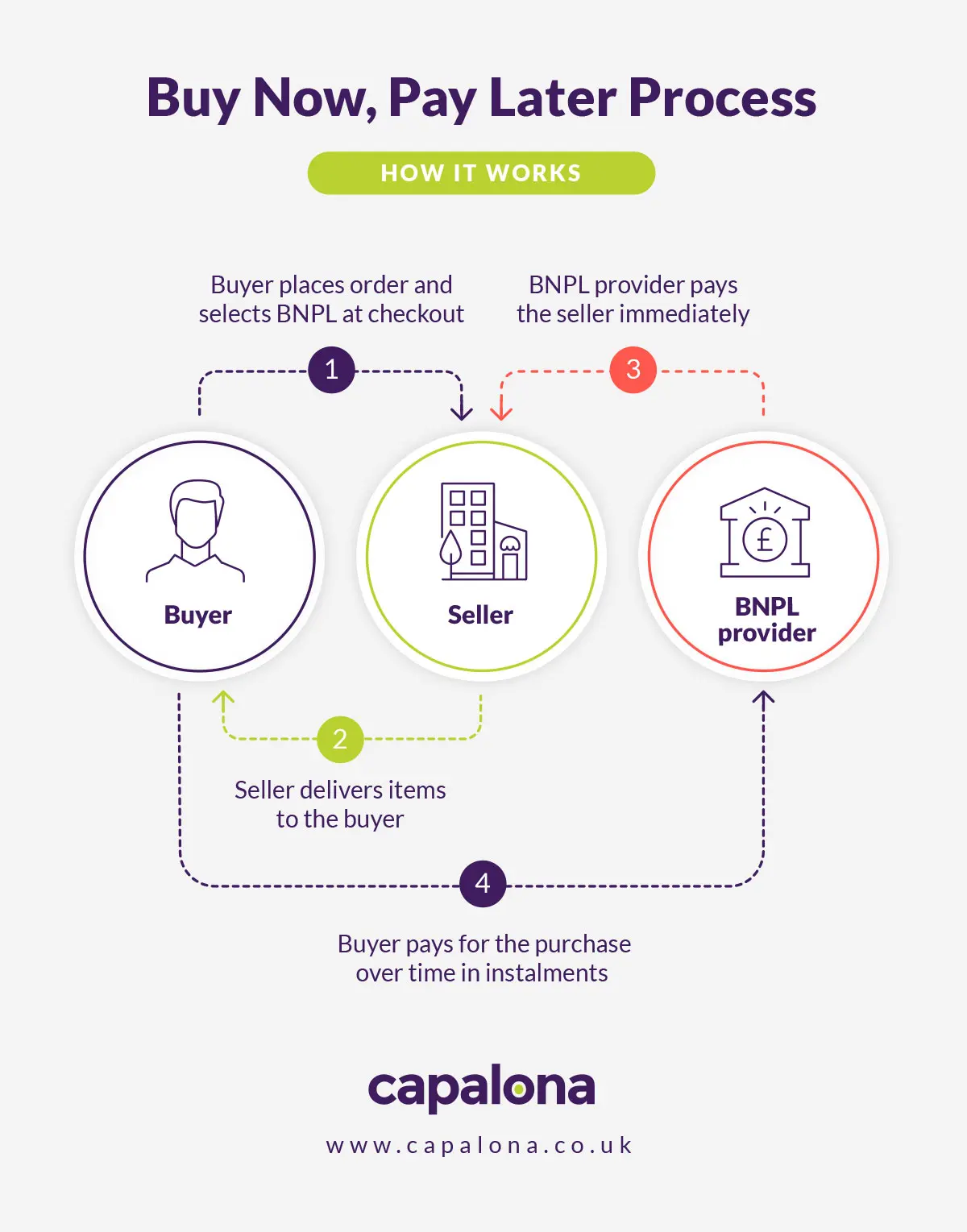 Benefits of buy now, pay later for merchants
Encourage larger orders from B2B buyers - Buyers are more likely to purchase more goods if you're offering interest-free repayments in manageable instalments.
Get paid immediately - You get the payment in full as soon as the transaction is complete and the buyer repays the BNPL provider. This gives you an instant boost in cash flow.
Increase the average order value - By consistently increasing the average order value, you can achieve sustainable growth for your business.
Attract new audiences with new payment options - BNPL can help attract customers who have yet to consider purchasing from you; according to iwoca, customers are 57% more likely to purchase with BNPL.
The provider absorbs credit risk - If your customers fail to make repayments, don't worry, this isn't your problem. The problem lies with the provider; they will chase payments.
Benefits of buy now, pay later for buyers
Keep cash in their business for longer - By splitting payments of goods interest-free, B2B buyers can enjoy a more predictable cash flow.
Build loyalty with the merchant as a valued customer - As repeat customers, they could be subject to special offers you have to reward that loyalty.
Make cost savings by bulk buying stock - Buyers can take advantage of sale prices or bulk purchase bargains they would have otherwise passed over as they didn't have available funds.
Make interest-free payments over months instead of paying outright - By spreading the cost over fixed monthly instalments, they still get the goods they want or need without the initial outlay.
Will the buy now pay later provider credit check my customers?
Yes, buy now, pay later providers will perform a soft credit check on buyers to ensure they can afford repayments. BNPL is still a type of business finance, so providers need to protect their investments and lend responsibly.
The only time BNPL will affect your customer's credit score negatively is if they miss a repayment or fail to repay the total amount.
How to choose a buy now pay later provider
What you look for in a UK buy now, pay later company will depend on your priorities as a retailer. Some features will suit businesses better than others. Here are some things you might want to look for in a provider:
Interest-free trade credit for buyers
Quick and simple integration with ecommerce and accounting software
A provider that doesn't charge setup fees
Flexible buyer payments
Digital processing making the process easy for both buyers and sellers
Compare B2B Buy Now Pay Later Companies
If you're considering offering a buy now, pay later payment option, the good news is there are plenty of providers out there to choose from.
Use our table below to quickly compare providers offering BNPL.
| B2B BNPL Provider | Credit Limit | Payment Terms |
| --- | --- | --- |
| FlexiPay by Funding Circle | Up to £250,000 | 3 months |
| Hokodo | Up to £20,000 | 1 - 3 months |
| iwocaPay | Up to £15,000 | 3 - 12 months |
| Kriya | On Application | 1 - 3 months |
| Playter | Up to £1,000,000 | 3 - 12 months |
| Tranch | Up to £250,000 | 2 - 12 months |
| Trevipay | Up to £20,000,000 | 1 - 3 months |
Is buy now pay later the right option for my business?
Buy now, pay later gives both B2B customers and merchants the opportunity to grow in different ways. Customers can make savings by bulk buying products and taking advantage of offers and merchants can instantly receive payment in full, attracting new customers in the process.
Before choosing a buy now, pay later provider, always compare to find the best deal.
Looking for more business finance tips? Check out the guides in our resources section.