What is invoice discounting?
Invoice discounting is a type of invoice finance and is a popular way for SMEs to maintain healthy, predictable cash flow while staying in control of your sales ledger. Discounting allows you to sell one or more of your unpaid invoices to unlock up to 95% of the value, giving you an instant cash boost.
You can use this cash boost for anything business-related, perhaps you worry about paying your staff on time, or bills or rent for your business premises. With invoice discounting, those worries disappear, you're guaranteed payment from your invoices quickly.
Learn more about how invoice discounting works below.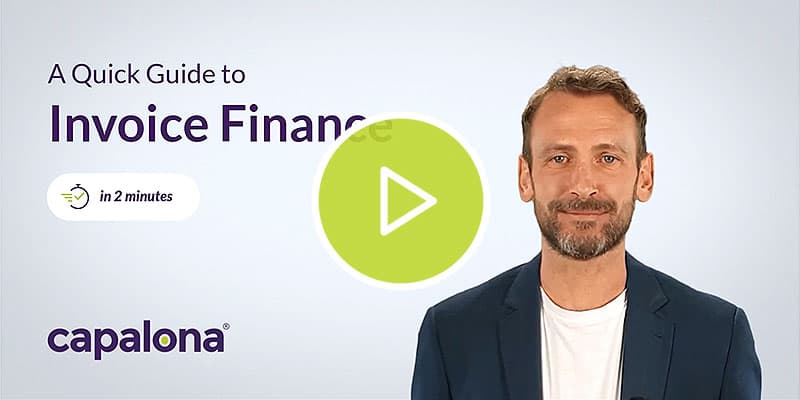 ---
How does invoice discounting work?
Say your business has invoiced its customers to the tune of £100,000, for example, you don't have to wait around for the 90-day payment terms. Invoice discounting means you can release up to £95,000 of your unpaid invoices.
The lender will charge fees for the service, which are deducted from your customer's final invoice payment, with the remainder transferred back to you.
It's a reliable and flexible way to sustain cash flow, a problem many UK SMEs face.
You can use your new cash injection to buy more stock or investment in new markets; the possibilities of business growth are endless with invoice discounting.
---
What are the advantages and disadvantages of invoice discounting?
Just like any finance, invoice discounting has its pros and cons. So you must take the time to research your options and work out whether it's the right finance facility for your business.
The advantages of invoice discounting
100% confidential - your clients and customers don't need to know you're working with a discounting company, you have full control.
Healthy cash flow - it helps you unlock funds otherwise tied up in unpaid invoices.
Security - you can sleep easy knowing you're able to pay your staff wages on time, every time.
The disadvantages of invoice discounting
New businesses might find it difficult to secure - lenders are looking for companies that are established with a high turnover. (Don't worry, we can still help, check out our Startup business loans.)
It's more expensive - when compared to traditional bank loans, the cost of invoice discounting – which is effectively a short-term loan, it's a much more costly form of finance.
You can become trapped - businesses can become heavily reliant on discounting as a way to manage cash flow long-term. Therefore, it can be challenging to break the cycle.
---
How much does invoice discounting cost?
There are two costs to take into consideration with invoice discounting. The first is a "Factor Rate" which can cost somewhere between 1 and 5% of the invoice value. The second fee is a "management/service charge" and can range anywhere from 0.5% and 3% or more of your annual turnover.
You must read the lender's terms and conditions to understand any hidden fees.
How much could you pay?
Let's say you sell invoices totalling £50,000 and you unlock 95% of the invoice value, and the fees stand at 2%. You'll receive £47,500 initially. After you chase the customer and they pay the invoice in full, you could receive an additional £1,200, and pay £800 in fees to the lender.
Remember, this is just an example; you should read the exact payment terms carefully and agree on them with the lender.
Fees are typically lower for discounting then for invoice factoring because you'll still collect and manage debts yourself.
---
Invoice discounting calculator
Work out what you could expect to pay in fees by using our invoice discounting calculator below. Remember, this is just an estimation; you should agree on the payment terms and interest fees with the lender.