Healthy cash flow is critical for any business, regardless of its size. But as a small business owner, unpaid invoices can have a bigger impact on your cash flow, leaving you struggling to operate your business.
That's why understanding how to invoice your clients is essential for any business owner — invoicing correctly can help you see payment on time. In this guide, we're talking you through what an invoice is and how to invoice your clients effectively.
According to research by Barclays, 58% of SME business owners are still waiting on money tied up in unpaid invoices. So if you're a bit daunted at invoicing your clients, don't worry — we've got you covered.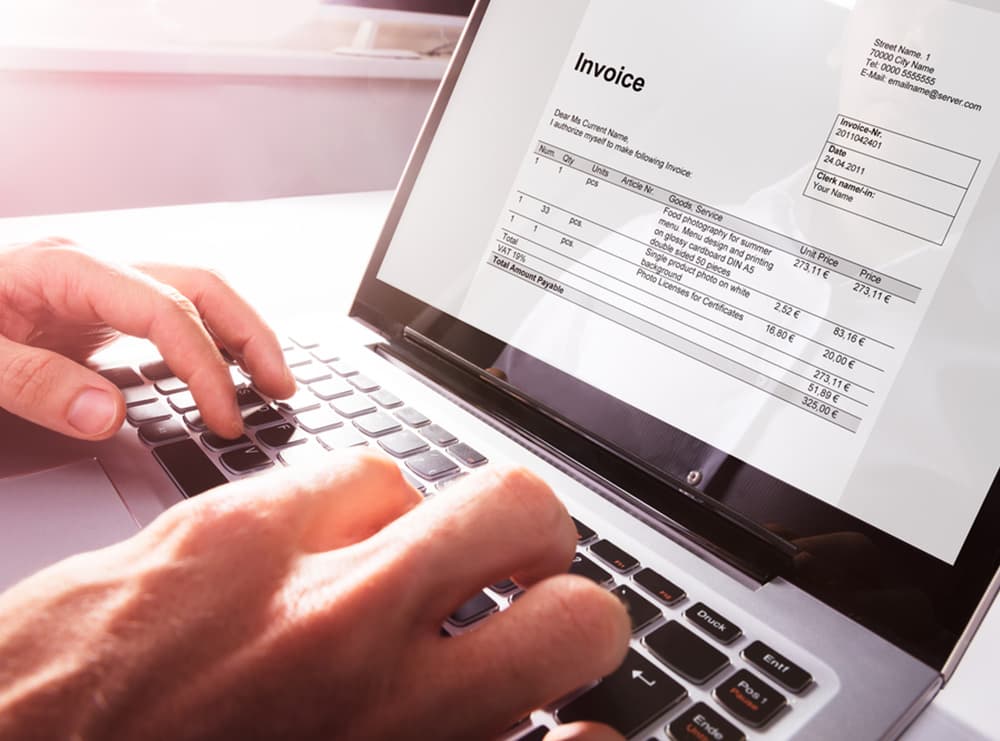 What is an invoice?
An invoice is simply a payment request that lists the goods and services you've provided. Each product or service is itemised on the invoice with the total amount due at the bottom.
Receiving payment on time is crucial to ensure your business continues to run smoothly, so you must include all the correct information on your invoice.
You want to make sure your customer knows how they can pay you, how much they're paying you and what they're paying you for.
Different types of invoices:
Sales invoice
A sales invoice is your standard invoice — it highlights the work deliverables and is a straightforward request for full payment.
Recurring invoice
As the name suggests, this invoice recurs until the end of a contracted period. Setting up recurring invoices can reduce unnecessary admin. These only work if the amount invoiced is the same each month.
Proforma invoice
A proforma invoice is sent before any work is carried out or delivered. Although not necessarily a request for payment, this invoice outlines deliverables and rough pricing, giving your client a good idea of what price to expect.
Interim invoice
These invoices can be sent out throughout the course of a project. They're usually sent to request payment for completion of a milestone. E.g. if you're a website designer, you might ask for a portion of the payment after you've delivered the initial layout ideas. Invoicing like this can help you maintain a healthy cash flow.
Final invoice
As the name suggests, a final invoice is an invoice calling the final amount due on a project. This invoice will include all work completed, payments made so far and the final amount outstanding at the end of the project.
Overdue invoice
Once an invoice becomes overdue, your invoice will become an overdue invoice. Most invoicing software on the market will allow you to set up automatic overdue invoice reminders. These reminders politely nudge the client into paying the outstanding amount.
How to write an invoice
When writing an invoice, it's important to include all the relevant information your customer needs to be able to process your invoice correctly and pay you on time.
Here's what to include on an invoice:
Date of issue
Total amount payable
Invoice number
Client's business address
Your business address
Payment due date
Goods/services supplied
Details of how to pay your invoice
VAT (if applicable)
IBAN and Swift Code (might be required if receiving international payments)
Always communicate with your client to make sure they have all the necessary bank details to pay promptly.
Do I need to buy invoicing software?
You don't have to invest in invoicing software, but if you can afford it, it's a good way to effectively manage all your invoices and client contact details in one place. This software helps you keep track of all invoice payments and any outstanding payments and helps you track your business revenue.
This kind of software doesn't have to be expensive — pricing plans from FreshBooks, for example, start from just £5.50 a month. If you don't have access to invoicing software, you can create an invoice template in a Word document or use a free design tool like Canva.
An example of an invoice: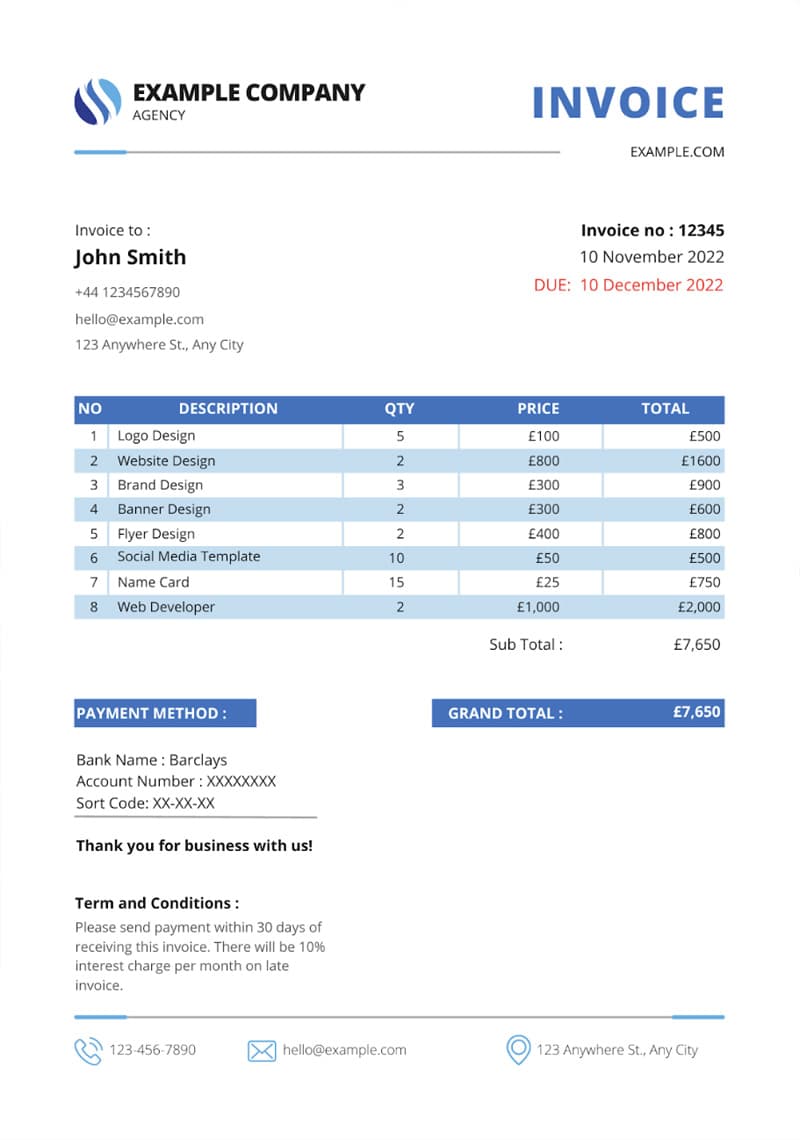 3 quick tips for getting your invoice paid on time
There are no guarantees your clients will pay invoices on time, but there are a few ways to decrease your chances of chasing unpaid invoices.
1. Consider building late fees into your invoice
This is completely your decision because adding a late payment fee might not be the best way to build strong client relationships. If this is something you want to consider implementing, it could be a good idea to implement it at the very start of a relationship rather than part-way through.
This kind of late fee can prompt companies to pay quickly.
2. Make sure all details are correct
This sounds obvious, but some small details can be overlooked. For example, the legal name of the business you're invoicing might not be the same as the one you're aware of — or their company address might be different to the one on their website.
Other common mistakes include:
Incorrect payment amount
Incomplete bank details (i.e. not including Swift Code or IBAN if necessary)
Incorrect deliverables information
Addressed to the wrong person/department
Don't forget: Always take the time to ask where you need to send your invoice and to who you need to address it. Otherwise, it won't reach the correct department, and sending it through your contact at the organisation might slow down the process of getting paid.
3. Follow up on invoices quickly
If you think it's pushy to follow up on your invoices, you need to banish these thoughts from your head. You've delivered a product or service, and you deserve to be paid on time for it. As long as you're polite, you won't do any damage to your client relationships by following up on payments.
You could consider sending an invoice reminder the day before it's due if the client consistently pays late. Most invoicing software can send automatic invoice reminders as soon as the invoice becomes overdue — this helps remove the awkward follow-up email if you're not a fan of manually chasing.
Have you heard of invoice finance? Invoice finance can help you unlock up to 95% of an unpaid invoice amount, which means you can maintain a healthy cash flow. So if you're worried about clients not paying on time, invoice finance could be worth exploring.
Use our free comparison tool to find the best invoice finance deals.