Franchise Finance
With a franchise loan, you can quickly receive the money you need to buy into a franchise, or expand your existing franchise business. With more and more entrepreneurs tapping into the UK franchise market, there's no better time than now to fund your franchise ambitions!
Compare a wide range of lenders and rates
Check your eligibility in minutes
Find out how much you could borrow
Get Started
It's fast, free and won't affect your credit score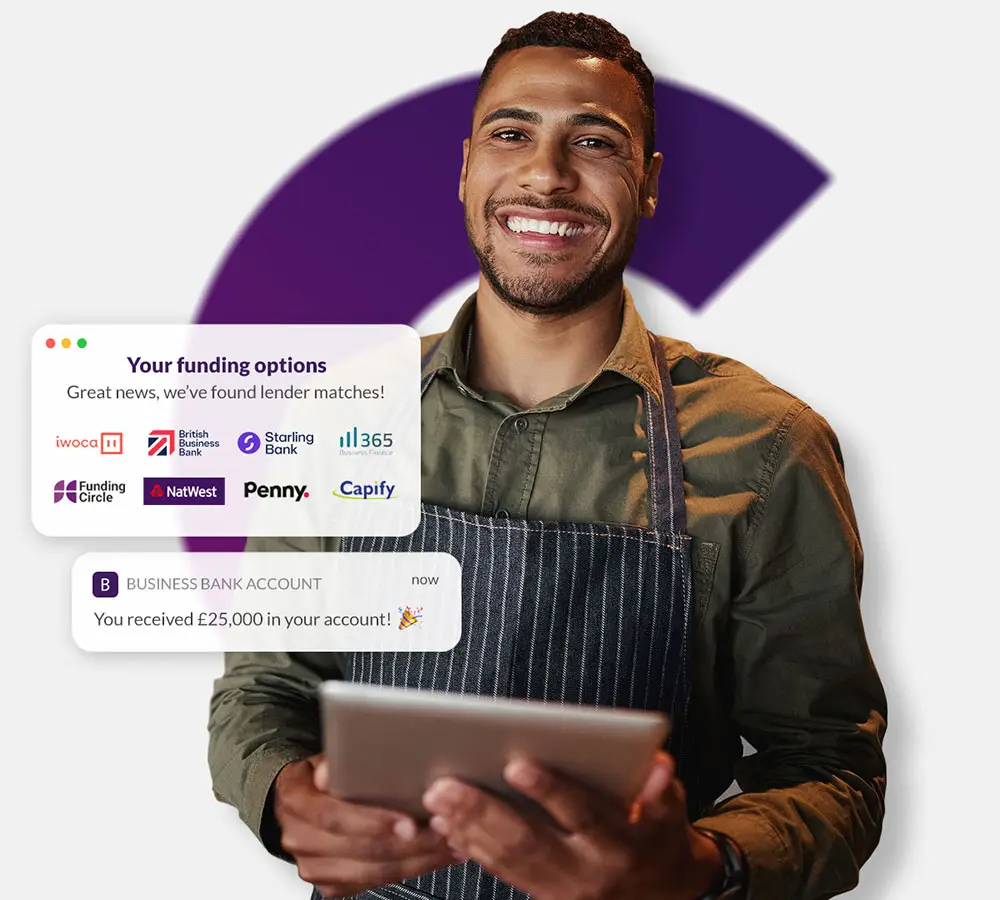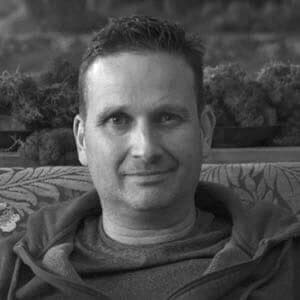 The franchise market is a thriving one to be a part of, with six in 10 generating over £250,000 in revenue. Starting your own business is hard — one in five new companies fail in the first year; that's why buying a franchise can be an attractive alternative — there are fewer risks, your business has instant brand recognition (no painstaking meetings coming up with brand names and logos), and you can by-pass the entirely stressful startup phase.
So whether you're looking to buy your first franchise or expand your existing ones, learn more about your funding options below.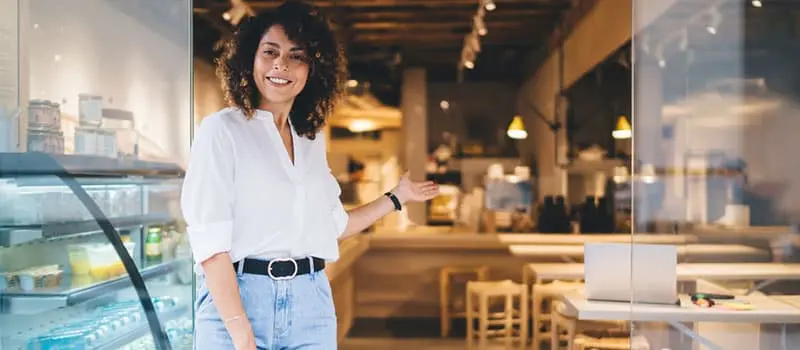 What is franchise finance?
Franchise finance is a funding solution specifically tailored to help support and grow franchise businesses. Whether buying your first franchise business or expanding your existing collection of franchise businesses.
Funding a franchise can be expensive, particularly in the initial stages as you get set up, so unlocking funding to help you do this can mean you're up and running quickly — without worrying about money.
---
Why is franchising fast growing?
Starting your own business can be a lonely place, but when buying into a franchise? You can utilise the skills of the franchisor to help give you business direction and access to a whole host of other benefits.
There's less chance of failure when purchasing a franchise — because it's already been done multiple times. It's a proven business model you're buying into, and that's why it's such an attractive business opportunity for many entrepreneurs in the UK.
---
How much can I borrow for a franchise?
Most lenders will lend the franchisee 70% of the funding, which means you have to put up 30% to secure the finance.
According to Point Franchise
, the average startup cost for buying a franchise in the UK is £42,200; this includes everything from stock and equipment to franchise fees. For example, in this instance, you'd need to put up £12,660 and borrow £29,540 from the lender. How much a franchise costs will entirely depend on what franchise you buy into. Smaller franchises cost less, while brands with household names will cost substantially more.
---
What can franchise finance be used for?
You can use a franchise loan for pretty much anything to do with your new business, including:
Cover stock expenses
Buy new equipment
Pay franchise fees
Staff wages
And refurbishment costs
Buying a franchise can be expensive, so accessing finance like this can ease your financial worries and help you adequately manage cash flow throughout the entire journey.
---
Business sectors that commonly use franchise finance:
Franchise finance can be used in any sector. So regardless of what sector your franchise falls into, you can apply for finance to help you cover costs. Some of the most common areas include hospitality (pubs, restaurants, hotels, bars etc.), health and wellbeing, retail, and maintenance and cleaning services.
Popular franchises in the UK include:
McDonald's
Domino's
Starbucks
Pizza Hut
KFC
Subway
Costa
Molly Maid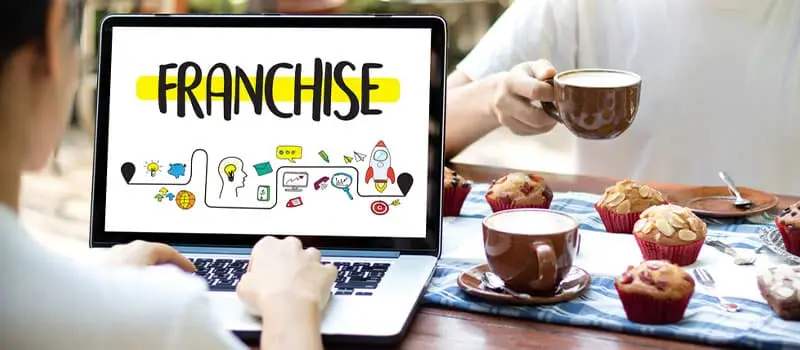 What are the different types of franchise finance available?
We're talking you through five popular franchise loan options below. Which one you choose depends on your circumstances, what you're looking for and the lender's eligibility criteria.
Unsecured Franchise Business Loans:
Ideal if you don't have any property or land to put forward as security. An unsecured business loan provides quick finance for your franchise which can be repaid over a longer period of time, generally through fixed monthly instalments with a pre-arranged interest rate.
Secured Franchise Business Loans:
If you have assets, such as property, equipment or land, you can use as collateral when securing finance; a secured business loan might be a good option. As there's less risk posed to the lender with a secured loan, you'll be able to unlock high loan amounts and loan interest rates.
Pub Franchise Business Loans:
The pub market is thriving, so if your new franchise is a pub, a pub business loan is tailored explicitly for businesses just like yours to help you capitalise on this opportunity. For example, use the finance to give your pub's interior or exterior a much-needed facelift or pay for some new stock.
Hotel Franchise Business Loans:
Specifically designed for hoteliers to support the growth of your hospitality business, hotel finance can assist with everything from purchasing a new hotel to refurbishing your existing property, enhancing the customer experience or taking on new staff. These loans are generally paid as a lump sum and then repaid with interest and any fees/charges on a monthly basis.
Restaurant Franchise Business Loans:
Running a successful restaurant can be expensive, particularly as a new franchisee. Getting a restaurant business loan can alleviate a lot of worries over expenses such as purchasing new stock, covering quieter periods, and refurbishments. The finance can be in your account quickly and repaid over a long period.
Not sure which option is best for your business? No worries, we're here to help you find the right the finance for you needs. See your franchise business loan options here.
---
Are there any risks to using franchise finance?
There are always risks to consider when taking on any debt. You should always be realistic about how much you can afford to borrow. If you default on your repayments, you could negatively impact your credit score, impacting your ability to secure finance in the future.
Before buying into a franchise, thoroughly research the industry and the chain you're investing into. Make allowances for seasonality and regionality if necessary, as all these factors will affect whether you'll be able to pay back the loan in monthly instalments.
---
What franchise loan costs should I expect?
Loan fees vary depending on the lender, but usually, you can expect to pay an arrangement fee, any late payment fees, and, of course, the interest rate on your loan. Your interest rate will be paid with your monthly repayments and will vary depending on your circumstances and what type of loan you apply for.
Always read the terms and conditions of your loan to understand the fees you're expected to pay.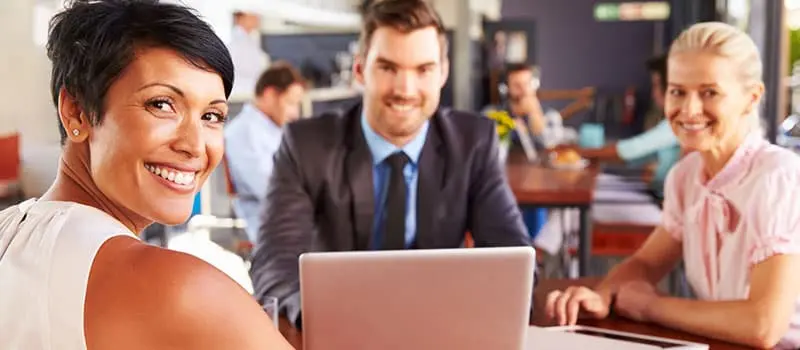 What are the benefits of finance for franchise businesses?
It helps you get your business up and running quickly, without financial barriers. Buy all the equipment you need, hire staff without worrying about your bottom line, and renovate the interior. Access to working capital means you don't have to hold back on important decisions. Instead, you give your franchise the best start possible.
---
How can I get finance for a franchise in the UK?
Getting a franchise loan in the UK is relatively straightforward. You can approach a lender directly to check their eligibility criteria, or you can use a free comparison service to research the market quickly to find the best option for your business.
If you can, find a lender that has a track record of working with franchises such as yours. These lenders are knowledgeable about your business model and can help you find the best financing options.
---
Why choose Capalona for franchise funding?
We're an online broker, which means we are committed to helping you find the best financing options for your franchise. We've helped thousands of UK SMEs, just like you, find lenders quickly to unlock the working capital to support business growth.
To get started, simply fill in our online quote form and let us match you with suitable lenders. It's 100% free, and there's zero obligation to accept any of our lender's quotes.
What our customers say...
Adrian T
5/5
Amazingly fast, efficient service, minimal paperwork. So much faster than my business bank of twelve years.
4.70 out of 5 based on 86 reviews
Reviews last updated on 12 Oct 2023