Business loans for a food truck
If you're starting a food truck business or you want to invest in the one you have, a food truck loan can give you the working capital you need to grow your business fast.
Compare a wide range of lenders and rates
Check your eligibility in minutes
Find out how much you could borrow
Get Started
It's fast, free and won't affect your credit score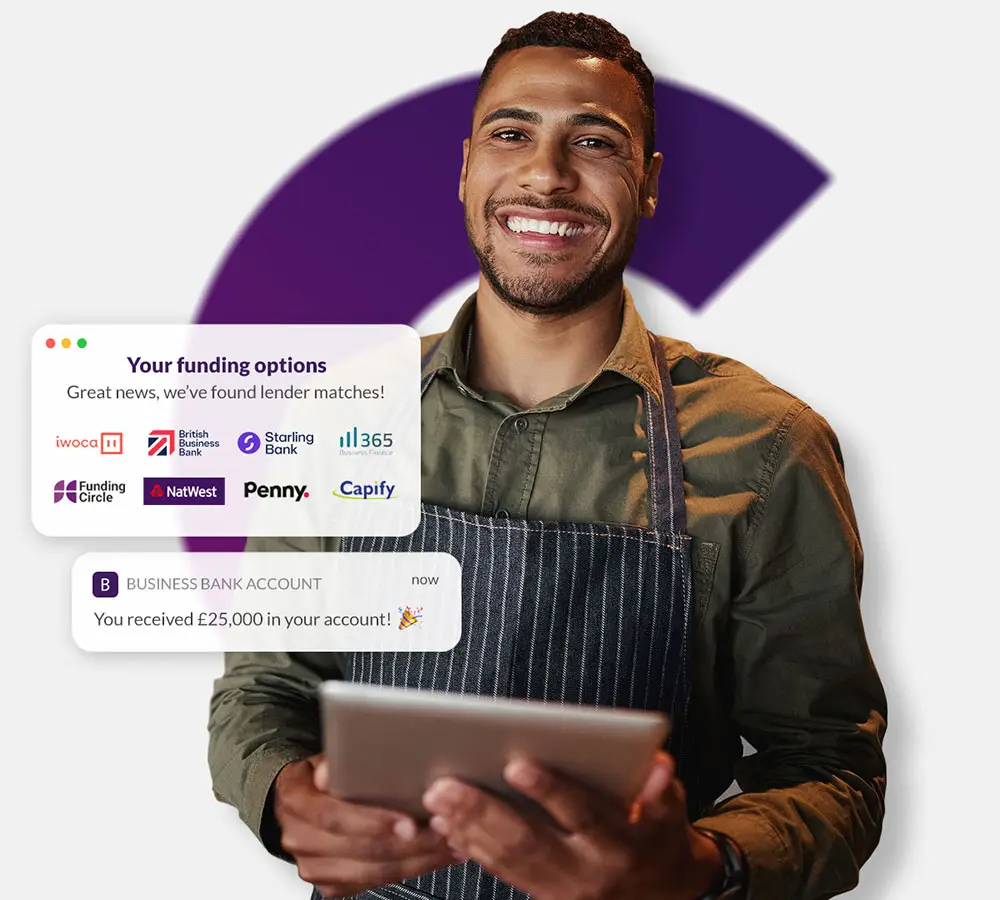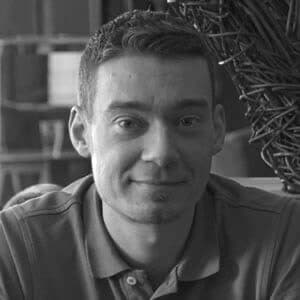 What is a food truck loan?
It's a business loan specifically for food truck businesses. Apply for secured or unsecured loans, get a lump sum of cash and repay it monthly with interest over a pre-agreed timeframe.
Use your food truck business loan to stock up on inventory, remodel your food truck, or buy new appliances and other necessary equipment to run a successful catering business.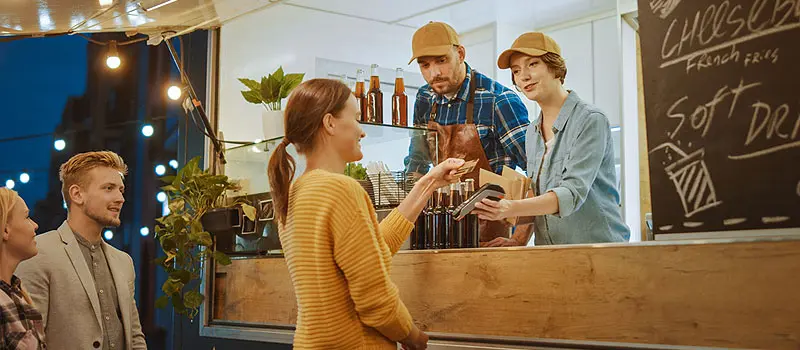 ---
Types of food truck business loans
The type of loan you apply for depends on how much you want to borrow, how you want to repay and what you need it for.
We work with various lenders offering fast, flexible and affordable loans for catering businesses — here are some of the products you can apply for.
Unsecured loan
An unsecured business loan is great if you need fast financing. If you've spotted a second-hand truck you want to buy or have managed to secure a food market stall slot last minute and need to purchase stock — unsecured loan applications are short, and money can be in your account within hours.
As the loan is unsecured, your assets aren't at risk, but you can expect to pay higher interest rates.
Secured loan
If you have high-value assets to secure a loan with, i.e. property, land or vehicles, you can apply for a secured business loan. With a secured loan, you can access higher loan amounts, so you can afford to invest heavily in your food truck business. Buy a brand new food truck or adapt an existing truck to meet your specific needs, purchase top-of-the-range pizza ovens and fryers, rebrand and get a new logo designed or rebuild your website.
Depending on your circumstances, you can repay this loan over a longer period than other types of financing, in some cases, up to 10 years or more.
Merchant cash advance
As you'll no doubt be accepting card and debit card payments, a merchant cash advance could be a good financing option for you. With a merchant advance, you still receive the money as a lump sum, but you don't repay the loan in fixed monthly instalments.
Instead, you repay a percentage of your credit and debit card sales. So if you're having a great month, you'll repay more and vice versa. This helps keep cash in the business and means you won't be worrying about being able to afford fixed loan repayments.
To qualify for a merchant cash advance, you must process a minimum of £2,500 in monthly card sales.
Equipment financing
To run your food truck business, you'll need access to good-quality equipment, from ovens and fryers to warming trays and hot water systems. But all of these things cost money. But, with equipment financing, the good news is don't have to worry about buying them outright.
Instead, you can enter into a hire purchase agreement or simply lease the equipment you need. This means you can get the best equipment for your truck with affordable monthly repayments and the choice to upgrade your equipment at the end of the agreement.
Line of credit
A line of credit is a great financing option for businesses looking for flexible repayments. You can draw down amounts as and when you need them and repay when you like, as long as it's before the end of the agreement.
Interest is only charged on the money you draw down, too. So you can have it there to use for emergency expenses, i.e. your boiler system breaks in your truck, or you need to get new tyres for your van.
You can access lines of credit that are revolving and non-revolving. Revolving works like a credit card — when you've repaid the amount, you can use it again. With non-revolving, you can't reaccess it after you've borrowed the agreed amount.
Do I need a business loan for my food truck?
Currently, around 7,000 food truck units are selling street food around venues across the UK. But although there's fierce competition, this industry has grown significantly in the last few years.
There are plenty of markets and festivals for you to sell your food products at, but a barrier to entry for many can be getting the capital initially needed to purchase a truck. There are always costs when setting up a business, and the food truck industry is no different.
According to The Nationwide Catering Association, you can expect to pay between £5,000 and £10,000 for a second-hand food truck or up to £50,000 for a brand-new one.
The investments don't stop there. Don't forget that you'll need to buy ingredients, create marketing campaigns, upgrade appliances and buy or lease new equipment — the costs soon add up.
So if you haven't got the working capital you need to make your business thrive, a food truck business loan can help you succeed.
Start investing in your business today — find and compare food truck finance.
---
Why choose Capalona to source a business loan for your food truck?
We've been where you are — finding funding can be overwhelming. That's why we now help thousands of SMEs just like you take the next step in growing their business.
We work alongside various trusted UK alternative lenders, providing fast and flexible financing to suit your specific business needs. From helping you find the best business loans to bank account comparison services — we're here to help.
Our loan comparison tool is completely free for you to use, and there's no obligation to accept any quote presented to you.
Make sure you get the best business finance deal. Find and compare lenders now.
What our customers say...
Adrian T
5/5
Amazingly fast, efficient service, minimal paperwork. So much faster than my business bank of twelve years.
4.70 out of 5 based on 86 reviews
Reviews last updated on 12 Oct 2023