This document was last updated on 4th May 2020.
The Coronavirus Business Interruption Loan Scheme (CBILS) is now available through participating lenders.
For many, coronavirus presents uncertainty, and as an SME business owner, whether you've got an independent high street coffee shop or a consultancy business, your worry has no doubt increased since the announcement made on Monday 16 March outlining drastic social distancing advice directly from the Government.
What is coronavirus (COVID-19)? What does coronavirus mean for businesses? What industries are classed as essential and must stay open? What financial support is available for UK businesses?How can I apply for the Business Interruption Loan Scheme (CBILS)? Is my business eligible for support from the Business Interruption Loan Scheme (CBILS)? Communication tips for small businesses An update from Capalona
Although our priority as a nation should rightly be to protect those most vulnerable, many business owners, just like you, are questioning the future of their business. What happens if I have to close my business? How will I pay my bills? How can I afford to pay my staff wages? If these are the questions running around your mind, we hope this guide will help you understand your financial options.
This guide will also share tips to help small businesses communicate effectively with their customers - whether you're staying open or you're closing your doors. The guide will also discuss what financial support is available for companies and give you a brief overview of the help laid out by the Chancellor, Rishi Sunak, and give you an update on Capalona's efforts to ensure the company continues as usual.
If you have any questions about how your business can apply for financial support, contact our team today.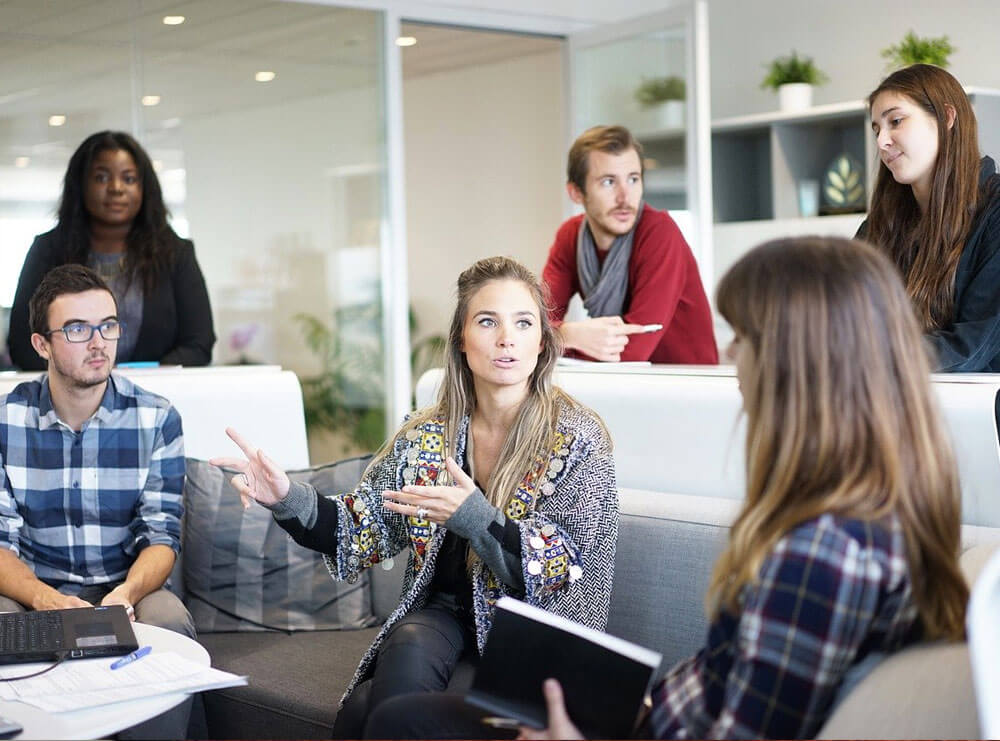 Firstly, what is coronavirus, and what stage are we in?
COVID-19, or coronavirus, is a new disease which spread from Wuhan, China across the world earlier this year. The disease has been since labelled a pandemic. A pandemic is categorised as a disease that has spread across a whole country or the world.
On Monday 16 March the Government announced new safety measures for the UK - these measures include avoiding unnecessary social contact. From avoiding public transport where possible to distancing ourselves socially from pubs, restaurants, clubs, theatres and anywhere, socially, members of the public would usually congregate.
On Friday 20 March, the Government announced stronger measures to help reduce the spread of Coronavirus by closing all cafes, pubs, bars, clubs, restaurants, gyms, leisure centres, nightclubs, theatres and cinemas to the public.
The chancellor, Rishi Sunak, also announced unprecedented support for employees not working in the coronavirus crisis. The Job Retention Scheme is a huge incentive for companies as this helps cover up to 80% of salaries of retained workers, up to £2,500 per month. The chancellor also announced even more help by deferring the next quarter of VAT payments for businesses.
Further updates then followed this announcement for supporting businesses financially through these undoubtedly difficult times.
On Monday 23rd March, the prime minister Boris Johnson's pre-recorded message ordered the closure of all non-essential shops, as the UK went into a 3 week lockdown. Shops deemed to be non-essential include stores like electronic, clothing and department retailers.
Read on for an overview and more detailed information on the Chancellor's business financial solution.
What does coronavirus mean for businesses?
Following a further announcement from the Prime Minister on the evening of Monday 23 March, all non-essential shops are to close. These shops join businesses already closed, including pubs, cafes, bars, cinemas and theatres.
More businesses could be forced to close their doors in the coming days and weeks - we will keep you updated on this.
On top of the social distancing measures already implemented, the Government has enforced more stringent restrictions for everyone in the UK. This includes:
Only leaving your house for essential work (where work cannot be completed at home)
Shopping for necessities such as food and medicine. Shopping trips should be as infrequent as possible
One form of daily exercise (running, jogging, walking etc.)
Keep away from all members of the public with a distance of 2 metres (6ft)
Unless you live together, the police will disperse groups of more than two people
Any medical need, or to provide care or to help a vulnerable person. This includes moving children under the age of 18 between their parents' homes, where applicable. Key workers or those with children identified as vulnerable can continue to take their children to school
These new measures are set to be in place for a minimum of three weeks, after this time the Government will reassess.
What industries are classed as essential and must stay open?
Read this extensive list of industries and businesses allowed to stay open through this pandemic.
What financial support is available for UK businesses?
The Chancellor, Rishi Sunak, announced bold plans for helping support businesses through this unprecedented halt to the British economy. Prime Minister, Boris Johnson stated at this briefing "we must do whatever it takes to support the economy". He added: "This is a time to be bold, to have courage. We will support jobs, we will support incomes, we will support businesses... We will do whatever it takes."
These bold plans include making £350bn in loans available from next week; these funds are to help support businesses in paying supplies, rent and salaries. So if you're worried about paying staff wages or paying the rent on your premises - these loans can help support you through this difficult time.
Coronavirus Job Retention Scheme - This will cover up to 80% of workers salaries enabling businesses to keep staff on payroll rather than lay them off.
VAT and Income Tax payments deferred - Moves the deadlines to later in the year / 2021.
Statutory Sick Pay relief package - SSP relief package available for small and medium sized businesses (SMEs)
Coronavirus Business Interruption Loan Scheme (CBILS) - Provided by the British Business Bank, this offers loans of up to £5 million to small to medium-sized businesses and up to £50 million for larger businesses who have been affected by the outbreak. Learn more about this scheme here or you view a list of CBILS accredited lenders here.
Bounce Back Loan Scheme (BBLS) - Similar to the CBILS, the Bounce Back Loan Scheme offers small businesses a fast and simple way to borrow between £2,000 and £50,000. The government will offer lenders a 100% guarantee with these loans. Learn more about the Bounce Back Loan Scheme here or you view a list of BBLS accredited lenders here.
The Future Fund - Set to launch in May, this will provide convertible loans between £125,000 to £5 million to businesses that especially rely on third-party private investors, that have not been able to access the CBILS funds. This scheme will equal match funding from private investors. Learn more about the Future Fund here.
A further £20bn has been made available to support UK businesses by bridging cash flow issues as a result of the pandemic by:
giving all retail, hospitality and leisure businesses in England a 100% business rates holiday for the next 12 months
increasing grants to small businesses eligible for Small Business Rate Relief from £3,000 to £10,000
providing further £25,000 grants to retail, hospitality and leisure businesses operating from smaller premises, with a rateable value over £15,000 and below £51,000. You can read more about this here
If your business is based in Wales, you can obtain more information via the Business Wales website
If your business is based in Scotland you can obtain more information via the Scottish Government website
If your business is based in Northen Ireland you can obtain more information via the Northern Ireland Government website
Chancellor, Rishi Sunak, stated if a self-employed person does not have three years of accounts, they will look at however many years they have.
This generous scheme hopes to cover 95% of self-employed people and will be up and running no later than the beginning of June. In June, eligible self-employed workers will get three months pay at once.
It's important to note that this grant is taxable, and will be declared on tax returns by January 2022.
To qualify for this scheme, the majority of your income must come from self-employment. And workers are advised against contacting HMRC regarding this scheme, HMRC is to use existing information to highlight anyone eligible and invite applicants into the scheme.
If your business is under a year old, you do not qualify for this scheme. The Chancellor has said these workers will have to seek support from the benefits system.
How can you apply for the Business Interruption Loan scheme?
The details of the 'Coronavirus Business Interruption Loan Scheme' (CBILS) have now been finalised, and the British Business Bank will provide the scheme.
Smaller businesses who might not meet the lender's standard requirements but are a viable business can secure business finance through CBILS. Although the borrower will remain 100% liable for the debt, the scheme provides the lender with a government-backed 80% guarantee against the outstanding facility balance.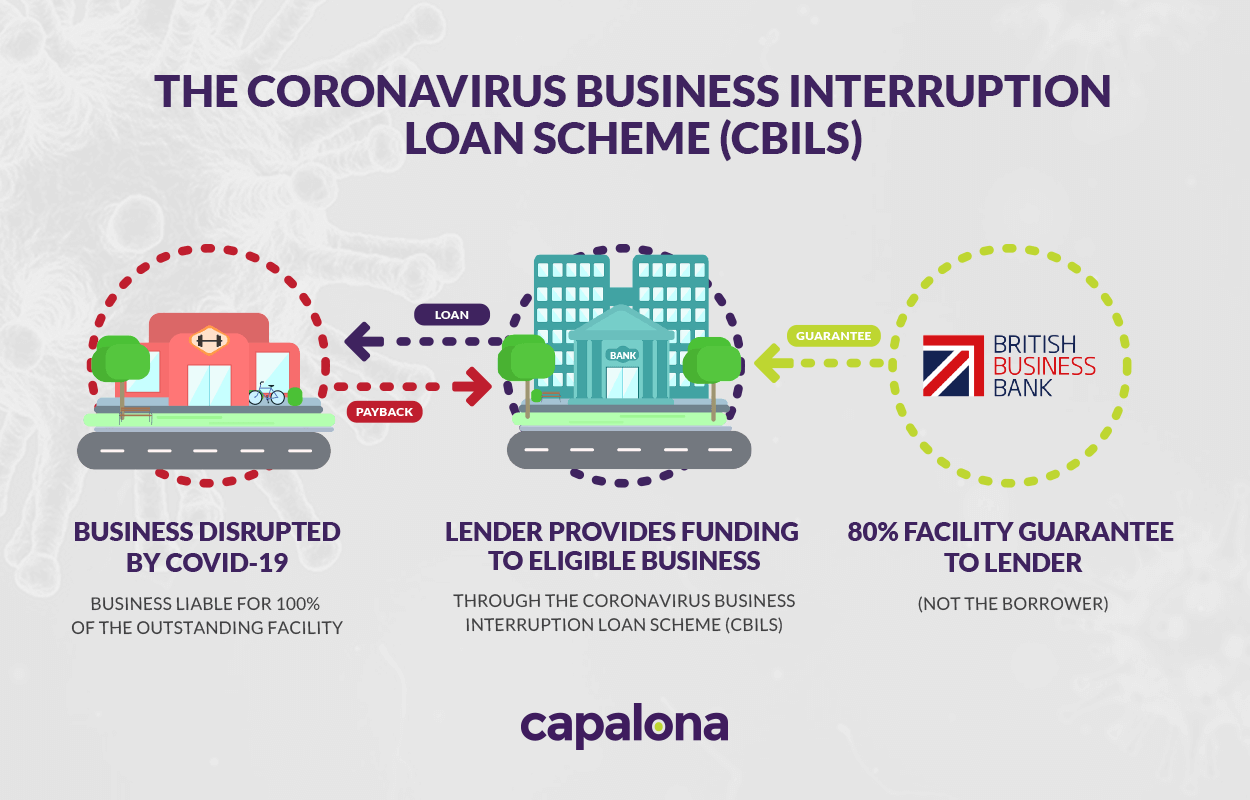 The scheme supports a variety of finance facility products including term facilities, overdrafts, invoice finance facilities and asset finance facilities.
The British Business Bank has disclosed an accredited lender can use the scheme to help small to medium-size businesses secure business loans from £1,000 to £5 million, with finance terms spanning three months to 6 years. Larger businesses with a turnover between £45 million and £500 million, can get a loan up to £50 million.
You can view the list of CBILS accredited lenders and partners here.
Is my business eligible for support from the Business Interruption Loan Scheme?
The British Business Bank has outlined the criteria for eligibility for UK small businesses. To be eligible for this support your business must:
Be UK based, with a turnover of no more than £45 million per annum
Have a sound borrowing proposal, but insufficient security to meet a lender's normal requirements - were it not for the current pandemic, would be considered viable by the lender, and for which the lender believes the provision of finance will enable the business to trade out of any short-to-medium term difficulty.
Communication tips for small businesses
With many Brits now working from home and others in self-isolation, this is the perfect time to stay connected with customers and your local community online.
Social media provides everyone with a robust online community, and it's an effective way to communicate daily.
This means you can keep customers in the loop when it comes to updates about your business and coronavirus in general. Make sure you're still visible to your customers online - this could be a crucial method of keeping your business trading through the period ahead.
If you are one of the "essential" businesses such as a convenience store or garage and are open - here are some tips to help you communicate with customers and reinforce trust.
Put posters in your windows outlining the measures you've taken as a business to keep everything sanitary
Keep hand sanitizer in view as customers approach your store - you need to encourage shoppers to use hand sanitizer before they move around your store touching products
Ensure you communicate that no staff members have caught coronavirus and that you'll keep them updated on this matter
Consider alternative ways to deliver your goods and services to your customers. Talk to other business owners in your area to see if there are ways you can collaborate.
Communication is vital through this pandemic, and we all need to be aware of the steps we can take to protect our most vulnerable and help our communities stay strong throughout.
Get involved in community projects
If possible, your business can start to get involved in community projects by offering a local delivery service to the elderly and the most vulnerable, particularly if you own a shop selling food. Social media is an excellent platform for sending this message out to your local community.
This idea is twofold - you're helping ease the worries of how to get food for the most vulnerable, and you're still selling products from your store.
Offering a free delivery service could offer someone who needs your help that lifeline they're desperate for.
An update from Capalona
At Capalona we want to reassure you that we are in constant and close communication with our lenders.
A small variety of our lenders have made changes to their lending criteria due to the current climate. Many lenders have expressed that they will continue to support businesses in any way possible and are lending as usual.
The team here can effectively work remotely, so any issues or questions you have at this time about any of our business loan products can be asked and answered as usual.
Please get in touch if you would like to speak to our team regarding any of our business finance products.