If you're thinking, "How do I buy a commercial property in the UK?" there are a few ways to do this. One of them is by attending a commercial property auction.
But why buy at a commercial property auction? It's quicker, you can buy property at a lower price, and you're guaranteed to purchase there and then.
So if you're toying with buying a commercial property at auction but are unsure of the process and want to learn more, this blog is for you.
Are auction properties cheaper?
Properties at auction are 10-15% cheaper, on average, to buy than other properties. There are a few reasons for this — there can be less competition to secure the property, so fewer bidders means your chances increase. And not all auction properties are in the best shape, which can deter some buyers.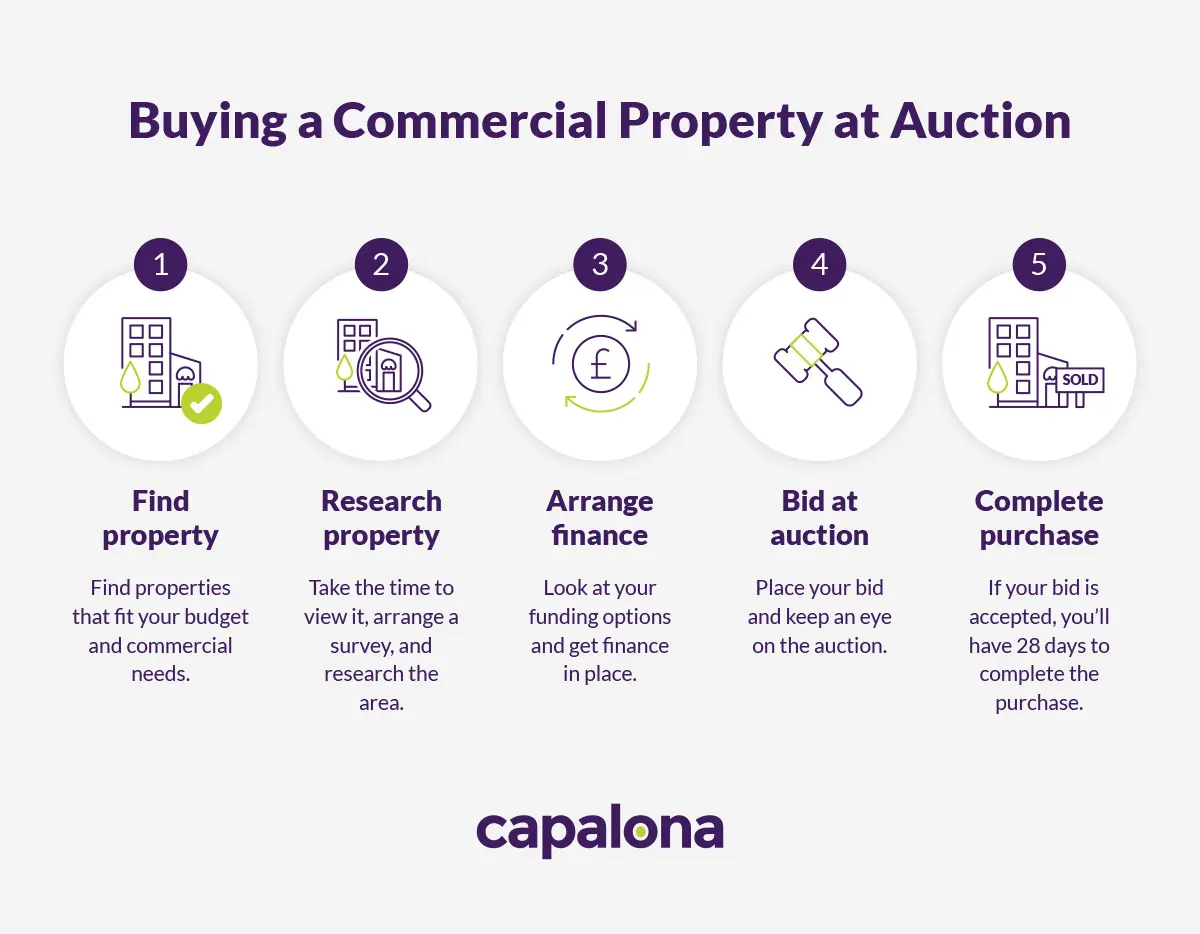 How to buy commercial property in the UK
Step one: Find a property
Commercial property is a significant financial investment, so you shouldn't take this decision lightly. Before stepping foot into a commercial property auction, you'll want to see what properties are out there and if they fit your budget and commercial needs. Are you looking for office space, bricks and mortar shop, or residential property?
Where can you go to find a commercial property? Here are some auction sites you could browse:
Step two: Research the property
Now that you've found a property, you should take the time to view it, arrange a survey, and research the area and historical property prices.
Viewing the property before the auction can help uncover hidden issues you wouldn't have otherwise known had you just bid from the off. And for these same reasons, you should consider getting a survey done.
Although auctions don't leave much time for due diligence, it's crucial you invest in a property survey. You don't want to have a successful bid accepted only to find out it's riddled with asbestos, dampness, or woodworm.
It's a good idea to have a surveyor ready to go before you've viewed the property so you can move quickly.
Step three: Get your finances in order
When buying a commercial property at auction, you'll need to part with a 10% deposit. This deposit is paid on the day your bid is accepted at the auction; you then have just 28 days to pay the outstanding balance.
As it can take four to eight weeks to set up a commercial mortgage, you might have to consider alternative financing options to bridge the gap between buying the property and completing your commercial mortgage application.
You have a few options, including applying for auction finance or commercial bridging finance. These are both short-term lending options, helping you secure the property quickly. You'll repay the finance when you sell the property or secure long-term funding, i.e., a commercial mortgage.
Always apply for auction or bridging finance before you bid on the property. The lender will give you something called an 'agreement in principle'; then, if your bid is successful, it's a matter of updating them on the purchase price. This removes unnecessary delays in your finance application, so you'll have access to funds quicker.
Step four: It's time to bid at auction
You have a few options when attending a property auction; you can attend in person and do the bidding yourself, bid via phone or online, or by proxy (authorise the auctioneer to bid for you or another third party).
You can also put an offer in writing to the auctioneer before the auction takes place. If the seller accepts your offer, your deposit will be taken immediately, and contracts will be exchanged.
It's worth checking with the specific auction house on their process, as some request bidders register before the auction takes place, such as Savills. They'll ask you for ID, yours and your solicitor's details, and details of any other bidders or deposit payers.
Step five: Completing the purchase of an auction property
If your bid is accepted, then you're now the proud owner of a new commercial property. Now what? Your 10% deposit is due immediately, and you'll have 28 days to complete the transaction (sometimes just 20 days, double-check with the auction house).
If after you've won the bid but later change your mind about buying the property, you could be breaching your contract. This means you can be sued for damages by the seller; the auctioneer could also keep your deposit.
Always go into a property auction after thoroughly researching the property and understanding what you can afford to buy. You don't want to back out of a property purchase as it could be costly.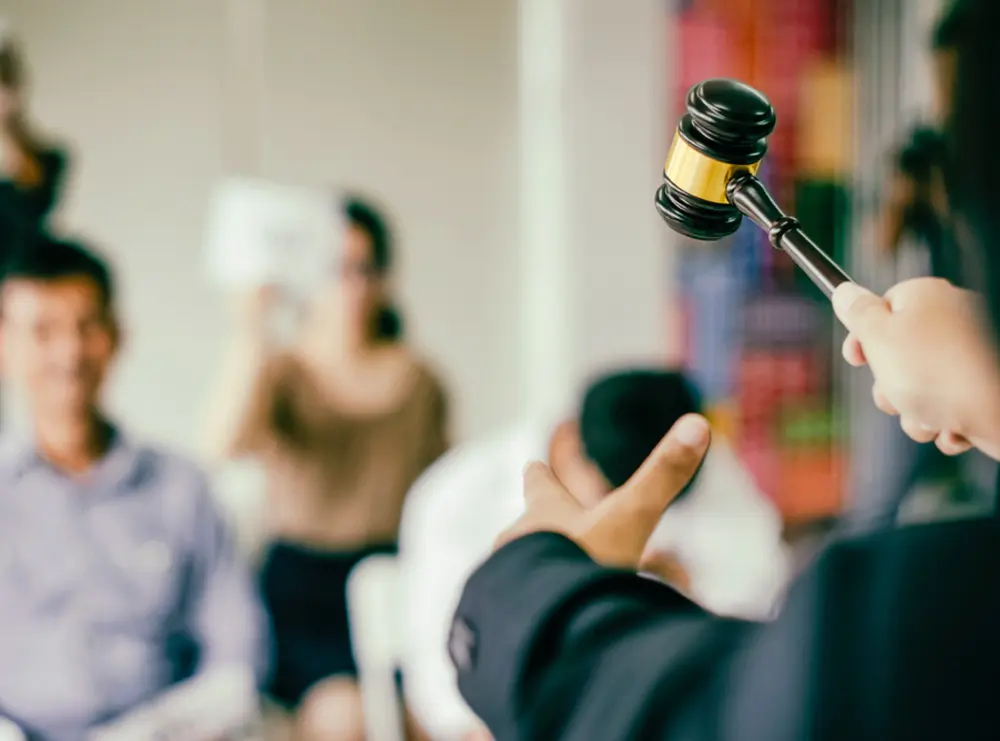 Always seek professional advice
When buying commercial property, you're best looking for a specialist commercial property solicitor to advise you throughout the process. They can help you draft contracts, carry out due diligence (reviewing the title, examining zoning restrictions etc.), and answer any legal questions you might have.
Arranging finance with Capalona
If you're unsure where to start when looking for commercial property finance, there's good news — our free and easy comparison tool takes away the stress of sifting through finance options.
Our self-service comparison tool lets you find and compare lenders offering auction finance, bridging finance, property development finance, and commercial mortgages. Basically, whatever finance you need to complete your property purchase, we've got you covered. Find and compare lenders.