The Black Lives Matter movement has gained momentum since 2020, highlighting the systemic inequalities black people face. And one area of inequality is in the business world.
Black-owned businesses are often underfunded and underrepresented, making it difficult for them to thrive and grow. But despite challenges, many black-owned businesses are doing incredible work and making significant contributions to the UK economy.
This blog explores the state of UK black-owned businesses and how you can secure the funding you need to help your business grow.
The state of black-owned businesses in the UK
Research conducted by Channel 4 and Clear Channel found that when it comes to receiving funding, Black-owned businesses face a higher requirement to demonstrate success, with 56% only receiving funding after they have already achieved growth. Compared to 35% of white business owners who face the same requirement.
Yet given an equal chance, these businesses could easily generate millions of pounds for the UK economy.
The funding gap between white-owned and black-owned businesses could be due to many reasons — from systemic discrimination to a lack of awareness around the funding available.
According to The Black Report, 88% of black founders self-fund their startups, putting £13,930 into their businesses. But many need more than this to make a dent in their industry.
There are plenty of financing options available to minority-owned businesses. Keep reading to find out more.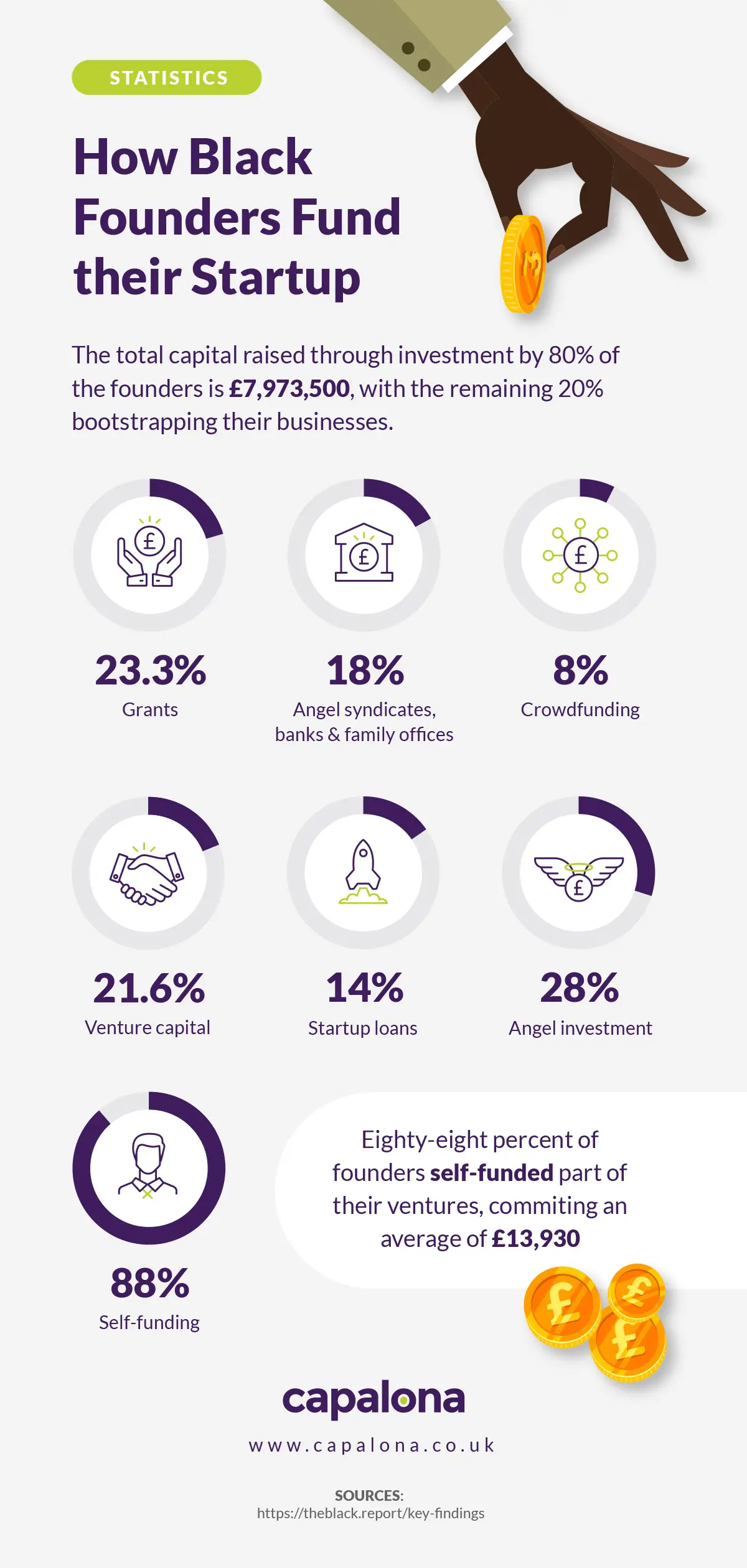 CHIKA's: a successful black-owned business
Chika Russell, the founder of CHIKA'S, started her business in 2015 after noticing a gap in the market for premium West African snacks. CHIKA'S initially received an angel investment offer from Dragons' Den investor Peter Jones — £30,000 for a 25% stake in the company.
After the BBC show, Chika turned down Peter's investment offer and has since secured an investment of £9.8 million in 2021 to help expand her product range even further. The business has gone from strength to strength and now has products in Sainsbury's stores across the UK.
Financing options for black-owned businesses
The thought of being able to grow your business is exciting, but to make your rapid growth plans a reality, you need working capital. But there's good news — there are plenty of funding and financing options available for UK black-owned businesses.
Venture capital or angel investment
If you seek investment from venture capitalist firms or angel investors, it can be a great way to get the cash you need without having to repay the loan. Instead, you usually part with equity in return for the funds needed.
Getting an investor on board is a great way to grow your business quickly, and according to The Black Report, 28% of black founders received angel funding for their startup, and 21.6% received venture funding.
Securing investment isn't just about accessing funds, you can tap into the investors' vast experience and network of contacts, too. Remember, though, by parting with equity, that means you're no longer the sole decision-maker in your business.
Secured business loans
A secured business loan is a loan where the lender asks for collateral, for example, commercial property or another high-value asset. If you default on your loan repayments, the lender can seize your asset, making a secured loan a risky option for the borrower.
You can borrow larger loan amounts (up to £2 million+) and enjoy lower interest rates with a secured loan for your UK black-owned business. If you have a bad credit history, a secured loan is also a great option.
Note: If you do not keep up loan repayments your assets can be seized by the lender.
Government grants
Government grants can be a great way to inject cash into your business without having to pay it back (it's essentially free money). All government grants are offered without discrimination. As long as your business meets its eligibility criteria, you can apply for the grant.
Be aware, though, that government grants, altogether there are many to choose from, they're very competitive and the application process can be drawn out.
So if you're considering applying for a grant, don't expect to get your hands on the funds immediately.
Unsecured business loans
An unsecured business loan is a fast and flexible way to access the working capital you need to grow your black-owned business — you could have cash in your account within days. As it's unsecured, be prepared to pay higher interest rates and access smaller loan amounts (still up to £500,000+).
Just like any traditional loan, you'll repay in monthly instalments with interest until the loan is repaid in full. If you have a poor credit history, you mind find there are fewer lenders willing to lend to you. Our lenders can still help you find finance, though, with our bad credit loans.
Crowdfunding
Another way to raise funds for your business is to crowdfund. By utilising platforms like Kickstarter or Gofundme, businesses can raise working capital by appealing to members of the public looking to support exciting business ideas.
According to The Black Report, just 8% of black founders use crowdfunding to raise £140,000. So although it's an underused way of securing working capital, it can help you reach your financing goals — it's relatively low risk with potential for high reward, but putting together an impactful campaign can be time-consuming and may not yield the results you're looking for.
Why choose Capalona to help fund your black-owned business?
At Capalona, we're passionate about helping all businesses access the funding they need to succeed. That's why we work alongside various trusted lenders to help you access affordable and flexible financing for your black-owned business.
We've helped thousands of UK SMEs access funding — let us help you find and compare business finance today. Use our free loan comparison tool.