Do you set yourself annual business goals? According to a recent report by Clutch, only 5% of small business owners actually achieved all the goals they set for themselves. Why is that? They might be too unrealistic, or perhaps the pressure to achieve or surpass them is just too great - but one thing's for sure when they haven't been achieved, the feeling is familiar - a gut-punch for morale.
But setting realistic goals and objectives can be a great way to motivate your team and keep your business growth on track. So, how can you set and achieve goals to move your business forward?
In this guide, we're sharing some ideas on how you can set achievable business objectives for 2024 and what those goals might look like.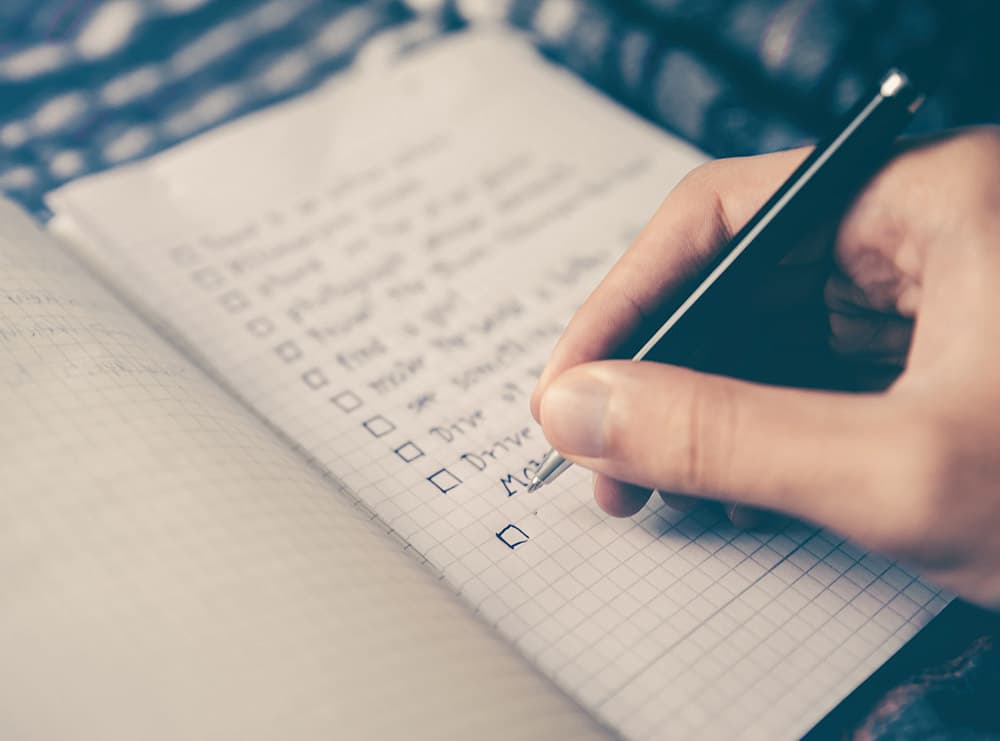 Why set business goals?
As a business owner, you already have a vision for your company - where you want it to go and what you want to achieve. Business goals and objectives help you achieve that vision.
Goals keep you focused on that end target. Whether you see yourself doubling your workforce, moving into new markets, or opening new business locations. Whatever dream you have for your business, setting goals is the best way to get there.
Example business goals for 2024
Not sure where to start? Think about this — what would make the biggest difference to your business this year? Are your competitors storming ahead on social media? Are you excited about the return on investment email marketing poses? Or maybe you want to put wellbeing first this year?
The goals and objectives below inspire you to think differently about goal setting for 2024. Your goals don't always have to be revenue related.
Boost your brand awareness
Brand awareness is what can set you apart from the competition. Strong branding can mean customers remember your name over others in the industry, and that's powerful. So if you want people to remember your brand, you need to focus your efforts on boosting your brand awareness.
To monitor your brand's awareness, keep tabs on brand name searches through Google Search Console and map the changes over time — the graphs help you understand quickly whether your awareness has increased or decreased. And use social listening tools to see how often your brand is being mentioned and by who. All these insights help you get a better understanding of how well your audience knows you, and you can set measurable goals from here.
Improve your customer service
Did you know it's cheaper to retain existing customers than it is to convert new ones? By increasing your customer retention by just 5%, you can increase profits by 25-95%. So investing time into building an unparalleled customer journey and refining the service they receive from you could pay dividends.
Start by listening to what your customers are saying; customer feedback is incredibly valuable. If you notice patterns in their responses, you can pinpoint where your customer experience needs improving. You could also consider tools like HotJar to access website maps to see where your customers are drawn to and how they move around your site.
Streamline your processes with automation
2024 could be the year automation saves you both time and money. You can automate everything from email marketing to invoicing and customer service (chatbots helping customers self-serve). Automation can help free up time, time you can then pour into growing your business, time to think and time to grow.
Improve your company culture
The power is in the hands of your employees when it comes to making the decision to move companies. It's not just market share you need to worry about when it comes to competitors; you need to worry about them poaching your staff, luring them with better employee satisfaction.
How can you improve your company culture? The best way is to find out what employees want and how you can give it to them. 71% of people want flexible working to continue after Covid. So if you're forcing your staff back into the office, you could be about to lose valuable staff members. Listening to your staff needs and delivering on them (this should be a cyclical process) can make you more attractive to top talent and boost worker productivity.
Implement wellbeing strategies
The pandemic brought many issues to light, including putting the work-life balance under the microscope.
Last year, 51% of small business owners said they were struggling with burnout, so if that's you and you're constantly fighting the battle between work and home life, make 2024 the year you get it sorted. It's time to nip this in the bud and prioritise both your wellbeing and that of your employees.
What could wellbeing strategies look like? Healthier food in the office, shorter working hours, mental health days, regularly review workloads, paid volunteer days, wellbeing subscriptions (gym memberships, mindfulness subscriptions).
Network and build relationships with other business owners
Whether in-person or virtually, networking can be a great way to build useful relationships. LinkedIn, in particular, can help you expand your business network, and you might even find your audience are quite active on this platform, too. We've all heard the saying 'people buy from people' - and it's true, they do. They won't purchase from a faceless company, so get out there and get networking.
If you're not keen on in-person networking, you should swing by Facebook and LinkedIn Groups - regardless of your industry, you'll be able to find a suitable group for you. Check out the Chambers of Commerce networking meetings, too; some are free to non-members.
Focus on getting a healthy cash flow
Three in five SMEs have experienced problems with their cash flow. This isn't surprising, as sometimes, it's out of your hands, i.e. slow-paying customers. Good cash flow management is what keeps your business running smoothly. Poor cash flow management leads to diminished business opportunities, increased money worries which can lead to stress and anxiety.
If you're looking to expand your business but don't have the funds or are hoping to make 2024 the year you can boost your cash flow, check out our financial products (like invoice finance) to help you maintain cash flow equilibrium.
Make digital transformation a priority
Covid forced businesses online, which means businesses can now reach audiences they might not have reached before. But it's not just consumer purchasing habits that have moved online — as a nation, we're increasingly embracing working remotely, which requires better digital infrastructure.
Transforming your business for the digital age comes with many benefits such as improving efficiency, strengthening security, and it helps you future proof your business by meeting the growing demands of your customers and your staff.
4 tips for setting goals for your business in 2024
Setting business goals and objectives doesn't have to be saved until January, but January is a great time to think about what you want to achieve in the coming year. So how should you go about setting them?
1. Make them SMART
Your goals should be specific, measurable, achievable, relevant and time-bound. SMART goals help keep your tactics on the right track. Plucking a generic objective out the air, such as "Increase business revenue in 2024", isn't motivating anyone. You need specifics when it comes to goals; being specific makes sure everyone in the team is striving for the same goal in the same timeframe.
2. Be consistent when measuring goal progress
Being consistent when it comes to measuring progress means one thing, accountability. Not only are you holding yourself accountable in these meetings, but the entire team too. Plan the whole year's worth of meetings to discuss progress and make sure everyone comes ready to discuss how the forecast looks.
These meetings present an opportunity to tweak tactics to make sure you stay on track to achieve your goals.
3. Build milestones into your plan
Milestones help break down the ultimate bigger goal into manageable chunks. This way, the goal seems much more achievable, and it's a morale booster every time you hit a milestone, no matter how small they are.
4. Celebrate success - even the little wins
Setting and achieving goals isn't just about the end milestone being met; it's about the journey you and your team go through. Celebrating all the small milestones is a reminder to everyone on the journey with you that you're making progress, and it helps to propel you forward.
Conclusion
Setting goals can be exciting. They keep you on track, and motivation can increase as you get closer to the finish line. Having a variety of objectives for you to strive toward can help keep morale high, i.e. not just one big goal, but a variety of large and small goals throughout the year.
Goals and objectives serve to give us a sense of direction and purpose. Without goals, we float, and marketing efforts become directionless. We need order and structure to thrive in business; you need things to measure your progress against otherwise, you're just standing still, perhaps still existing, but not thriving. Go out there and set yourself up for success with some SMART goals.