Although the number of people out there celebrating Valentine's day has decreased in the last year, the Brits who are celebrating are spending around £23 per person on the romantic holiday. So there's still some serious cash to be made.
But how can you make your customers buy more from your small business over this period? In this post, we're talking you through some creative Valentine's Day marketing ideas and tips.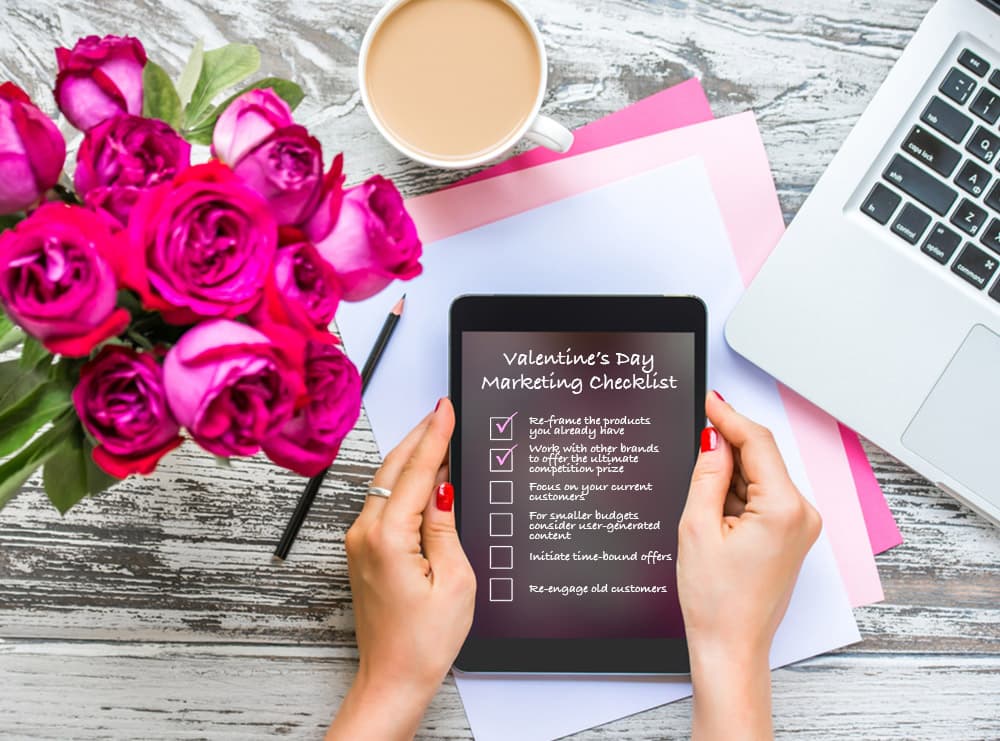 Why bother marketing for Valentine's Day?
Because, like with any holiday, you can leverage Valentine's Day to increase your brand's exposure and grow your audience. Consumers are looking for ways to spend their money on their loved ones or to celebrate with their friends with "Galentine's" Day - or they're just looking to hunt out a bargain.
But don't just throw a campaign together quickly; think about how impactful you can make it for your brand. Make use of holidays like this and get your brand out there.
7 Valentine's Day campaign ideas
Sometimes you need a little inspiration to get your creative juices flowing. Here are seven Valentine's Day campaign ideas you can use for your small business.
#1 Re-frame the products you already have
If your small business sells food, you could re-frame it for a 'Valentine's night in', or if you sell gifts, you can bundle a selection of them together and create a must-have Valentine's shopping list. We're all looking for ways to spend our money on Valentine's Day, so guide your consumers straight to your products.
Consumers remember emotive campaigns; whether it's funny, sad, happy - just think of the last few years' John Lewis Christmas campaigns, they always tug on heartstrings. So don't shy away from campaigns that make you feel something. For example, look at this campaign from IKEA; they've re-framed their products to fit with the Valentine's Day theme - it gives customers a laugh and stays on-brand with their relaxed messaging.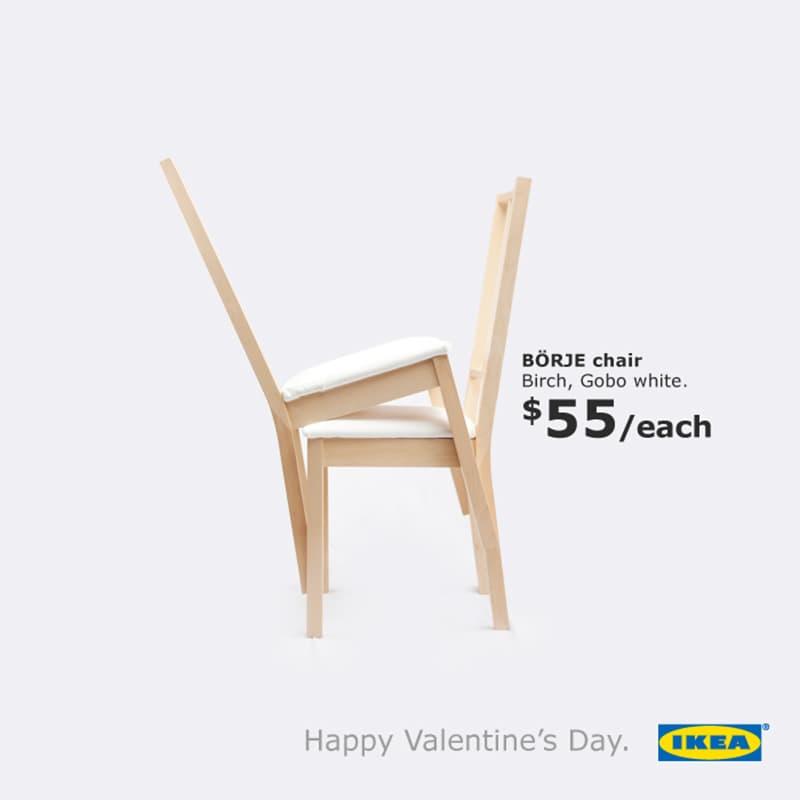 #2 Work with other brands to offer the ultimate competition prize
If you don't have products to offer or just want to increase your competition's attractiveness, work collaboratively with other brands your audience loves to create an exciting giveaway. Build a competition prize to suit your specific target audience, whether you're playing into the popular Galentine's Day theme or taking the romantic couples angle.
Make sure you're making the most of this competition. Competitions garner hundreds, if not thousands of entries - ask your audience to tag friends or share your social media post for additional competition entries. Use this giveaway to expose your brand to as many of your audiences' friends as possible. More eyes on the brand mean a bigger audience to market your products to going forward.
#3 Focus on your current customers
We all know how expensive acquiring new customers can be compared to retaining existing ones, and many businesses save their best deals to capture new customers. So this Valentine's Day, show your current customers some love and offer them exclusive discounts just for being customers. To make them feel extra special, offer them a sneak preview of sales items, or share a promotional code just for them - you're 60-70% more likely to sell to an existing customer and only 5-20% likely to sell to a new customer.
#4 For smaller budgets consider user-generated content
If you can't give away products or don't want to invest a lot of money into your Valentine's marketing campaign, consider a user-generated campaign. So many brands invest their time finding and curating their customers' photos; why? Because authenticity sells. Real-world reviews sell. To do something similar for your businesses, encourage users to share pictures of themselves enjoying your products with a custom hashtag so you can find them easily. Then, whether it's wearing clothes bought from your brand or using a candle you sell, ask permission to re-post and tag them in it.
Look at this example from Airbnb.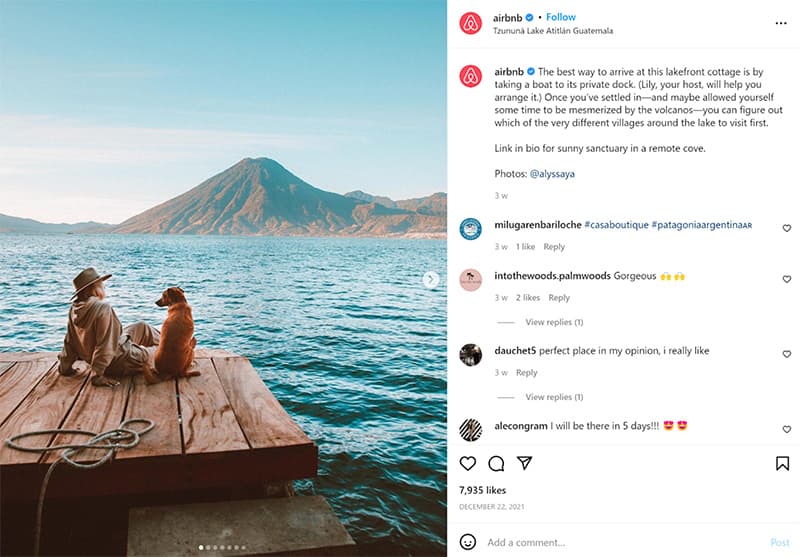 #5 Initiate time-bound offers
Who doesn't love a bargain? It seems millennials, in particular, do. Research found that 69% of millennials said they couldn't complete a purchase without first searching for an offer or deal. So if your audience includes millennials, your offers could be a big hit.
Making them time-bound encourages urgent purchasing decisions, particularly if they've already been looking at your site in the weeks leading up to Valentine's Day. So consider re-targeting these visitors with your offer accompanied by a countdown clock. Whether you're offering a site-wide sale, promoting a particular clothing range, or you're offering free delivery to all customers, build a banner for your homepage that features the same countdown you've used across all your ads and hammer the point home.
#6 Re-engage old customers
It's essential to clean your mailing list to keep it in tip-top performance (i.e. no hard or soft bounces or stale users); however, before you get rid of those disengaged customers, why not give them one more chance to buy?
A re-engagement campaign can help you increase your email open rates and, ultimately, grow your active customer base. Curate a 'hard to say no to' offer just for the lapsed customer segment and carefully choose your words; remember, these customers haven't interacted with you in a long time, so make sure your message is impactful.
#7 Create a thoughtful gift guide
If your business is in the technology space, for example, you could create a gadget gift guide for tech lovers and spend time collecting gift ideas, adding value to your consumers' gift search journey. This works for pretty much any industry.
And to make your gift guide work extra hard, you can gate it. A gated piece of content is where the consumer has to share their email address to access the guide. This makes your guide even more valuable as you collect customer email addresses to then market to them at a later date (make sure your data collection is GDPR-compliant!).
Promote your guide (gated or not) through your emails, across social media and through paid channels like Google Ads or Facebook Ads etc.
3 marketing tips to make your Valentine's Day campaign a hit
So you might have a good campaign idea, but make sure you take note of these three-pointers.
1. Stay consistent with your brand and audience
Make sure you check all your Valentine's marketing campaign ideas again the customer base you're trying to reach. You don't want to alienate existing customers by going a bit too left field. Think about what their needs are and what they'd respond best to. It's easy to jump on the bandwagon with an utterly unrelated campaign, but these kinds of campaigns can do more harm than good.
2. Plan way before Valentine's Day
Last-minute campaigns are easy for customers to spot. Give it some real thought and plan to launch your campaign across multiple channels to hit all customer touchpoints. Start thinking about it right after your Christmas break. What products could you promote, or what message could you push? Get designing impactful ad images to make the most of this short period.
3. Implement re-targeting campaigns after Valentine's Day
All those new eyes you got on your brand from your Valentine's campaign can't just be left to their own devices — they might never come back! Use the rapport you built with new customers over your Valentine's campaign and set up a re-targeting campaign to lure them back to your site. Maybe you could consider a post-Valentine's discount? But whatever you do, don't just view your Valentine's campaign as a one-off marketing tactic.
To sum up
There is money to be made when it comes to Valentine's Day and other days of celebration. It's been ingrained into consumers that it's a special day worth celebrating (since back in the 14th Century). So even if consumers are just looking for a token gift, or maybe they're not shopping specifically for Valentine's Day - you can still take this opportunity to push promotions and generally increase exposure for your business online.
Is this the year you're hoping to grow your small business? We've been in that exact situation, and we might just be able to help you. We've helped thousands of small businesses to grow through accessing financial support. If you're wondering what financial products are on the market, check out our solutions.