As a business owner, you wear many hats. And most things you can muddle through yourself — from accounting to marketing and new business development. But when it comes to the law, it can become a little tricky. Legal issues aren't something you can necessarily handle yourself.
So when it comes to getting a bit of advice on an employment contract or some legal guidance on redundancy procedures, where can you go that doesn't cost a penny?
Here we're sharing six ways you can access free business legal advice for your UK SME.
1. Chamber of Commerce
If you're already a member of a Chamber of Commerce, you might be able to access free legal advice as part of your membership benefits. What kind of advice can they give you? Anything from concerns about health and safety, VAT and tax, employment law or the laws around data protection — they cover a pretty wide range of concerns. And many Chambers offer these services around the clock, 24/7 and give you access to important legal docs and downloads, too.
So before you go anywhere else for advice, if you're a member of the Chamber, check if it's included in your membership package. Like this one from West and North Yorkshire Chamber of Commerce.
2. Government website
The most obvious place to go to is the government website, Gov.uk. Here, you can access all kinds of useful information about everything business-related, from how to employ people, your responsibilities as an employer and how to notify HMRC of a new employee, to GDPR requirements and environmental health and fire safety legislation.
It's completely free to use, but it can be tricky finding the specific information you need as it's such a big website. So it's helpful if you know what you're looking for.
3. Business Debtline
Business debtline is a charity dedicated to giving business owners advice about anything debt-related. So you could benefit from this free service if you're being harassed by creditors, need guidance on handling unpaid invoices, or have questions about bankruptcy.
You can chat with an advisor online or read through their free resources to get a better understanding of the problem you're facing
Struggling with business debt? Read our guide on how to get free business debt advice for your business.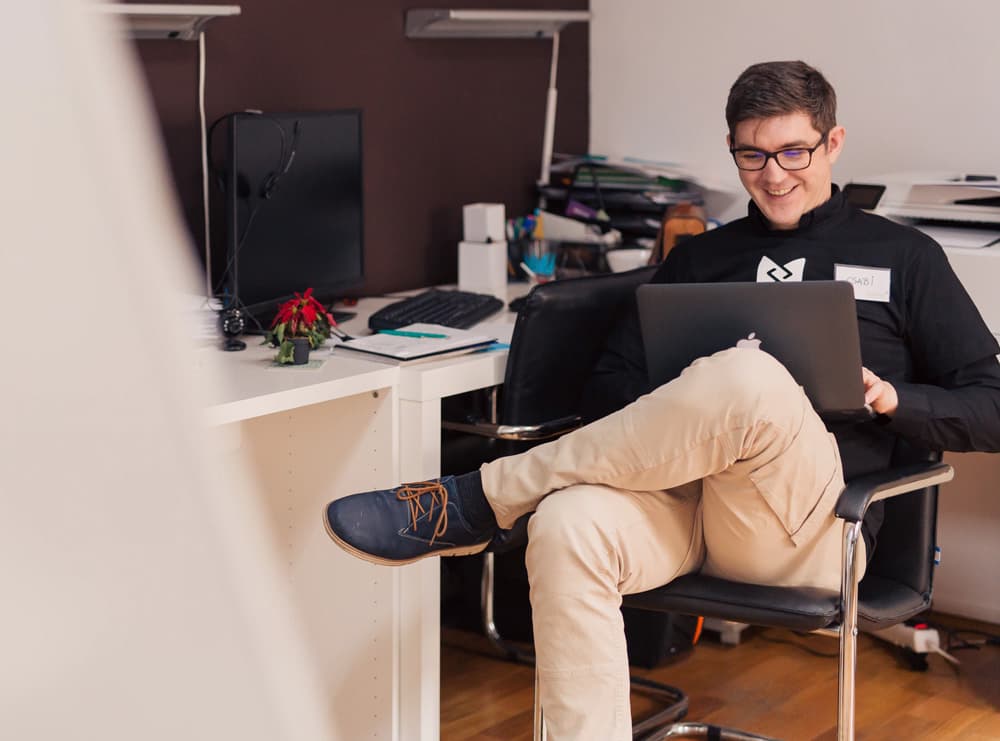 4. Forums
Forums can be a great place to talk through your legal issues with unbiased users. Even if it's to air your concerns or see how something else handled a situation, a forum community can be really supportive — you might even come away with a solution!
Some forums you could start with include the legal advice section of Quora and the UK Business Forum. In the UK Business Forum, you can get advice on contracts, copyright and company structures, and on Quora, you can ask basic legal questions and have legal concepts explained to you by other users.
Obviously, not everyone on a forum is a legal expert, so always check what they've suggested is true.
5. Free legal clinics run by law schools
As an entrepreneur, it's common to face legal problems whether you're a startup or an established small business — it's always good to have a few resources available when you need legal guidance. That's why accessing free legal clinics can be invaluable.
These clinics are usually run by law schools with Masters student volunteers supervised by solicitors — just like this one run by York Law School. You can get entrepreneurial advice on intellectual property, corporate structures and data protection compliance.
Another free business and law clinic you can check out is run by the University of West England in Bristol. Again these clinics are overseen by legally qualified lecturing staff but are run by the university's law students.
If you want to seek out a legal advice clinic near you, you can use this handy clinic finder from LawWorks. Just check which areas of the law each clinic covers, as some won't be applicable to businesses.
6. Free online services
Online services, such as LawBite, offer free legal consultations for businesses. These consultations are usually only 15 minutes long, but they can help you understand the next steps available to you and whether it's worth paying for a solicitor to help you at this point.
In the LawBite free package, business owners can download three free legal templates, access webinars and masterclasses and get partner discounts, amongst other things. You can start your enquiry by chatting with a member of the team in a live chat box.
If you're not ready to talk to someone, you can explore their smarter business law videos section. These videos cover important topics, including, how to remove a director from your business, common queries about employment contracts, how to sell your business and how to manage business disputes.
Looking for business finance?
If you're looking to invest in your business; whether that's opening new business premises, refurbing your existing office, or entering new markets and need some spare cash, we can help.
We're brokers, which means we're best placed to help you find business finance that helps you meet your goals. We've helped thousands of UK SMEs just like you; let us help you too.
Read about our business funding solutions or get a free quote.