Esme
Esme believe that no business should have to work hard to get a business loan.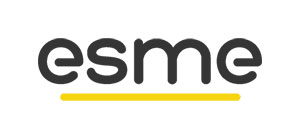 In 2021 Esme loans stopped lending to new customers. Existing customers can continue to log into their customer dashboard as usual to manage their loan on the Esme website.
Who were Esme?
Founded in 2016, Esme was a platform that allowed businesses to borrow a fixed sum amount, quickly and stress-free.
Esme had helped hundreds of businesses secure the finance they needed in order to propel their visions forward and make their businesses successful.
What type of business funding did Esme offer?
Esme offered unsecured business loans that ranged from £10,000 all the way up to £250,000 over a selectable 1 to 5 year repayment period.
Esme's loans offered competitive rates and no early repayment charges on full or partial repayments.
You could use their online calculator by simply selecting the amount you wish to borrow and the number of years you want to repay over. You'll be able to see a rough idea of the monthly payments plus fixed interest rates before you move onto the quote.
How did you apply and qualify for funding with Esme?
Esme had a system that allowed for an easy and secure application process that takes fewer than ten minutes to complete.
You could first check if you are eligible before you apply. Generally, to be eligible you had to be a sole trader or a director of a UK Limited company, actively trading for at least 18 months. You'll also would have needed an annual turnover of around £15,000 and of course, be over the age of 18.
If you meet this criteria you could get a free quote by filling in their online form. Esme asked for some simple business details in order to generate a personalised quote. This showed you what your monthly repayments and interest rate will be exactly.
If you were happy to go ahead, you could apply and receive a quick approval decision. Once approved, you you would have receive funds without the hour.