Capital On Tap
Capital On Tap is a business credit card and overdraft provider. Since launching in 2012, they have lent over £4 billion to more than 200,000 small businesses in the UK.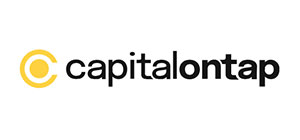 Who are Capital on Tap?
Capital on Tap provides funding for small businesses all over the UK. So far, they have helped over 200,000 businesses acquire the funding they need to grow and lent a total of £4 billion in funding.
What type of funding does Capital on Tap offer?
Capital on Tap's small business credit card helps businesses borrow cash in a simple, easy and convenient way.
With their credit card, you can gain access to up to £250,000 in business financing to help you grow your business, invest in marketing or new equipment or to keep on top of your cash flow. Not only can you access finance, but you can also earn 1% cashback on all card spends.
Capital on Tap also provides quarterly account reviews so you can keep track of how much you've borrowed and whether it's in line with your business' growth and goals. You can manage your credit cards through their simple online account.
The great thing about Capital on Tap credit cards is that there are no hidden fees such as FX fees, ATM charges or monthly costs attached to your account.
How do you qualify for and apply for funding with Capital on Tap?
To be eligible for a credit card with Capital on Tap, you will need a turnover of at least £2,000 per month, be based in the UK and have no unsatisfied CCJs against your name or your business from the last 12 months.
Applying for funding with Capital on Tap is fast and simple. To apply for a Capital on Tap credit card, you will need to fill in an online form with details of your business, how long you've been trading and what type of company you run. Once you've done this, they aim to give you an instant decision which doesn't affect your credit score.
Once you have been approved, you will be able to access funds as soon as you receive your credit card and activate it online which takes just a few days.