Plugin and go - countertop card machines that won't let you down
We're all attached to that little piece of plastic in our wallets; in fact, the value of card purchases on debit cards alone reached over 52 billion British pounds in March 2020. We're all hooked. So it's perhaps unsurprising that cash payments are in decline - swapped out in favour of a payment method that is quick, hassle-free and universal.
Consumers crave ease. And something as simple as tapping their card to pay for something in mere seconds is undoubtedly appealing. Even using a traditional chip and PIN is quicker than counting out the pennies (and much easier to cash up!).
Having a countertop cash machine makes reporting your takings digital - this means you'll mitigate cashing errors and saving time processing refunds for customers.
At the end of the day, you want to purchase items that will positively add to your business. You need to work smarter, not harder - and this card machine can help you tap into a wider audience while making your life easier.
What is a countertop card machine? How does a countertop card machine work? Countertop card machine features What businesses use a countertop card machine? How do I connect a countertop card machine? What card types are accepted? Do countertop card machines accept contactless payments? How much do countertop card machines cost?
What is a countertop card machine?
A countertop card machine is what you'd expect - a card machine that sits on top of your counter! This device is the answer to straightforward, face-to-face transactions. Its space-saving design means it doesn't need to take up precious space on your reception desk, at your till point of sale - wherever it's going to live. It's compact, easy to use and it's what customers expect when they pay for goods. As we've alluded to in our intro - cash is on the decline - and contactless card payments, in particular, are steadily increasing.
Your business should mirror customer expectations - and those expectations are that they can pay with chip and PIN or contactless - whether with their debit card or smartphone, e.g. Apple Pay, Android and Samsung Pay. Or even with their smart device - smartwatches including Fitbit and Garmin can also support contactless transactions. Offering contactless payments could increase impulse checkout purchases, and you can even offer customers a cashback service.
Countertop card machines really are a win-win for your business!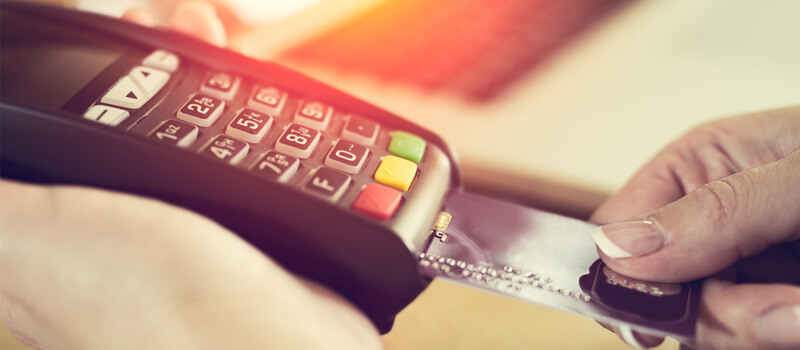 How does a countertop card machine work?
Your new card machine plugs into your broadband connection or your phone line - this means the device can quickly and securely process payments and there's no downtime if your internet waivers! After the customer's payment is approved in a matter of seconds - the money will be available in your business bank account between 3-4 days.
If you've got a till you'd like to connect your countertop card machine to, that's no problem. Using cloud-based technology, your till and your card machine can work together as a powerful duo. Together they can ensure you only need to key in each transaction once meaning your customers can be on their way as fast as possible! Who likes waiting around in a queue, anyway?
Countertop card machine features
Above all, a countertop card machine means you can deliver hassle-free payment processing for your customers - and that's who matters most. It's a great addition to your point of sale - plug it in, and you're ready to accept card payments from all major credit card providers. Read all about its many features below.
Accept all major credit & credit cards - Don't miss out. Take card payments from all of the major credit and debit card processing providers.
Connect via telephone line or broadband - Simply plug your countertop card terminal into your phone line or via Ethernet to your broadband router.
Contactless payments - More ways for your customers to pay. Contactless payment methods including Apple, Android and Samsung Pay available.
Easy setup - Start taking card payments in minutes. A straightforward "plug and play' card machine that allows you to set up your device quickly and easily.
Fast receipt printing - Print customer receipts as soon as card payments are made. It features an easy-to-load, high speed and efficient thermal printer.
PCI Compliant - These countertop card terminals are PCI compliant helping protect both you and your customers details.
What businesses use a countertop card machine?
Any business with fixed premises should consider purchasing a countertop card machine. Why? Because it's your only location where you're taking payments - you (and your customers) need a reliable card machine that accepts the major credit card providers - providing both chip and PIN and contactless technology.
So what kind of businesses are we talking about?
Think anywhere that has a reception you pay at - spas, leisure centres, hairdressers, sports therapists. Any commerce store where customers buy goods in-store - retail shops, coffee shops, bike shops, travel agents - anywhere you have sales desks or tills, you need a countertop card machine you can trust to deliver consistently.
Other businesses include:
Takeaways
Cafes
Barbers
Bakery
Gyms
Restaurants
Chemists
Convenience stores
Opticians
Butchers
Car servicing
Car sales
Florists
Newsagents
And so much more!
How do I connect a countertop card machine?
A countertop card machine is hard wired meaning it's plugged into an electrical socket for power and is connected directly to your phone line or broadband connection. Plugging into your phone line will ensure you are always connected, even if your broadband goes down. This desktop card terminal gives you the most reliable way to take customer card payments.
What card types are accepted?
All major credit and debit cards payment methods are accepted, including Visa, Mastercard and American Express (Amex).
Do countertop card machines accept contactless payments?
Yes, countertop card machines accept contactless credit and debit card payments. They are also equipped to take the latest contactless mobile payments such as Apple Pay, Android Pay and Samsung Pay, giving your customers faster and easier ways to pay.
How much do countertop card machines cost?
The cost of having a countertop card machine will vary from business to business. Generally, it depends on how many terminals you will need in your business, and how much your card sale turnover is. A monthly rental fee is usually charged for each terminal you have (especially if you hire), with an additional small card processing charge for each transaction made. You also have the option to buy the terminals upfront if you wish to reduce your monthly costs.